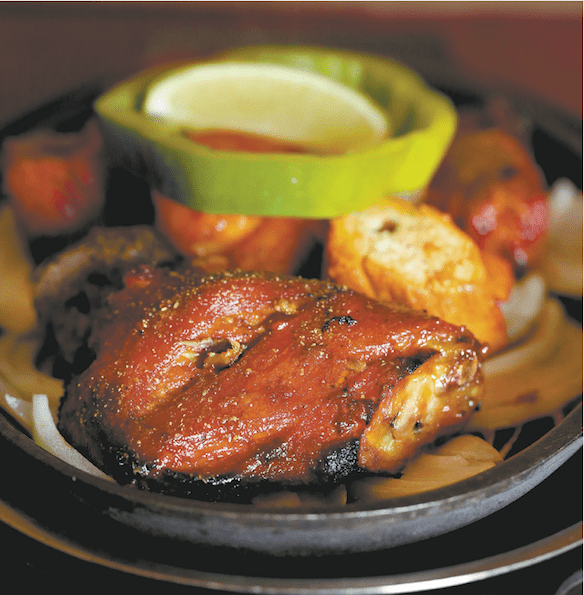 The food arrives colorful and complex, aromatic with herbs and spices, paired with bowls of beautifully flaky basmati rice. Let's see: There's chopped spinach dripping in a creamy cheese sauce; korma, a lovely stew of turmeric, ground almonds and raisins; and the spicy rice dish called biryani.
Except for the fact that the biryani is studded with cubes of tender beef, you would probably assume that we are enjoying the staples of Northern Indian cuisine. Close, but not quite.
We are in fact seated in the curtained booths of Panahar, which, in this context, means "an invitation to eat" in Bengali. Just a short trot from Brookhaven, the Buford Highway restaurant claims to be Atlanta's first and only purveyor of Bangladeshi food. With its unpretentious interior (wood paneling, lots of mirrors and burgundy carpet) and $9.99 daily lunch buffet, Panahar could be mistaken for just another nondescript naan stop, should you cruise past the bright yellow stucco building in the Northeast Plaza shopping mall in the bright light of day.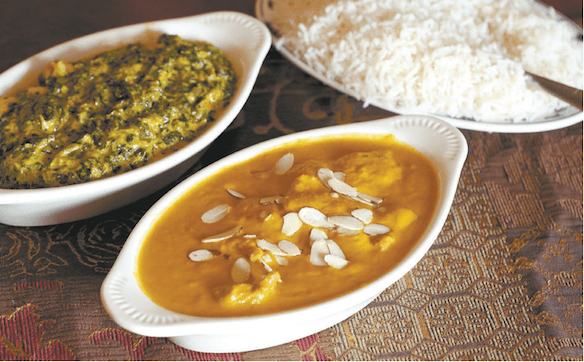 But come here on a weekend night, and you will find a lively scene: in towners stopping by to pick up takeout orders; regulars who come bearing their own wine and beer. (Panahar does not serve alcohol, but you are welcome to bring your own, and your accommodating server will bring appropriate stemware to your table.) Though the lunch offerings are fresh and delicious a good way to try a variety of vegetarian dishes and a few meat choices, plus naan, rice, condiments and a couple of sweets dinner puts you in the driver's seat, where you can custom tailor all the parts of your meal to your liking.
To give you a little background, Bangladesh is bordered by India on three sides, and their shared Bengali culture is barely distinguishable to Western eyes. Bangladeshi food tends to be less spicy and uses more coconut milk than Indian, and the Bengalis of West India rarely do beef. A bit of Panahar's fare, according to a friend of mine from the region, is essentially North Indian.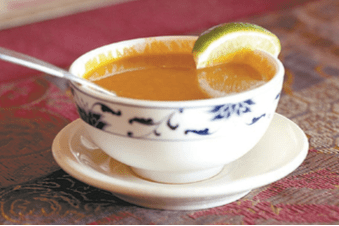 Arriving early on a Sunday night, with a little cooler of beer and wine in tow, I watched the room slowly fill as I waited for my guests. After taking our time to order, we soon found ourselves munching on poori chicken teekka (aka chicken tikka), Tandoori bird sautéed with onions and spices and served on fluffy poori bread; slurping Mulligatawny soup made with orange lentils and perked up with lemon, cumin and tomato; and divvying up our appetizer platter for two among the three of us. At $6, that sampler is a smart way to discover Panahar's signature starters: We loved the little veggie stuffed fritters called pakoras and the samosa like chicken and vegetable shingaaras.
Moving along to the mains, the shaag poneer maang sho with shrimp (the Indians call the dish of spinach melting in cheese saag paneer) and the korma with lamb were just the thing to push our garlic flecked naan around in. Next time, I might skip the peas polao (basmati mixed with peas, onion and raisins) the staff tends to push in favor of plain rice; there's flavor enough in the spicy gravies that bathe the proteins. (Instead of the polao, maybe ask for a dish of aamayr achaar, a green mango chutney zipped up with pungent mustard oil and plenty of salt. Love that stuff. ) In the end, our meal was an altogether pleasant way to spend an evening indulging in this hauntingly fragrant cuisine.
Since takeout seems to be a big part of the business, I decided to give it a whirl on a second visit. Though I was quoted a 30 minute wait time on the phone, the half hour turned into 50 minutes, thanks to the bustling Satur- day night crowd. Apologies were offered and accepted, and I arrived home with a heaping pile of Tandoori, biryani, and charred poraata bread stuffed with smashed potatoes and peas. The mixed Tandoori platter comes with succulent shrimp, chicken tikka and Tandoori, lamb and beef kebabs—all wonderful. I am also rather partial to Panahar's biryani essentially a spicy dish of dry rice that can be had with lamb, goat, beef, chicken and so on.
Our final mission was to try the daily buffet, and let it be said that we did not go away hungry. Potatoes with beef; Tandoori chicken; boiled eggs floating in fragrant orange curry; sautéed eggplant with tomatoes; potatoes and cauliflower; a gently spiced garbanzo salad: It was a Bengali feast of belt popping proportions. Still, we had to try the desserts: a gently spiced rice pudding and laal mohon (aka gulab jamun), little cheese and whey dumplings floating in honey sugar syrup. After such a rich repast, these homey little sweets were welcome and comforting.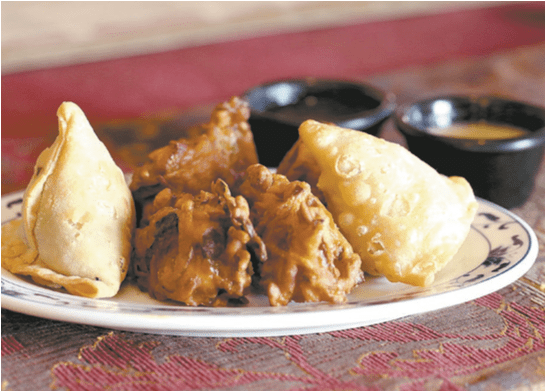 To be honest, I approached Panahar without quite knowing what to expect. (Bangladeshi food—how exotic!) But there is nothing intimidating or weird about it. Anyone with a passing familiarity with Indian food will feel at home here. Don't go expecting a luxurious fine dining destination. Do plan on a homespun ethnic hole in the wall with a friendly, easy going staff and loads of lovely food that that won't break the budget. I'd travel far to dine at Panahar.
Panahar Bangladeshi Cuisine
3375 Buford Highway, Atlanta 30329
404.633.6655 | www.panaharbangladeshi.com
Appetizers: $4-$6. Mains: $11-$15.
Recommended dishes: Appetizer platter, poori chicken teekka, Mulligatawny soup, mixed Tandoori platter, biryani with beef, shaag poneer maang sho, garlic naan, aloo poraata, firni, laal-mohon, spiced iced tea.
Bottom line: A delightful ethnic find.