Gourmet pizza parlor brings pizzazz to Buckhead Atlanta.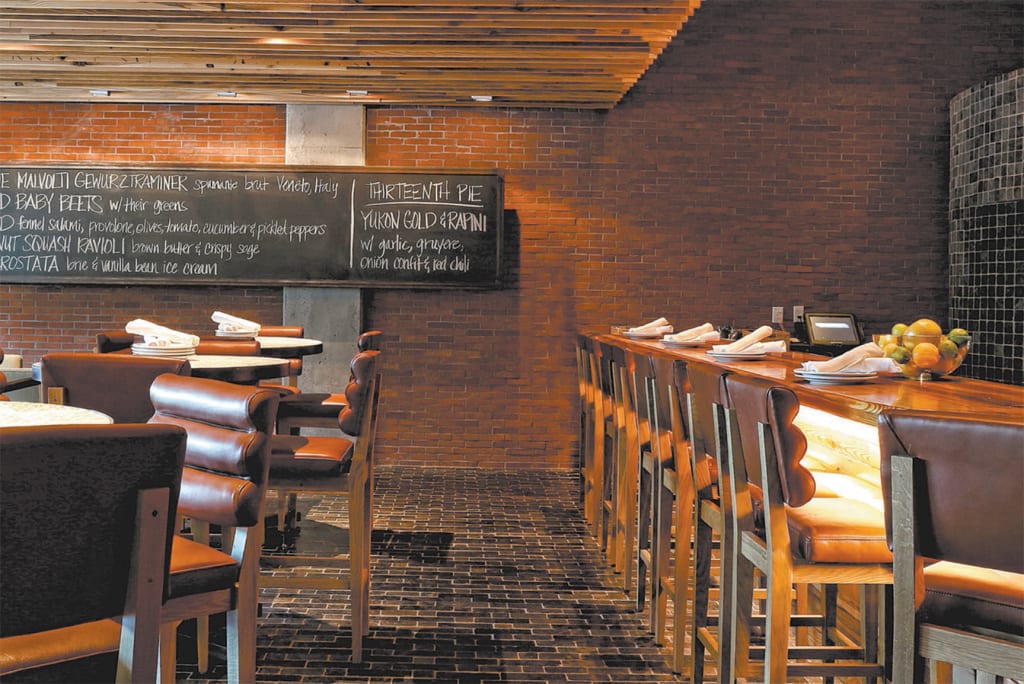 STORY: Wendell Brock
PHOTOS: Sara Hanna
Our pizza arrives—like a topsy-turvy belle of the ball who's gotten a little discombobulated getting into her hat and feathers. Fresh from the oven, the pie has a big charry air bubble on the crust, a scattering of crisped guanciale (cured pork jowl) sourced from Atlanta's Spotted Trotter charcuterie, a garland of "Scarlett Frills" mustard scattered around the edges. But the thing we can't stop looking at is that blob of bright yellow at the center. Especially when our server takes a spoon and mashes it until it oozes, then sheepishly spreads broken egg yolk all over the showstopper.
This, ladies and gents, is what happens when you order pizza sunny-side up.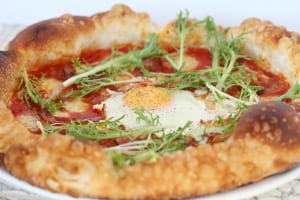 The Spotted Trotter Guanciale & Farm Egg pie may not be my insta-fave of the three thin, wood-fired pizzas I've tried at Thirteen Pies, the beautifully designed new pizzeria in the posh Buckhead Atlanta development. (That would be The Iberian, which I'll describe in just a few more bites.) Though it takes a moment for the rustic, bacon-and-egg, barnyard riff to settle into itself, once it cools a bit and the flavors coalesce, it's a real keeper. Come to think of it, this may be an apt metaphor for this suddenly hot little joint, from Dallas based Consilient, the restaurant group that launched both Thirteen Pies and American Food and Beverage concepts in Fort Worth before bringing them to Buckhead.
After two visits, I'm happy to say that Thirteen Pies—helmed by executive chef Mark Daverio and designed by Los Angelesbased Pleskow Architects—is a welcome addition to this pie-struck town, though my experience has ranged from a memorable (though maddeningly slow) meal on a whiplash- busy Sunday night to a good (though not extraordinary) lunch on a placid weekday.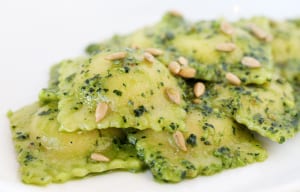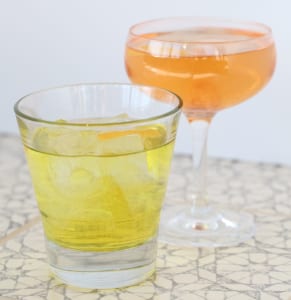 An elegant "L"-shaped den of dark woods and tiles, Thirteen Pies is a modern gourmet pizza parlor. The name refers to the standard list of a dozen pies—from the simply adorned Straight (mozzarella, basil, pecorino) to the veggie lover's Wild Mushrooms & Leeks to fatty fave Lardo Red. A lucky 13th pie, a special, appears every few weeks. Of two recent No. 13s, the Lobster Pie (with Gruyere and spinach) and the Speck & Pear (with Danish blue, roasted onion, smoked mozzarella and balsamic) both sounded divine. But first, do put on your Warby Parker peepers (the wildly popular eyeglass boutique is right next door) and check out the specials board at one end of the space. We tried two of the off-menu items and liked them both. The fried calamari was tasty, if a bit oily and over-breaded. But the buttery artichoke-stuffed ravioli was impeccable—a good sign of what the kitchen can do with its handmade pastas.
If you are in the mood for a cocktail, consider the Little Italy, an aromatic tonic of rye, Cynar (artichokes, again!) and sweet vermouth. Boy is it strong. Made me hold on to my barstool. It's very much like a Manhattan (my dinner guest's choice), only sweeter. As the weather warms up this spring, I might suggest a Bitters Sweet Prosecco (just what it sounds like, with a sugar cube tossed in) or the spritely sounding Grapefruit Rickey (which mixes ruby citrus with vodka, elderflower, lime and club soda).
As you sip, proceed to one of the hearty small plates—perhaps the veal meatballs with fresh mozzarella and ragù or the housewhipped ricotta, two scoops with a bit of salty tapenade and some crostini for spreading.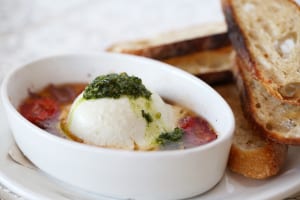 Personally, I'd go for the warm goat cheese, which is especially good when you smear it on toast with a bit of the pesto and Kalamata accompaniments. You might also consider a bowl of bucatini or Bolognese as a starter. (The aforementioned ravioli is an appetizer option, too, though fillings vary depending on what the chef's got up his toque.)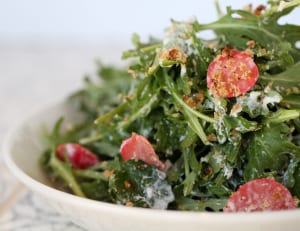 Only the salads were a bit disappointing. The three we tried were composed of lovely fresh ingredients; two of them just needed a bit more dressing to coax out the flavors. On the surface, the shaved veggie and apple wasn't all that different from the Fancy House, which included tasty Manchego, roasted beets and marconas. A better option was the Baby Kale, with pickled radish, breadcrumbs and Parmesan-buttermilk dressing. Everything about it just worked.
Now back to the pies: The so-called Good Pepperoni was certainly that, the sausage so thinly sliced that it bonded to the crust, which was dotted with basil leaves and drizzled with truffle oil. I know, I know: Most people are wild about all things truffle, but I could do without the funky scent. So next time, I might ask that my pepperoni come without the shroomy perfume.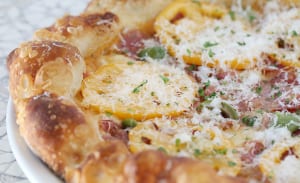 The one pizza that I found to be absolutely flawless was The Iberian. With fennel salami, smoked provolone, Manchego, slices of yellow tomatoes, Castelvetrano olives and soffritto, the Spanish homage sounds like an overabundance, but you may be surprised. The style here is to go light on the toppings, then bake the pies at such high temperatures that the garnishes come out of the oven looking like ghostly imprints of their former selves. This technique concentrates and intensifies the flavors. If you are a hearty eater, you can probably finish a pie all by yourself, though it's fun to get a couple and share.
Perhaps it was the plodding pace of the meal. Or that super-woozy cocktail. But after our dinner, my friend and I almost felt like ordering a second pie—savory dessert, if you will. Sounds insane, right? Wisely, we came to our senses and moved on to something sweet.
Smart call. Turned out to be one of the best desserts of the year: lemon-mascarpone semifreddo topped with slices of candied kumquat and pistachio-semolina crumbles. Thanks to the cool zing of lemon curd and kumquat, the rich glass of goodness seemed deceptively light and ethereal.
So here's the thing: Like many new endeavors, Thirteen Pies needs a little time to work out the kinks. But as far as pizza joints go, it already exhibits extraordinary promise. Buckhead Atlanta has an assortment of restaurants high and low—from upscale Parisian (Le Bilboquet) to fast-food walk-ups (Shake Shack). Thirteen Pies is happily in the middle. It is pizza as it should be: fresh ingredients, sensibly proportioned, prepared with panache. A baker's dozen of deliciousness, it is simple and yet so good.
THIRTEEN PIES
250 Buckhead Avenue, Suite 317
Atlanta 30305
678.791.1313
thirteenpies.com
Prices: Salads and small plates, $9-$12.
Pastas, $15-$16. Pies, $13-$16.
Recommended: The Little Italy cocktail. Baked goat
cheese. Baby-kale salad. Ravioli. The Iberian pie,
The Spotted Trotter Guanciale & Farm Egg pie.
Lemon Mascarpone Semifreddo.
Bottom line: Really good gourmet pizza.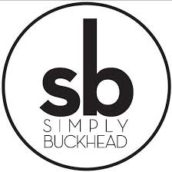 SimplyBuckhead
Simply Buckhead is an upscale lifestyle magazine focused on the best and brightest individuals, businesses and events in Buckhead, Brookhaven, Sandy Springs, Dunwoody and Chamblee. With a commitment to journalistic excellence, the magazine serves as the authority on who to know, what to do and where to go in the community, and its surroundings.