Le Colonial brings fine French Vietnamese cuisine to Buckhead!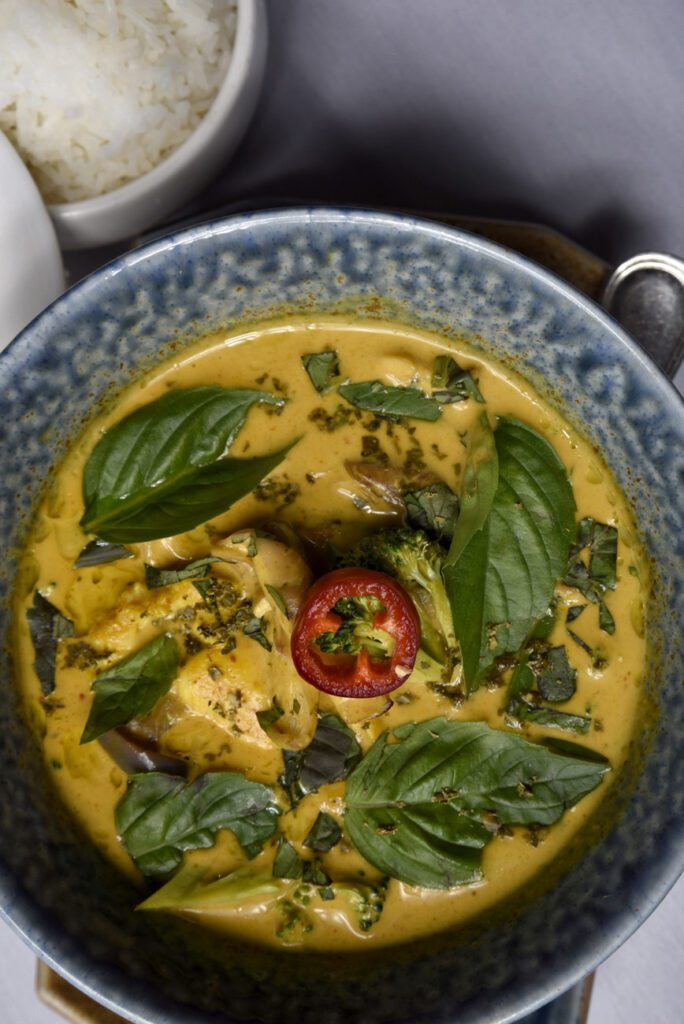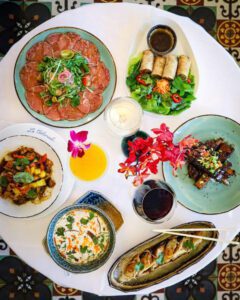 It's early on a Friday evening, and my guest and I are standing outside Le Colonial, the Atlanta outpost of the nationally known French-Vietnamese restaurant in the Buckhead Village District. The problem is the reservation. We didn't make one, and the oversight isn't appreciated by Le Colonial's doorman who stands, arms firmly crossed, between us and the elevator to "a luxurious escapist oasis" (as described on the website). Finally, we negotiate a seat at the bar, and the proverbial velvet rope is lifted. On the second-floor veranda, a queue of 20 people, decked out in Gucci and Fendi has already formed. It occurs to me that my Brooks Brothers khakis may be well within the restaurant's dress code, but it's entirely conceivable I'll be kicked out for looking so incredibly dull. Le Colonial is very chic.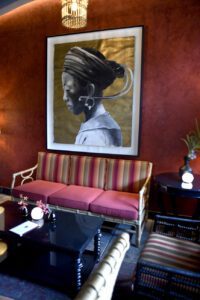 Owners Rick Wahlstedt and Joseph King have re-created the same Paris bistro meets 1920s Saigon scene they've done since 1993, when the first Le Colonial opened in New York (currently there are four). Bahama shutters, potted palms, starched white tablecloths and vintage fans whirring overhead anchor us firmly in a romanticized version of French colonial Vietnam. Atlanta's well-heeled diners gobble it up as enthusiastically as they do Chef Richard Lee's classic Vietnamese cooking.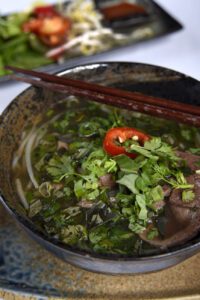 My guest and I are ensconced in the lively bar where birdcage fixtures and haunting 19th-century photographs—farmers plowing rice fields, a child weaving, men in traditional ao dai—carry on the period theme. A glance at the heavily French and American wine list reminds us we're in a far pricier century: Bottles run from $40 to more than $2,000. We opt, instead, for lychee martinis, one of the house specialties. The icy Helix vodka combined with milky lychee nectar is a fitting prelude to the exotic fare.
We begin with banh uot, sesame beef rice noodle rolls. The light, translucent noodles are rolled like cannelloni, filled with tender sesame beef and crisp lettuce, and finished with basil, cucumber, fried shallots and a pungent lime garlic sauce. Hot, sour, sweet, salty and bitter—the fab five. It's all there, too, in the goi du du, a green papaya salad. Mild shredded papaya gets a kick from Lee's coconut-infused, spicy red curry dressing. Tossed with salty peanuts and crunchy cellophane noodles, the salad is light, fresh and bursting with flavor.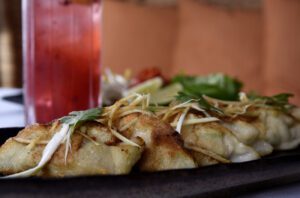 The cari ga (chicken curry) is an exceptionally executed dish, and even at a steep $26, it's worth every penny. The lemongrass- perfumed curry arrives in a massive bowl brimming with finely diced chunks of mango, yam, green beans and chicken bites just small enough to fit my spoon. It's a dish with such culinary integrity, I want to throw my arms around the cheerful server who delivered it (and the rest of our meal) in such a timely manner.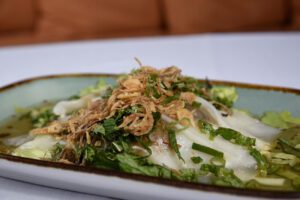 The delicate sui cao chien, pan-seared chicken dumplings, are astonishingly crisp. Tender dough is stuffed with minced chicken, fresh ginger and scallions, fried to a delicate golden brown and served with a sweet black vinegar sauce. We couldn't pass up Le Colonial's version of trendy banh mi thit nuong, a Vietnamese pork sandwich. Here, Lee loads up the traditional French baguette with saucy chargrilled pork, red curry aioli, tangy pickled carrot, daikon and a generous handful of fresh cilantro. At $18, it's a pricey, albeit delicious, version of Vietnam's famous street food.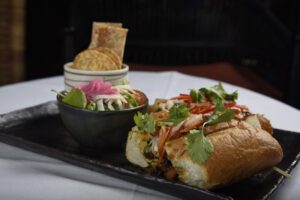 Less exciting were the goi cuon, chilled shrimp rolls wrapped in rice paper. The Gulf shrimp were fresh and sweet, but there was scant evidence of the promised bean sprouts and Ashland Farm herbs. On closer inspection, rice noodles made up most of the real estate here, with the accompanying peanut dipping sauce adding a much needed flavor boost.
On the other side of the flavor spectrum was the pho bo, Hanoi beef noodle soup. Our server told us certain customers come in regularly trying to extract the recipe's secrets, and we can well believe it. It's unforgettable.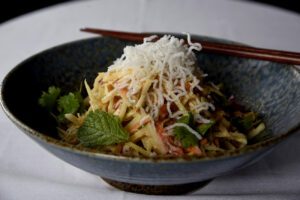 There is no part of the animal I can't taste in this bowl of hot oxtail broth. My guest and I slurp up the tender rice noodles in quiet reverie, splattering our white shirts with hot, brown broth and don't think twice about finishing every drop before calling for some seltzer. The air is permeated with pungent aromas of fish sauce, star anise, cardamon and long-cooked bones.
The dessert menu favors French classics such as creme brulee, chocolate mousse and poire belle Hélène (poached pears with chocolate). Our tarte au citron (lemon tart) was a work of art with edible nasturtiums and diced dragon fruit and kiwi. It was impeccable, but we were still left eyeing our neighbor's chocolate mousse. Next time.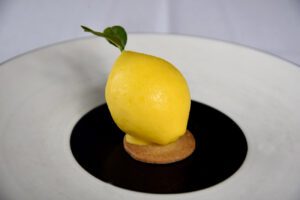 The powers-that-be have spared no expense in making Le Colonial one of the most beguiling dining destinations in the city, and their efforts are commendable. For years, the lack of quality Southeast Asian restaurants west of Buford Highway was a thorn in the collective side of Buckhead foodies. It's finally arrived, complete with a unique update on authentic food and unparalleled aesthetic appeal. Whether it can hold on long enough to achieve institution status remains to be seen. I will certainly return, trading in my khakis for something a little more fitting of this swanky milieu.
LE COLONIAL
3035 Peachtree Road N.E.,
Atlanta
30305
404.341.0500
lecolonialatlanta.com
Prices: small plates: $12-$24; soups and salads: $10-$18; large plates: $14-$60; sides: $4-$11; desserts: $12-$14.
Suggested: sesame beef rice noodle rolls, green papaya salad, chicken curry, pan-seared chicken dumplings, Vietnamese pork sandwich, Hanoi beef noodle soup.
Bottom line: a dress-to-the-nines dining experience offering solid French-Vietnamese fare in an elegant space that transports you back in time.
PHOTOS: Joann Vitelli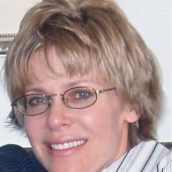 Rebecca Cha
Food, beauty and interiors writer at Simply Buckhead. Linguist, teacher, chef, parent.