A GARDEN HILLS HOME BECOMES THE PLACE THE MCGILL FAMILY IS MEANT TO BE!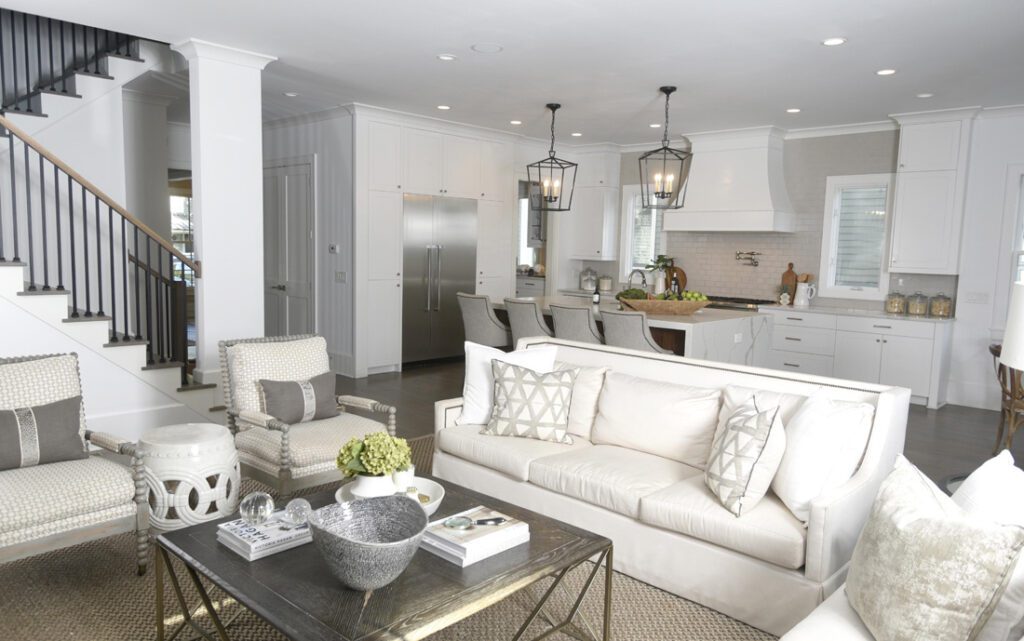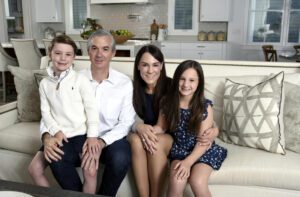 Erica and Brendan McGill are attorneys who both worked at Alston & Bird, but they didn't meet at work. Instead, they crossed paths at a 2011 Yacht Rock Concert. After getting married in 2013, the couple lived in a charming three-bedroom, two-bath bungalow in Virginia-Highland. Brendan purchased the 1,800-square-foot home while he was still single. Soon the couple added to their family, daughter Harper in 2014 and son Jack in 2016. They were running short on space and trying to decide whether to sell or renovate when their realtor called to say someone was interested in buying their home. Plus, the realtor added, there was a new six-bedroom home in Buckhead he thought would be perfect for them.
"We never listed the house; the buyers made an all-cash offer, and we were done," Erica says. "This house was brand new, and they were just finishing construction, so we picked out all the finishes, from the subway tile to the light fixtures."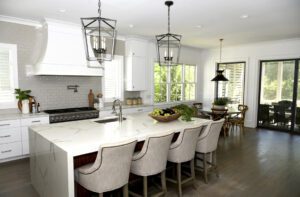 Since closing on their new residence in April 2017, the McGills have continued personalizing the interior. With the help of Bowdre Longo of Bowdre Longo Interiors, whom Erica was introduced to by a neighbor, they've filled the home with furniture and decor that reflects an understated elegant style.
"Erica and I had so much fun joining forces on each of these spaces," Longo says. "Our ultimate goal was to produce comfortable, durable, yet elegant and serene spaces that could withstand the test of time."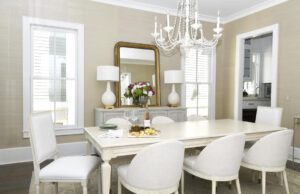 Don't be fooled by the offwhite sofas and showroom-like appearance: This home is as much for kids as adults. In addition to the two McGill children, now 9 and 7, the family often hosts Brendan's extended family, including his kids' five cousins, two who live down the street, for dinners and movie nights.
"A home should be welcoming and feel warm, like a good foundation for making good memories, and be conducive to entertaining and hosting people for the holidays," Erica says.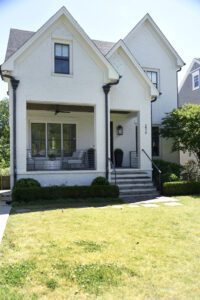 The glamorous formal dining space is where many holiday meals take place at the Agustin dining table by Tritter Feefer below the Visual Comfort chandelier. Weekday entertaining is in the all-white, open kitchen, done in quartz countertops, Visual Comfort pendants and Thermador appliances. Nearby, a round RH table and chairs offer a casual eating spot.
"When we purchased the house, it was a little more contemporary than my natural style, but I've tried to make it look polished and chic, but welcoming," Erica says.
The inviting living room with Gabby Home furnishings—Helena Sofas upholstered in Sunbrella fabric and Theodore coffee table faces a wood-paneled fireplace recently painted white and flanked by side tables showcasing photos of the McGills' cherished memories. Off the main living area is one of Erica's favorite spaces: the screened porch where the family enjoys alfresco movies and dinners while overlooking the backyard and surrounding trees.
"It's like a house in the trees because of that whole wall of windows," Erica says.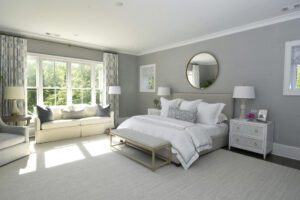 Another of Erica's favorite spaces is her daughter's room. Upstairs, Harper's magazine worthy bedroom features furnishings from Worlds Away and RH, as well as a cozy alcove with a Villa & House desk and shelving that displays her LEGO creations. Even the spacious closet, designed with matching storage bins and silver accessories, is picture perfect. Jack's room is connected to Harper's via a Jack-and-Jill bathroom that's also a show-ready space with modern pendants from Rejuvenation above the white nightstands from Worlds Away.
Completed just this month, Erica and Brendan's bedroom follows the home's neutral palette with grays and whites. The couple's Pottery Barn bed is surrounded with pieces from Hickory Chair and Highland House, and a bench from Bungalow Classic reupholstered in Schumacher fabric. The walls are covered in a light blue-gray grasscloth and adorned with a commissioned art work by Nashville- based Katie Madden, whose work Erica discovered while on vacation in Rosemary Beach.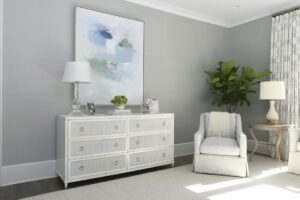 "As parents, we all deserve a space of our own to take a deep breath and recharge. That was our goal for the master bedroom: to walk in and instantly lower your shoulders and relax," Longo says. "The pale blues and light whites offer a calming, serene space while still keeping your eye interested with the different details."
Awash in marble, the master bathroom is just as stunning as the bedroom. The white and gray backdrop highlights the views of trees through high rectangular windows that bring in natural light while protecting privacy.
After finishing her bedroom and the basement gym (completed during the pandemic), Erica feels a huge sense of accomplishment. It doesn't mean she's done tweaking, however. She is working on a main level "music room"—Erica comes from a musical family, and both kids play piano. She also predicts the basement au pair suite will one day become a media space.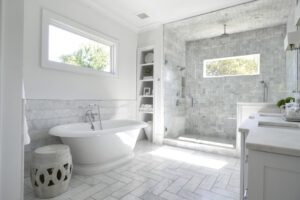 "When I think about our home, the word that comes to mind is grateful," Erica says. "I'm grateful for the family and friends that gather within its walls, and I'm grateful to Bowdre for making the space a beautiful, warm and welcoming place where we can relax and recharge with the people we love most."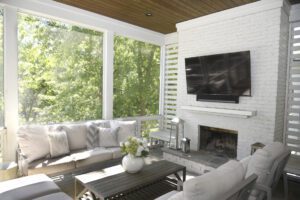 ERICA'S FAVORITE DESIGN DETAILS
1. Reading nook in Harper's room. "The shiplap accent wall is charming, and Bowdre did such a wonderful job creating a cozy, quiet space for Harper to curl up with a great book."
2. Jack's pendant lamps. "They're fun, unique and most importantly, extremely practical, as Jack likes to keep a lot of toys on the nightstand."
3. Back porch. "It's the perfect place to entertain family and friends, which we love to do. Plus, when you're out there in the summer, it feels like you're living in a tree house."
4. Master bedroom. "After a long day, it's a wonderful place to retreat. The soothing fabrics and colors that Bowdre used throughout the room, coupled with Katie's incredible art, make the whole space feel like a relaxing and calming oasis."
PHOTOS: Joann Vitelli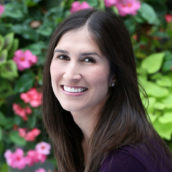 Giannina Bedford
Giannina S. Bedford is multi-faceted writer and editor. Her work covers design, travel, food and business. She's penned Simply Buckhead's home feature since inception and held a variety of editorial roles at the magazine. Her freelance work has appeared in Condé Nast Traveler, USA Today, Virtuoso Life, Hemispheres and TravelandLeisure.com. She also contributes regularly Atlanta Business Chronicle. Fluent in Spanish, Giannina was born in Miami and grew up in Brazil, Chile, Hawaii and Australia. She currently lives in Dunwoody with her two kids and husband.