Turn your yard into a mini grocery store.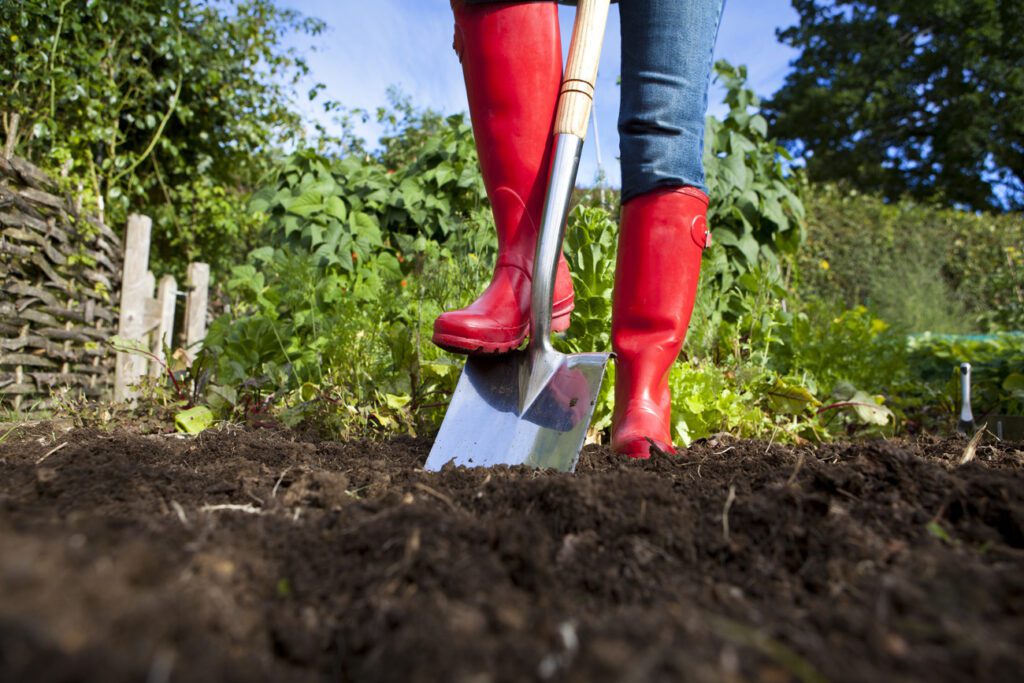 "We're chicken farmers now,"  husband is fond of joking. He's not wrong. Our intown backyard is home to a small flock of fluffy hens who keep us stocked with ultra-fresh eggs sporting bright yellow yolks.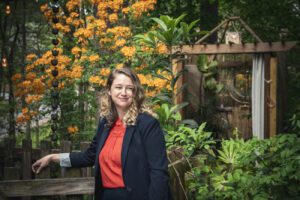 For us, the addition of chickens was an outgrowth of the pandemic, the combination of spending more time at home, wanting to make better use of our outdoor spaces and hoping to provide a little peace of mind when the stock on grocery shelves felt unpredictable. It turns out, we aren't unusual. "We saw a big spike in people's interest in growing their own food to offset having to go to grocery stores and having a little bit more security," says Brandy Hall, founder and managing director of Shades of Green. "Anytime the supply chain is shaken, I think it's alarming for folks."
Hall's company focuses on employing the concept of permaculture, a design approach that mimics how natural ecosystems work, thus improving the efficiency of your garden. "Permaculture is really about using water wisely and growing ecologically important and significant edible plants," says Hall, who has created greenspaces all around Atlanta, including large projects in Buckhead. "It's also about building soil and restoring habitat." Once you've set your garden or yard up for success, it should flourish and require less maintenance over time.
Many of us have been spending more time at home than ever over the past 18 months. If you're ready to make your backyard work harder for you, here are a few ways and reasons to get started.
Yard goals.
Whether you want your yard to be a little oasis to escape the indoors, a place for kids to play, a spot to entertain outside or a patch to yield fruits, vegetables and herbs that will show up on your table, it's important to identify your top priorities before embarking on an overhaul.
Gardens go anywhere.
Even if you live in a condo or apartment, having a garden is an option. "We've created patio gardens and 1,000-acre farm plans. There's a huge spectrum, but everyone has a relationship with food, regardless of where you live," says Hall. If you do live in a small space, consider starting with a windowsill garden of herbs or seeking out shared greenspace to plant in pots.
Long-haul.
It's desirable to grow vegetables you can harvest in a few months, but don't forget about other plants and trees that take longer to mature. For example, Hall's team started an orchard of more than 25 trees for a Buckhead client. Within a few years, he'll be enjoying pomegranates, mulberries, persimmons, pears, cherries, peaches and more.
Compatibility.
"We often say, 'Don't plant plants; plant ecosystems,'" says Hall. She suggests considering what plants grow naturally together in nature to discover varieties that are naturally symbiotic. For example, both blueberries and strawberries favor acidic soils and grow well together. Black-eyed Susans and coreopsis pull different nutrients from the soil, making them good neighbors in a garden.
Build soil.
"It's important to focus on building soil, keeping organic matter and cultivating plants that help to build soil and increasing its capacity to hold water." One way to do this is to add organic matter such as mulch, compost and leaves.
Water strategy.
One of the key tenets of permaculture is maximizing water to minimize erosion and lessen the need to irrigate. On the Buckhead orchard project, Hall's team strategically planted to slow water coming down a hill and put the fruit trees downslope so they get plenty of water when it rains. Rainwater harvesting in barrels is another way to become less dependent on city water.
Expert help or go it alone.
Hiring an expert like Hall can make the process of transforming your yard seamless, but if you'd like to do it on your own, she recommends the University of Georgia Extension Office's book, The Complete Guide to Native Plants for Georgia, available for free at extension.uga.edu. Shades of Green also offers an online class for how to do ecological design for residential spaces.
Clucking along.
If you want to add some chickens to your family, be sure to check local ordinances to see what's allowed in your area. Many cities allow hens if the coop is a certain number of feet away from your property line but prohibit noisy roosters. To connect with others who are raising chickens, look on social networks such as Facebook and Meetup, and search keywords such as "backyard poultry" or "city chickens" to learn the ropes.
Shades of Green
404.494.0140
shadesofgreenpermaculture.com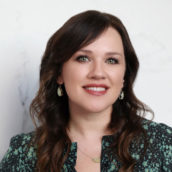 Jennifer Bradley Franklin
Senior Contributing Editor and Beauty Columnist at Simply Buckhead. Travel, Food and Design Writer and Author.