VETERAN ACTRESS TURNED NBA TEAM OWNER
STORY: Jill Becker
PHOTOS: Sara Hanna
Jami Gertz's text and email are lighting up. It's just a few days after the late October unveiling of the $192 million renovations at State Farm Arena, the Atlanta Hawks' home court (formerly known as Philips Arena), and people keep reporting to her all of the nitpicky details throughout the venue that still need to be addressed. Gertz has her own lengthy punch list of items to be done as well, and she won't rest until everything is perfect.
So why is Gertz—a veteran actress who has appeared in everything from the TV series Square Pegs at age 17 to hit movies including The Lost Boys, Sixteen Candles and Twister—worrying about things such as dripping faucets and misplaced trash cans at the city's shiny new basketball complex? Because her latest role is as the real-life principal owner of an NBA franchise.
Gertz and her husband of 30 years, billionaire financier Tony Ressler, became the majority owners of the Hawks in 2015, and now make their primary home in Buckhead so they can devote their time to the team. Asked her official title with the Hawks, Gertz replied, "fan." The truth is that while Ressler works behind the scenes (he's notoriously camera shy), Gertz is the public face of the organization. She not only can be seen in the stands at nearly every home game, usually dressed down in jeans and minimal makeup, but she also tackles everything from meeting with the press at Media Day to appearing in short, funny PSAs about things like concessions that are shown on the big screen during games.
Her coming out party of sorts came last May, when she represented the Hawks at the NBA Draft Lottery in Chicago. "I was in a sea of men," recalls Gertz of that night—a fact that was not lost on the sports and social media worlds. Twitter was abuzz with comments such as "Jami Gertz owns the Hawks?!? I honestly don't know what to do with the news that a half-vampire from The Lost Boys runs an NBA franchise."
Gertz, who at 5-foot-5 is a good foot and a half shorter than even the most diminutive Hawks player, actually sees a lot of similarities between basketball and acting. "When I first got here, I was learning everything, and I kept asking myself, 'Why does all of this feel so familiar?'" says Gertz. "And I realized that the players are like actors. They're putting on a show. They have to learn plays (lines). The coach is the director. The GM is the executive producer. And Tony is the studio."
With all of her duties with the Hawks, Gertz doesn't have much time for acting these days, but says it was time to try something new anyway. "[Acting can be] a real grind," says Gertz, who has three grown boys. "The hours are massive. There were days when I didn't see the daylight. So it's kind of nice to take a break from it."
Gertz's foray into the sports world isn't her first attempt at trying something new. In 2010, she decided to venture behind the camera instead of in front of it and started her own production company. "I failed miserably at it," she readily admits. Over its five-year existence, and after putting millions of dollars of her own money into it, she only made one movie. Called A Better Life, it managed to earn an Oscar nomination for the lead actor, but all of her other projects fizzled. Still, she has no regrets. "This is my path," she says, "and I've never looked back." That includes not fretting over the acting jobs she didn't get over the years, such as the lead roles in Speed and Pretty Woman.
She may not have gotten those "game-changing" parts, but her role as the Hawks' ambassador is receiving rave reviews. "The projects Jami and Tony are involved in are not the projects most owners are involved in," says Garin Narain, the team's vice president of public relations. "I've been in the NBA 16 years, with four different ownership teams, and the biggest difference with Tony and Jami is that they're there."
"There was so much that was out of my hands in my acting life," says Gertz. "I wasn't my own boss. Now I need to know what's going on." To that end, she says that one of her top priorities is just listening—a simple act she believes is part of what makes someone a "bold woman."
"One of the most important qualities to being a bold woman is to listen," she says. "And not being afraid to speak your mind. It's a mixture of both, really. Because I think without the listening component, to be vociferous or loud just to be vociferous or loud is not helpful. Being bold to me means being someone who has her opinions, but the opinions are well thought out because the person is a really good listener."
True to her beliefs, Gertz and her husband are listening to Hawks fans and making it their goal to bring an NBA title to Atlanta. "We're clearly in a rebuilding process," she says. "No one wants to be a s—y basketball team, and the pressure to be great right away is immense. But it takes time." Asked to foresee when the players might hoist the coveted trophy up over their heads, she says with a smirk, "I hope it's sooner rather than later, because I'm not getting any younger."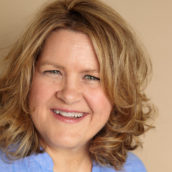 Jill Becker
Award-winning writer and editor who has penned stories for CNN, Woman's Day, Good Housekeeping, and dozens of other outlets.