The King and Prince Beach & Golf Resort embodies St. Simon's historical beauty.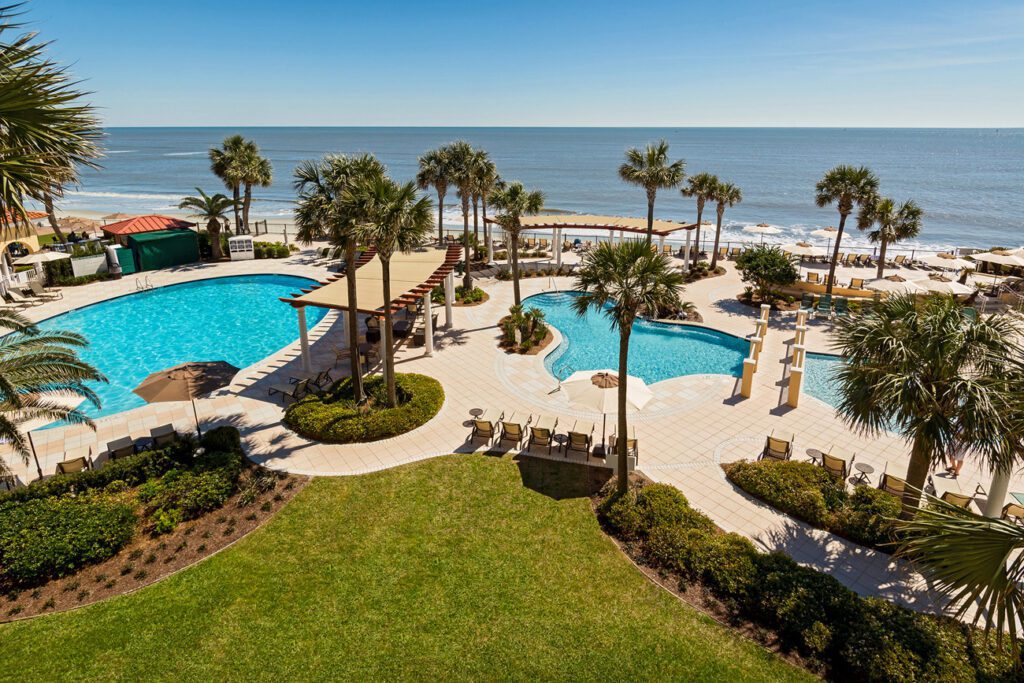 Mention the King and Prince Beach & Golf Resort to Southerners, and they are likely to know it or have visited it sometime in their lives. Over its more than 80-year history, the St. Simon's Island landmark has survived a devastating fire, a World War, and now, a pandemic, improving and adapting to the changing world around it.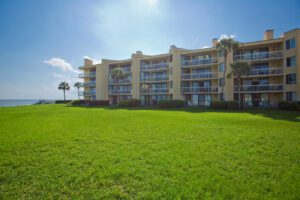 Built as a private club in 1935 and named for its regal ambiance, the property was destroyed by a fire just three months later. The rebuilt property reopened, showcasing the Mediterranean- inspired architecture for which it is still known today. In 1941, after the addition of 110 ocean-facing guest rooms, the King and Prince Hotel opened its doors to the public. It was praised for its modern features such as circulating ice water, guest rooms with ceiling fans and the combination shower/tub in each bathroom. But, after German U-boats were spotted off the Georgia Coast in 1942, it was forced to close to the public for the duration of the war. Instead, the Navy occupied its ballrooms and bedrooms until 1947. In the 1950s and 1960s, it flourished as a choice seaside vacation spot, and for many, became a family getaway tradition.
I encountered many repeat guests during a summer stay with my family when we spent three nights in one of the resort's oceanfront North Villas, apartment-style units added in 1986. While the kids played in the pool, I chatted with other guests and listened to fond memories from their summer visits. I learned of the resort's beloved (now defunct) Friday night seafood buffet and the lobby's indoor pool, an area that now holds a comfy lounge space and bar. They also spoke about the large-scale renovations, from the modernized lobby and updated culinary offerings to the new outdoor pool complex with three pools (my kids loved the kiddie pool with sprinkler feature).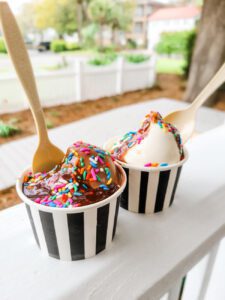 The resort's newest addition is The Cottage Custard + Coffee, which turned out to be one of our favorite hangouts. Opened this year in the former Wesley Cottage, the shop sells St. Simon's Wake Up Coffee, frozen custard and baked goods. It also retails King and Prince souvenirs and beach necessities. Outdoors, Adirondack chairs surround a fire pit and diversions such as a bocce ball court and castle playground keep both adults and kids entertained.
Even with its many upgrades, the King and Prince has managed to retain its historic persona and Spanish Colonial Revival style of low-pitched terra-cotta tile roofs and cantilevered balconies with decoratively hewn beams. Named to the National Register of Historic Places in 2005, the property features stained glass windows dating back to the 1930s and depicting scenes of local history. More stained glass windows were added in the 1980s, done by the original artist's son.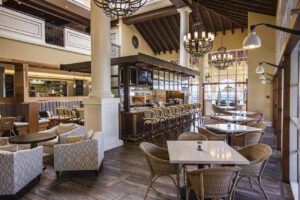 ECHO, the oceanfront restaurant opened in 2014, also pays homage to the hotel and St. Simon's naval history. Located in the former officers' quarters, classrooms and towers, the restaurant, which serves up local coastal cuisine (think shrimp and grits and braised beef pot roast), recalls the historical war time through framed black-and-white images at its entry.
While the resort will no doubt continue to change with each passing decade, one thing that will remain unchanged is its enviable oceanfront location on the Atlantic. Its sprawling beach and unobstructed views provide each guest a front row seat to the beauty of the Georgia coast. It's the reason many choose to come back to its shores year after year. I think I will, too.
KING AND PRINCE BEACH & GOLF RESORT
201 Arnold Road
St Simons Island 31522
912.638.3631
kingandprince.com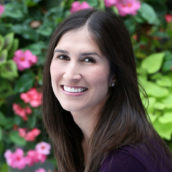 Giannina Bedford
Contributing home editor and design columnist at Simply Buckhead. Travel & Business Writer. Mother of Two.