Chamblee's Southbound serves high-quality fare in low-key environs.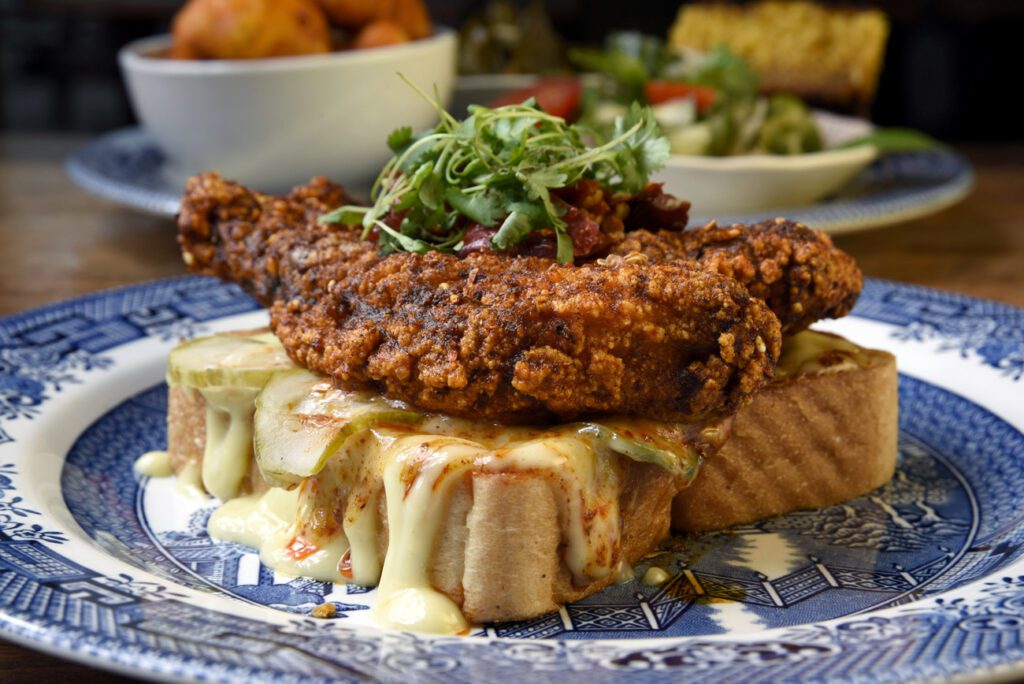 Whether you eat to live or live to eat, you won't be disappointed at Southbound in Chamblee. Whatever your dining mood, Southbound is ready to suit. Grab a seat at the bar or settle at a table in the main dining room when you want to be surrounded by community. Order to-go for pick up (a staffer can bring it out to your car) or delivery by DoorDash when you want to stay home in your stretchy pants. Relax at an umbrellaed picnic table on the patio when you want to socialize your puppy or enjoy amazing weather. Just come hungry because this menu is packed with things worth devouring.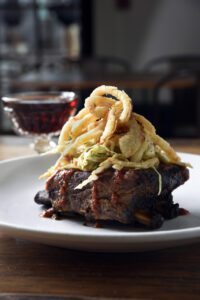 The feeling upon entering—and even when phoning—is like being welcomed to the neighborhood. If there's an assumption that lingers in the air, it's the quiet confidence that, of course, you're going to like it here. There is much to like.
The space has high-ceilings and minimalistic decor dominated by weathered wood, exposed bricks and dangling bulb lights. The overall effect is casual elegance. Chairs are comfortable, and tables are easy to move around to accommodate gatherings of any size and even distancing, if necessary. The main dining room and bar are separated by a short wall and glass, so the impressive selection of craft distilled spirits on bar shelves can be seen from across the room. Freight and MARTA tracks are across Peachtree Road, so guests sometimes feel the vibrations as the trains roll by.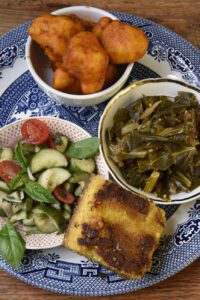 The menu presents Southern comfort food with international influences, resulting in creations such as the popular Southern ramen with pulled pork, collards, blackeyed pea relish, chow chow and a deviled egg. Variety ensures there's something for just about any preference, dietary need, budget and hunger level, whether you crave a snack or multi-course feast. Seasonal, fresh ingredients, typically sourced within a two-hour drive of Chamblee, elevate dishes such as shrimp cocktail and seared sea scallops, as does the fact that several items are vegan, vegetarian or gluten-free. Competent preparations, artful presentations and enjoyable flavors are consistent reminders that dining out can be a genuine treat however well you cook at home.
Executive Chef Bethany Colvin changes the menu about three times a year, though popular favorites stick around. As the menu shifts from summer to fall, proteins remain, but pairings shift to warmer, spicier creations. Year-round options include deviled eggs with bacon jam, Southern ramen, smoked short rib, Chamblee hot chicken (Szechuan, not Nashville, style) and classics such as fried chicken.
Time your visit right and while filling your water glass the server will say, "It's Wednesday, so we have fried chicken." One bite and you'll immediately start clearing your calendar of future Wednesday evening obligations to keep coming back for the juicy meat with crispy coating. "Our fried chicken is dairyfree and cooked in our gluten-free fryers," says Mike Plummer, who owns Southbound with his wife, Amanda Averill. The couple also own the Nocturnal Brewing Company pub in Hayesville, North Carolina.
The burger is offered as a double or triple stack topped with American cheese, house pickles, onion and comeback sauce. It's possible to omit certain items but not get a single patty. That would throw off the meat-to-bread ratio. The loaded burger may be more than you want or need to eat, but it's hard to regret a bite. The seasoned fries are broad squares, more tender than crispy, with pepper notes to counteract the sweet housemade ketchup.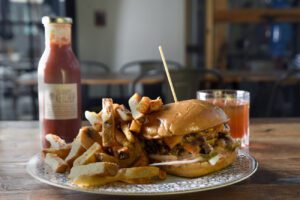 Wild Georgia shrimp are scrumptious, tender, perennial best-sellers whether presented cold with tangy dipping sauce or hot with lemon-garlic-wine sauce. "The shrimp are driven up every week from the Georgia/Florida coast," Plummer says. "We believe they're the highest quality shrimp you can get," Averill adds.
The popular vegetable plate presents cornbread alongside a trio of items that change daily. "Our collard greens are vegan," Plummer says. "To keep it tasty, we smoke the tomatoes so they have that smokiness without the meat," Averill says.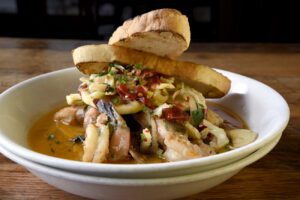 Fried Brussels sprouts get mouths watering at first sniff and live up to expectations. Mac and cheese hits the right flavor notes even if the texture is a bit clumpy. Kale Caesar will convert any salad hater into an enthusiast with its well-balanced bitter and tart flavors. Pimento cheese is a winner, light on the mayo yet creamy enough to spread on bread and flavorful without too much heat.
Among the dishes presented this summer was seared scallops with watermelon, serrano, mint, guajillo chili, lime and avocado puree. The unexpected combination proved greater than the sum of its parts. Lesson learned: If a menu description intrigues, give the dish a try.
Save room for pleasantly nostalgic desserts such as banana pudding and carrot cake that are made in line with traditional recipes like grandma used.
The bar menu showcases wines that are sustainably and biodynamically farmed, craft beers and classic as well as creative cocktails. Whether you order the perennial favorite Manhattan, Old Fashioned or a seasonal concoction, well-balanced flavors slip across the palate as easily as stocking feet on hardwoods. Even mocktails prove to be sophisticated sippers.
Inside and out, Southbound is a pleasure. It's been around for seven years and hopefully has a long life ahead.
SOUTHBOUND
678.580.5579
southboundatl.com
@southboundatlanta
Prices: (dinner): small plates: $4-$18; mains: $14-$33; sides: $4-$6; desserts: $6-$9.
Recommended: Pimento cheese, wild Georgia shrimp, fried chicken (on Wednesdays), fried Brussels sprouts, short rib, carrot cake.
Bottom line: A popular contemporary Southern eatery that delivers high quality across the board at competitive prices in a low-key environment.
STORY: Hope S. Philbrick
PHOTOS: Joann Vitelli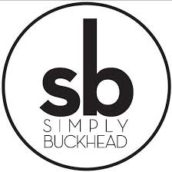 SimplyBuckhead
Simply Buckhead is an upscale lifestyle magazine focused on the best and brightest individuals, businesses and events in Buckhead, Brookhaven, Sandy Springs, Dunwoody and Chamblee. With a commitment to journalistic excellence, the magazine serves as the authority on who to know, what to do and where to go in the community, and its surroundings.