PUTTING DOWN FAMILY ROOTS IN BROOKHAVEN.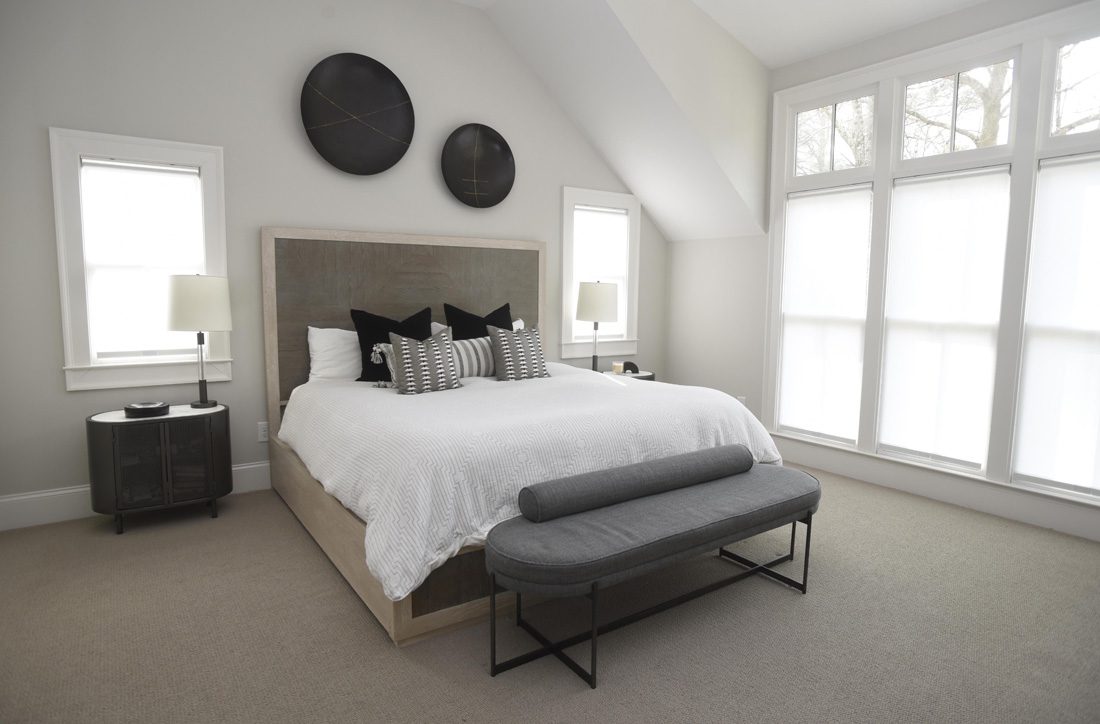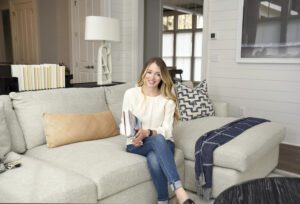 When Florida natives and Florida State University grads Jordan Lindsay and her husband relocated to Atlanta in 2018, they rented a townhouse in Brookhaven for six months to get acclimated to their new city. After getting a feel for the area, they began their search for a larger, more permanent home where they could start a family but still remain close to the city. In March 2019, expecting their daughter they purchased a newly built abode in Brookhaven's Meadowbrook neighborhood.
"The windows and flat backyard really drew us in. The home had everything we needed," says Jordan, a senior business partner at an IT staffing firm. "We knew we wanted space to expand our family. We wanted the family-friendly neighborhood as well as an open floor plan to entertain and a fenced-in backyard. Plus, we knew we'd have many family visitors once our daughter arrived."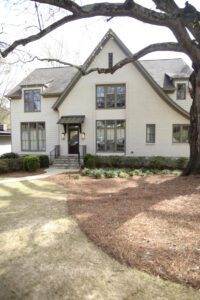 To personalize the four-bedroom, four-and-a-half bath home before the baby's arrival, the Lindsays called in some help. In June 2019, after seeing a list of up-and-coming designers in a local magazine, they engaged Virginie Airieau of interior design firm A Curated Room to assist. First, they tackled the living room and kitchen, infusing a design of gray, white and blue with earthy materials such as woods, stone and leather.
"We like a more modern aesthetic, but with kids and pets in the future we wanted something that was more functional-modern," says Jordan. "The lines are not too sharp, but not fully round. My husband is big on blue so it's the accent color pretty much everywhere."
Airieau paired the Lindsays' gray Crate and Barrel sectional with a round African whitewood coffee table from Noir Trading Inc. and white rug from Loloi. For media storage, two floating shelves from District Eight by Nuevo, also in African whitewood, are mounted on the shiplap walls and flank the 72-inch television. "Virginie worked on multiple seating and storage options to easily transform the living room into a space for entertaining on the weekends," says Jordan.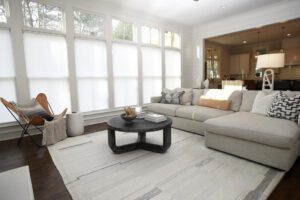 The living space flows into the kitchen, equipped with KitchenAid appliances, white and gray quartz countertops and a 10-foot island— the family's favorite place to hang out and cook, something they do at least five nights a week. Bell-shaped pendants and Four Hands bar stools made of iron and felt are the finishing touches on a kitchen that mixes practicality with style.
"The kitchen provides a white and clean aesthetic," Jordan says. "Two floor-to-ceiling closets provide great storage in addition to the walk-in pantry and large cabinets."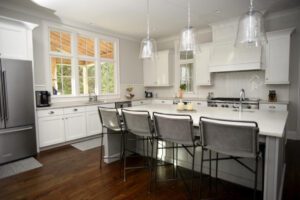 Next door, a four-seasons room serves as a girly playroom with The House of Noa play mat floor tiles, a Crate and Barrel sofa upholstered in performance fabric and storage baskets for toys. The playroom and the rest of the home benefit from natural daylight through its numerous windows. "People have said the house 'feels alive' with the strong lighting felt through the expansive windows. We couldn't agree more," Jordan says.
On the main level, Airieau revamped the entry foyer with textured geometric wallpaper from Arte on the ceiling and a three globe light fixture from Arteriors. Adjacent to the entryway, the formal dining room was completed in November 2021. Anchored by a Crate and Barrel table with layered wood legs, the dining room features Restoration Hardware chairs and a light fixture from Made Goods.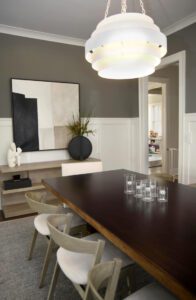 "The idea for the dining room was for it to be a continuation of the living space," Airieau says. "We wanted to keep the overall aesthetic soft and timeless."
Upstairs, the black and gray master bedroom evokes a similar blend of sophistication and global touches. Two black stone plates are mounted above the Lindsays' Universal Furniture headboard. The bed is adorned in black and gray accent pillows in various patterns, and at the foot sits an elongated oval bench with a bolster from Nina Magon for Universal Furniture.
"We love our master bedroom. The stone bowls behind the bed immediately grab your attention. The dark yet soothing tones create a calm and surprisingly light space. It's spacious and not overcrowded by decor," Jordan says. "We enjoy sitting there with the shades up, enjoying the sunlight and foliage from the backyard."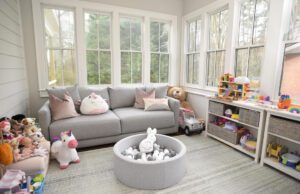 Down the hall, the baby's nursery is a sweet contrast to her parent's sleeping quarters. Dolled up in muted pink and white wallpaper, the room features a pink teepee with sun and moon pillows and acrylic crib from Pottery Barn Kids filled with fur friends.
"[The nursery] is incredibly special. I continued the functional contemporary feel carried throughout our home," Jordan says. "Her pink teepee makes for a great game of hide-and-go-seek before bath time."
The Lindsays have several more home projects up their sleeves, from designing Jordan's home office and finishing out the basement to adding more curated art to their walls.
"This is really the missing piece of the house, and we look forward to hosting those who matter most, in all open spaces of our home," Jordan says. "The home felt like us the first time we entered. Virginie has been influential in bringing furniture and decor that represents us."
IN THE DETAILS
Jordan Lindsay shares thoughts on some of her favorite home accents.
1. Made Goods light fixture: "We love the light fixture in our dining room. The white, textured metal shade brings an edge to the room, while the warm lighting creates a welcoming space."
2. Hooker Furniture buffet: "The open-concept buffet creates a space for decor as well as function while entertaining. The piece is large, but not overwhelming."
3. Leather box: "Virginie sourced a decor box that serves as a statement piece on the buffet. The leather and horsehair box adds interest and aligns with our functional modern aesthetic felt throughout the house."
PHOTOS: Joann Vitelli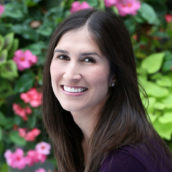 Giannina Bedford
Giannina S. Bedford is multi-faceted writer and editor. Her work covers design, travel, food and business. She's penned Simply Buckhead's home feature since inception and held a variety of editorial roles at the magazine. Her freelance work has appeared in Condé Nast Traveler, USA Today, Virtuoso Life, Hemispheres and TravelandLeisure.com. She also contributes regularly Atlanta Business Chronicle. Fluent in Spanish, Giannina was born in Miami and grew up in Brazil, Chile, Hawaii and Australia. She currently lives in Dunwoody with her two kids and husband.