Italian mecca La Grotta is the hidden heart of Buckhead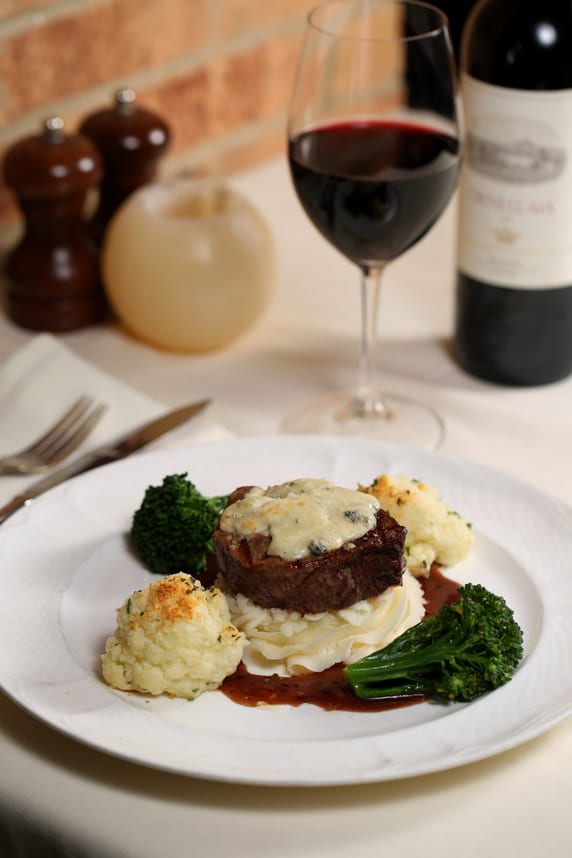 STORY: Rebecca Cha
PHOTOS: Sara Hanna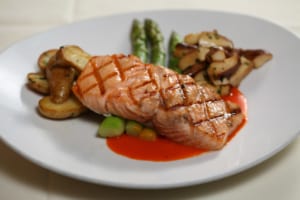 Comic hashtags aside (#frozenintime, #oldatlantamoney), La Grotta restaurant, located in the basement of a Peachtree Road condo building, is much more than a relic. It is the quintessential Italian ristorante with Southern charm to spare. Enter the nondescript building and an elevator delivers you to a subterranean wine cave. Past the wall of celebrity headshots and a discreet host stand, you turn the corner and suddenly find yourself in a cheerful dining room that feels like a private supper club. Hand-blown floral sconces around its perimeter cast a golden hue across happy faces young and old. Whether you're seated at a cushy banquette, a center-of-attention table or outside in the courtyard, you'll be treated as one of the family.
Forty-one-year-old La Grotta seems fortified against the competition in this town, and that has as much to do with the generations of devotees—many of them old school Atlanta royalty—as it does with its reliable, often superlative food. On our first meal at La Grotta, we lingered over the menu while sipping a sensuous cocktail mysteriously named Shoot the Messenger. Made with Absolut grapefruit, St. Germain (an elderflower liqueur), lime and a sprig of rosemary, it was icy-crisp, totally Tuscan and the perfect device with which to people-watch (one of the true delights of dining here). If wine is your muse, refer to the incomparable wine list, all handpicked by master connoisseurs Vince Stewart and Christian Favalli, the manager and owner, respectively.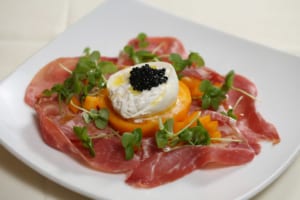 Our first bites were of the scrumptious Italian amuse of microgreens atop thinly sliced bresaola, salty manchego cheese and droplets of balsamic that arrive at your table gratis, along with a basket of warm Holeman & Finch bread and the equally generous gift of kalamata olives and olive oil for dipping said pain au levain.
There are occasional hits and misses and various combinations of the two. One of the best examples of the latter is the cold appetizer of milky burrata cheese atop wafer-thin slices of prosciutto di Parma and marinated vine-ripe tomatoes. Sounds glorious, right? But wait, there's more: truffle oil. How perfect the plate would've been had the kitchen not doused the very cornerstones of the Italian table in said oil, the Milli Vanilli of condiments. But executive chef Antonio Abizanda swears his customers love it on anything and everything he serves. The insalata di carciofi freschi fared better with its crunchy slivers of marinated artichoke, peppery green arugula and shavings of Parmigiano-Reggiano.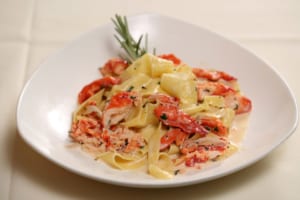 There were no quibbles with the pastas, whose flavor combinations are timeless and executions flawless. Our favorite was the penne con verdure, featuring houseblend Italian sausage, green peas and wild mushrooms in a Gorgonzola cream sauce that feels like velvet on the tongue (if you're a blue cheese hater, this dish will convert you). Hand-cut pappardelle con astice consists of delicate ribbons of pappardelle and succulent lobster tossed in a white wine cream sauce accented with just enough shallot and aromatic rosemary to conjure a midsummer night's walk in the Italian hills.
La Grotta is known citywide for its veal dishes, so choose one of the scallopinis or chops and a fine bottle of Barbaresco. The masterfully prepared scaloppini di vitello alla Grotta—veal loin with wild mushrooms and creamy Marsala sauce—was so tender it cut like a hot knife through butter. Equally solid was the filetto di manzo al Barolo, a thick, juicy beef tenderloin topped with melty Gorgonzola in a Barolo-Pommery mustard sauce.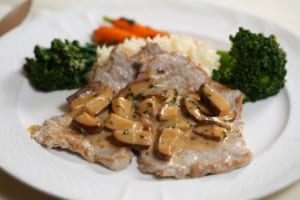 La Grotta has a few dishes from the sea as well. While our neighbors raved about the fresh Dover sole in lemon butter sauce and the gamberetti fra diavolo (jumbo shrimp in spicy marinara over pasta), we opted for the forktender filetto di salmone with herbs and roasted veggies atop a red pepper beurre blanc. While the presentation was simple and traditional, the fish was well-seasoned and cooked perfectly with a hint of pink sashimi at its center.
As with most, if not all, of the menu items, the dessert selections are solidly planted in the Italian-American canon. The torta di formaggio, for example, was simple and straightforward—a slice of ricotta cheesecake garnished with lemon zest and retro raspberry coulis. Our preference, though, was the housemade tiramisu, a classic made with Marsala-scented mascarpone, a dense layer of amaretti cookies, a thick dusting of cocoa powder and a scattering of raspberries.
Despite the kitchen's resistance to move toward the culinary road less traveled, La Grotta continues to seduce and delight diners with thoroughly enjoyable dishes made all the better by the staff's haute professionalism and congeniality, qualities that, outside these otherworldly walls, are all too quickly becoming things of the past.
LA GROTTA RISTORANTE
2637 Peachtree Rd. N.E., Atlanta 30305
404.231.1368
lagrottaatlanta.com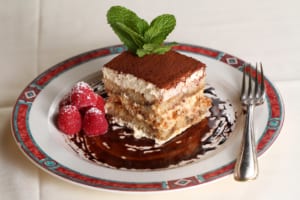 Prices: Appetizers and salads: $9.95-$15.95. Pasta and risotto: $10.95-$35.95. Mains: $21.95-$39.95. Desserts: $7.95-$9.95.
Recommended: Specialty cocktails including Shoot the Messenger, bresaola Valtellinese, burrata di mozzarella fresca, insalata di carciofi freschi, penne con verdure, pappardelle con astice, filetto di salmone con crostata d'erbe, scaloppine di vitello alla Grotta, filetto di manzo al Barolo, homemade tiramisu.
Bottom line: A Buckhead institution with five-star service and cuisine that won't disappoint.
Worth noting: La Grotta is only open for dinner Monday through Saturday, so book a table well in advance. Also, parking can confuse first-timers: Pull up in front of the condo complex and let the complimentary valets park your car. Otherwise, take Uber or Lyft.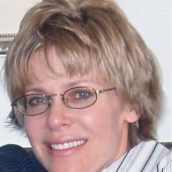 Rebecca Cha
Food, beauty and interiors writer at Simply Buckhead. Linguist, teacher, chef, parent.