Marlo Hampton's collection enters showroom territory.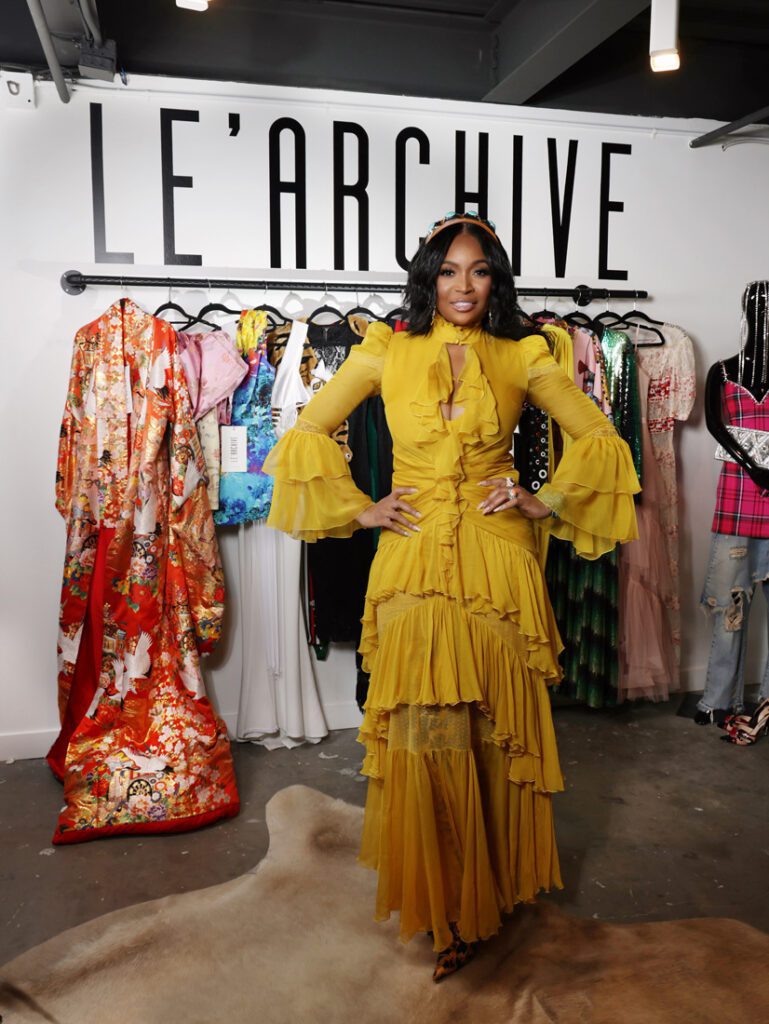 Collecting clothing and accessories might not be considered special until you chance upon Marlo Hampton's collection. "The Real Housewives of Atlanta" star's more than 5,000 luxurious pieces go beyond a typical or even atypical abundant closet, so much so that in 2020, Hampton turned her extensive fashion archive into a "library" and fashion rental business, Le'Archive Showroom, in Buckhead Village.
"I want people to enjoy the pieces; I want them to appreciate them," says Hampton, a Sandy Springs resident whose compilation features a mixture of luxury goods that were either purchased new or bought from consignment stores.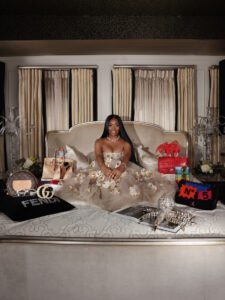 But before you get excited about snatching a Chanel PVC clear bag or a vintage Valentino gown for your next event, know that this isn't a Rent the Runway-style situation. Hampton is highly selective about who gets to wear her clothes and only lends them to those in the entertainment industry, including top fashion stylists, film and TV wardrobe consultants, magazine editors and celebrities for red carpet events, photo shoots and filming. Hampton says her clientele includes three-time Emmy Award-winning stylist DiAndre Tristan, who styles Mariah Carey and Robin Roberts; rapper Doja Cat's stylist, Brett Alan Nelson, who rented a difficult-to locate vintage Christian Dior belt; and actress Tami Roman who had Viacom hire Hampton to style the entire season of her television project "Unfaithful" with Le'Archive pieces. Showroom rentals are by appointment only, and a rental fee is charged before items are released.
What if someone loves an outfit and wants to buy it? Too bad. They are not for sale. "My pieces are too hard to come by to sell them," she says.
Hampton has always loved the hunt for quality clothing. She reminisces about her early years as a collector around 16 years ago, before she could afford the retail price tags of her favorite luxury brands. "I got turned on to consignment shops and Goodwill, and would get up and go on a Saturday morning to find pieces that no one else would have," Hampton says. Her very first diamond-in-therough was a hand-beaded jacket.
This love of dressing well came from her mother, whom she says had a knack for finding the "prettiest ruffle dresses" no matter if they came from a neighbor's garage sale, Kmart or Goodwill. "My sisters and I were the best dressed girls in the neighborhood," she says.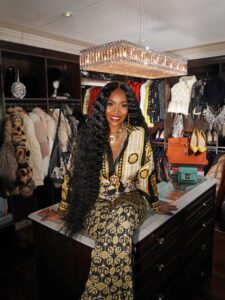 After graduating from the University of Southern Florida in Tampa in 2003 with degrees in social work and interdisciplinary science, the Florida native decided to move to Atlanta and open a store. It was through her Perimeter Mall women's wear shop, The Red Carpet Boutique—a fitting name considering the future ahead—that she got her big break on "RHOA" as a guest star. "I remember that like yesterday," she says of the show's recruiter coming in to scout her for Season 4 of the show, which aired in 2011. "My life has changed ever since." This year, she was promoted to a full-time cast member for Season 14.
Though she didn't pursue social work as a profession "because I realized I needed to make more money," Hampton retained the give-back bug. In 2011, she launched Glam It Up! with the mission to encourage young girls in the foster care system to achieve success. Growing up in foster care herself, it was important to Hampton to give these kids fun opportunities, such as prom dress shopping and attending WNBA games, as well as life skills such as dining etiquette lessons that she never got.
In addition to growing her nonprofit and Le'Archive Showroom, Hampton is also enjoying a new chapter in her personal life. Trading socialite for caregiver, for the last three years she has been raising two of her nephews, now teenagers, as their legal guardian. In her downtime, she prefers being at home rather than going out. "I like to sit in the house with the TV off, with a nice glass of wine, reading my Bible and enjoying my peace and quiet," she says.
LE'ARCHIVE SHOWROOM
le-archive.com
@le_archive
PHOTOS: Sara Hanna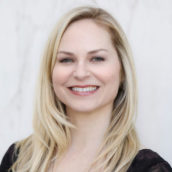 Karina Antenucci
Managing Editor and Wellness Columnist at Simply Buckhead. Blogger at Badass + Healthy.