DAZZLING PERSIAN FARE AT RUMI'S KITCHEN!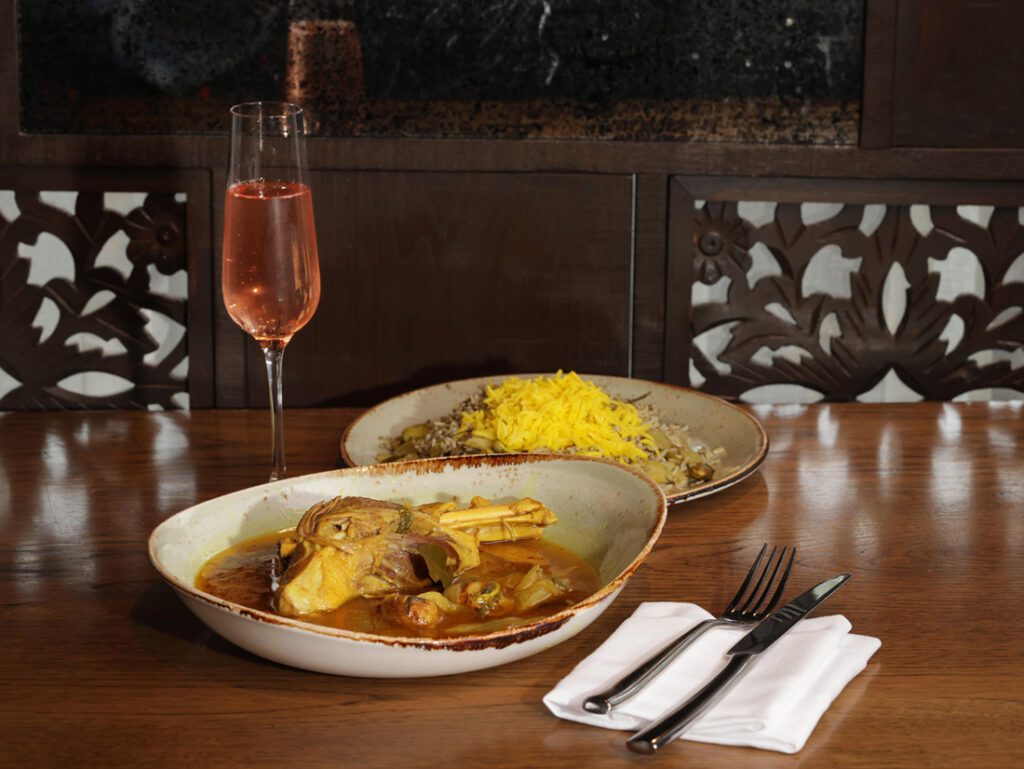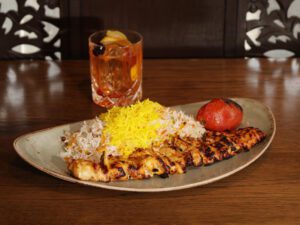 Order extra when visiting Rumi's Kitchen Sandy Springs; trust me. It's not essential: The portions are generous. Still, go ahead and get a medley of appetizers and extra entrees. You owe it to yourself to sample as many dishes as possible.
You'll never regret leftovers. They're packaged thoughtfully in microwaveable containers, reheat beautifully and stand ready to satisfy those inevitable cravings for a revisit—even if such pangs strike at 3 a.m.
What to order? It seems impossible to go wrong with any pick, but if overwhelmed by the mouthwatering opportunities, ask your server for suggestions. That is how, on my first visit, I settled on chicken barg. It arrives on an oval platter looking like a piece of fish. That's because "the chef pounds it with the backside of a knife," the server says. A flat wedge with a skewer scar running through it, the juicy meat is laced with exotic flavors thanks to a saffron marinade. Divine.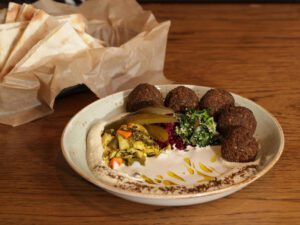 Hugging that chicken on one side is what must be the world's fluffiest rice. When the server asked which of the seven versions of rice I wanted, I stuck with the default saffron basmati. Yet my platter arrived with shirin polo, a happy accident.
Before I even noticed the swap, the server rushed out with a side plate. "That's the wedding rice; here's the saffron basmati," he says. "Traditionally you'd cut up this grilled tomato and mix it in." A tasty tip! Jazz things up even more with a sprinkle of citrusy sumac powder and torn herbs from the sabzi plate delivered with pita bread almost as soon as you sit down. Yum. Whatever you stir in, however, it's less provocative than its ethereal sibling.
Shirin polo isn't dubbed "wedding rice" on the menu, but it's a fitting nickname since the orange zest, red barberry, pistachio, almond and rosewater additions are a joyful combination worth celebrating. Sweet yet savory, packed with interesting textures and almost too good-looking to believe, it's simply great. I, for one, am ready to declare it the best rice ever.
Reluctantly, I offered a few bites to my husband in exchange for a taste of lamb shank with baghali polo (fava bean and dill basmati). Falling-off-the-bone tender and swimming in broth with vegetal notes, the meat and its ideal savory partner rice with tangy earthy notes were worth the trade.
We'd first noshed on falafel, a stunning plate of crisp-tender chickpea balls, pickled veggies, tangy tabouli and savory tahini sauce. Equally impressive was the mirza ghasemi (smoked eggplant with tomato and garlic) slathered on warm pita that managed to present strong smoky notes without hiding the harmonious plant flavors.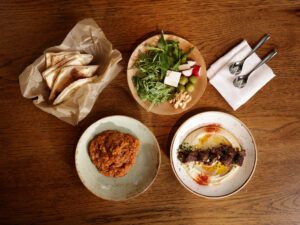 Service begins upon approach as valets stand ready to park your car. The spacious dining room feels like a patio with its high ceilings, large plants, rustic accents and bubbling water feature. Servers rush around in all directions, clearly busy yet always ready to help one another and any guest in need. Diners continually stroll in, filling tables almost as soon as they're wiped clean. The vibe is lively, enthusiastic, fun. Prefer takeout? It's a breeze! Online ordering pairs photos with descriptions, a mix of information and temptation. Pick-up is as simple as rolling down your car window. The food holds its quality even if transported across the city. Attentive service conveys even through the brown paper sack as dishes are thoughtfully packed, well labeled and accompanied by extras such as sumac powder, gratis sabzi plates (feta cheese, olives, herbs and walnuts) and pita bread to help your off-site dining mimic the restaurant experience.
Study the menu to find bargains. Some platters feature two different types of kabob for a slightly higher price than those with single kabobs, and you can add a single beef koobideh kabob for a small fee, substitute rice versions for a minimal upcharge and even add sides such as sliced cucumber for free.
An appetizer twofer, lamb hummusiya rests lamb sausage atop hummus for a pleasing contrast of spicy heat and cool umami. Contrasting flavors is a pleasant menu theme. Dukkah roasted carrots play nutty-spicy notes against earthy sweet carrots and tangy-sweet yogurt cheese. Soltani kabob presents a dense beef koobideh kabob— skewered minced meat mixed with spices including sumac and turmeric— alongside marinated, soft beef barg for a study in nuanced textural and spice differences. Good luck choosing a favorite.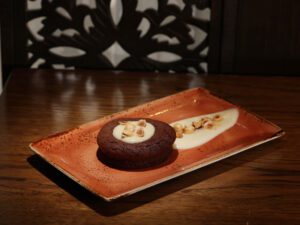 Flexibility reigns. For example, chicken soltani by default features a beef koobideh kabob, chicken barg kabob and saffron basmati rice. But you can swap the basmati rice for zereshk polo (dried barberry basmati) or another rice option. You can also trade the beef for lamb koobideh and its slightly sweeter umami. Require gluten-free options? Simply alert your server or check the box when ordering online.
Finish with the chocolate hazelnut torte. Sweet but not sugary, rich yet airy, it's large enough to share yet small enough that a reasonable argument can be made to keep one all to yourself.
Rumi's Kitchen is named for Jalaluddin Rumi, a 13th century Persian poet. Fitting, since its dishes present powerful culinary rhythms and rhymes.
Rumi's Kitchen Sandy Springs
404.477.2100
rumiskitchen.com
@rumiskitchenofficial
Prices: starters: $8-15; salads, $8-12; entrees: $18-45; sides: $4-10; desserts: $10.
Recommended: Dukkah roasted carrots, mirza ghasemi, lamb hummusiya, chicken barg, soltani kabob, shirin polo, chocolate hazelnut tart.
Bottom line: This Persian restaurant delivers rave-worthy dishes and drinks with friendly service at competitive prices in a lively environment.
STORY: Hope S. Philbrick
PHOTOS: Sara Hanna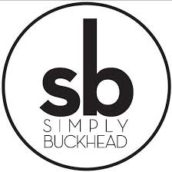 SimplyBuckhead
Simply Buckhead is an upscale lifestyle magazine focused on the best and brightest individuals, businesses and events in Buckhead, Brookhaven, Sandy Springs, Dunwoody and Chamblee. With a commitment to journalistic excellence, the magazine serves as the authority on who to know, what to do and where to go in the community, and its surroundings.