Ecco Buckhead's hyper-seasonal dishes make for ever-changing offerings.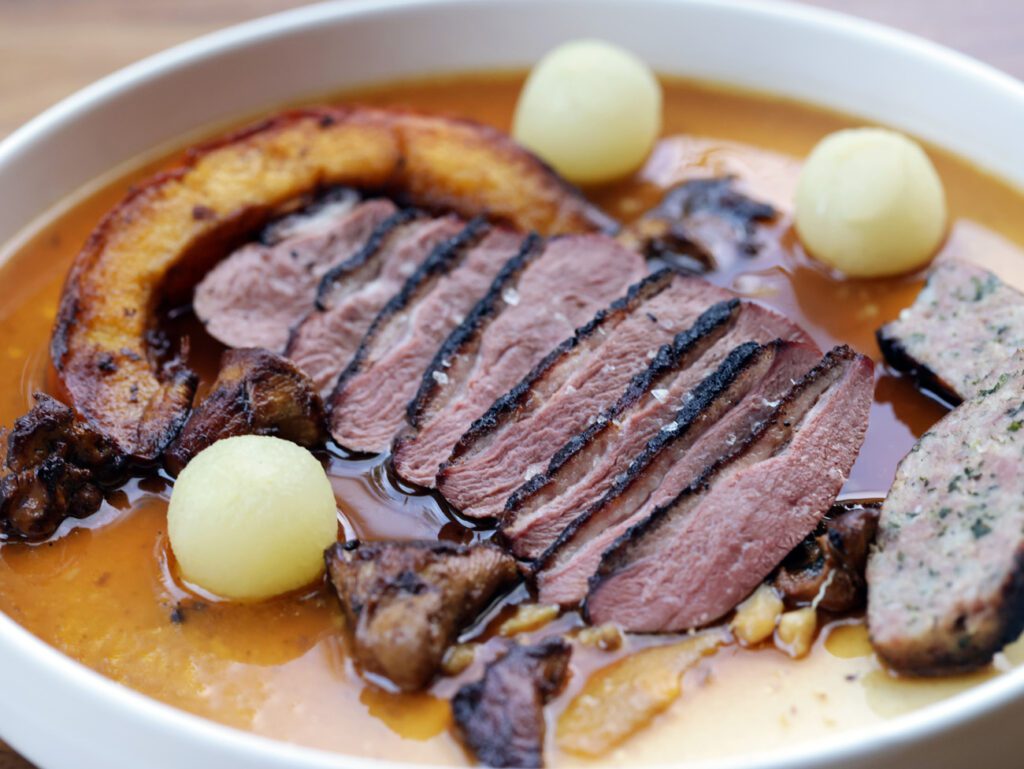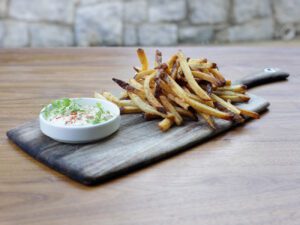 Some of my fondest memories are of gliding around the dance floor, being led through the elegant one-two-three of the waltz or the crisp, drama-filled steps of the tango. What started as an elective ballroom dancing class in college turned into a full-fledged passion for me. Meals at Ecco in Buckhead have that same elegance and spontaneity.
Instead of a partner leading him to music, Executive Chef Drew Van Leuven allows himself—and his highly developed sense of creativity—to be driven by what's in season. "Farmers grow vegetables throughout the year, all with a short timespan of perfect seasonality," he says. "There aren't four seasons; there are actually around 16 [when it comes to produce]." He maintains strong relationships with regional growers, so he'll know what's coming into its peak of freshness, even if ingredient availability is short-lived, sometimes even a handful of days.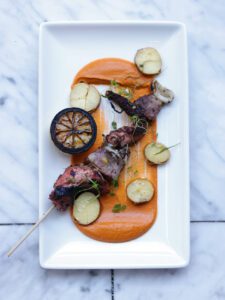 Case in point: Though there was a scant two-week interval between recent dinners, the menu was transformed.
During my first visit, I fell in love with a starter of impossibly creamy burrata with peppery arugula, English peas, sweet-tart strawberries and pickled fennel, drizzled with peppercorn vinaigrette; grilled Spanish octopus, charred in all the right places and served with Castelvetrano olives and fried shallots; and a rather extraordinary grilled pork tenderloin with beet top risotto, crispy pancetta and golden beets. Though their memory had my mouth watering in advance of my second reservation, they'd been replaced with updated dishes according to micro-changes in what was available from local farmers.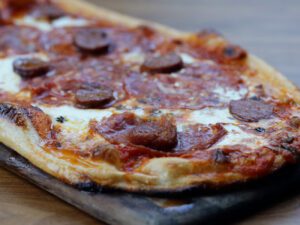 During my second visit, I decided to stick to items that tend to be perennial Ecco favorites—the things that might incite a riot among regular guests if they were removed. No matter when you visit, the tangy goat cheese, fried to golden, drizzled with honey and flecked with cracked black pepper (a holdover from Fifth Group's original location in Midtown), is a must-order. The pastas are made fresh, so you can't go wrong with carb-loading here. A classic, the toothsome, just al dente pappardelle is tossed with silky pork, braised with garlic, basil and mild, sweet peppadew peppers. At lesser restaurants, a flatbread can feel like a safe or uninteresting choice.
Here, the Allora arrived crisp and char-spotted from its brief stint in the ultra-hot, wood-fired oven and topped with ruby red San Marzano tomato sauce, still bubbling mozzarella, hot sopressata and pepperoni. That dish alone will keep me coming back; it's casual, comforting, unpretentious and perfectly done.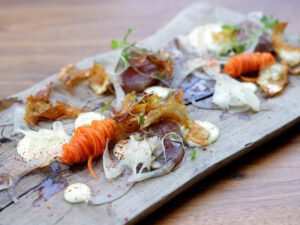 If you're looking for a way to exercise a bit of your own creativity, the culinary crew is known for its fresh bread and curing many of the meats on offer, so you're always able to build a spectacular charcuterie board. Mortadella studded with pistachios, duck confit rillette and enough smoked sausages to make a meat-lover's head spin come served with seasonal accoutrements such as pickles and jam, the ideal counterpoint to house-made mozzarella or gorgonzola dolce imported from Italy.
Whether a meat and cheese platter is your preferred start to the meal or the meal itself, it shouldn't be missed. An always on-duty sommelier can help you choose a nice glass (or bottle) of wine from the largely European list to complement whatever you've ordered.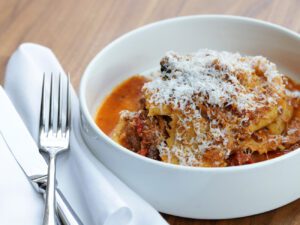 Another thing that stays consistent through every visit is the restaurant's understated elegance that makes it easy to relax and enjoy yourself. The 12-foot-tall walnut door seems to signal that dining here is an event, something to be savored. The expansive dining room and bar fuse Old World gravitas with a streamlined, modern sensibility. Towering ceilings are made cozier with dropped wooden platforms, from which hang giant, softly glowing circular light fixtures. Sumptuous leather chairs and booths invite guests to stay a while. The bar and lounge area, which opens into a covered patio, is adorned with black and white photos that serve to give the space a sense of history, even though it's only been here since 2018.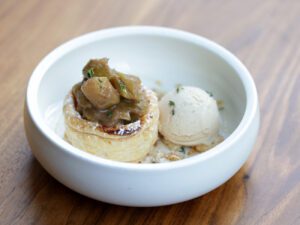 The frequent changes at Ecco are a double-edged sword: They make for an exciting experience every time you visit, rather like my joy at being led around the dance floor, unsure what step my partner will choose next, but it can be disappointing if one of your favorites isn't available. There's an easy fix: If you fall in love with a dish, visit again quickly because this inventive and intuitive kitchen team will continue to dance to the music of the seasons, creating ever-new dishes to delight their guests.
ECCO BUCKHEAD
404.347.9558
ecco-atlanta.com, @ecco.atl
Prices: small plates: $9-$18; flatbreads: $15-$21; pasta and mains: $19-$36; sides: $7-$12; desserts: $6-$9.
Recommended: Allora flatbread, fried goat cheese, agnolotti, pappardelle with braised pork, wood-grilled pork tenderloin, seasonal fruit tart.
Bottom line: Meticulously crafted and highly seasonal interpretation of Italian and Spanish cuisine, served in a cozy atmosphere that marries Old World grace with contemporary vibes.
PHOTOS: Sara Hanna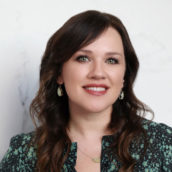 Jennifer Bradley Franklin
Senior Contributing Editor and Beauty Columnist at Simply Buckhead. Travel, Food and Design Writer and Author.