IT'S ST. PATRICK'S DAY ALL YEAR LONG AT THESE LOCAL PUBS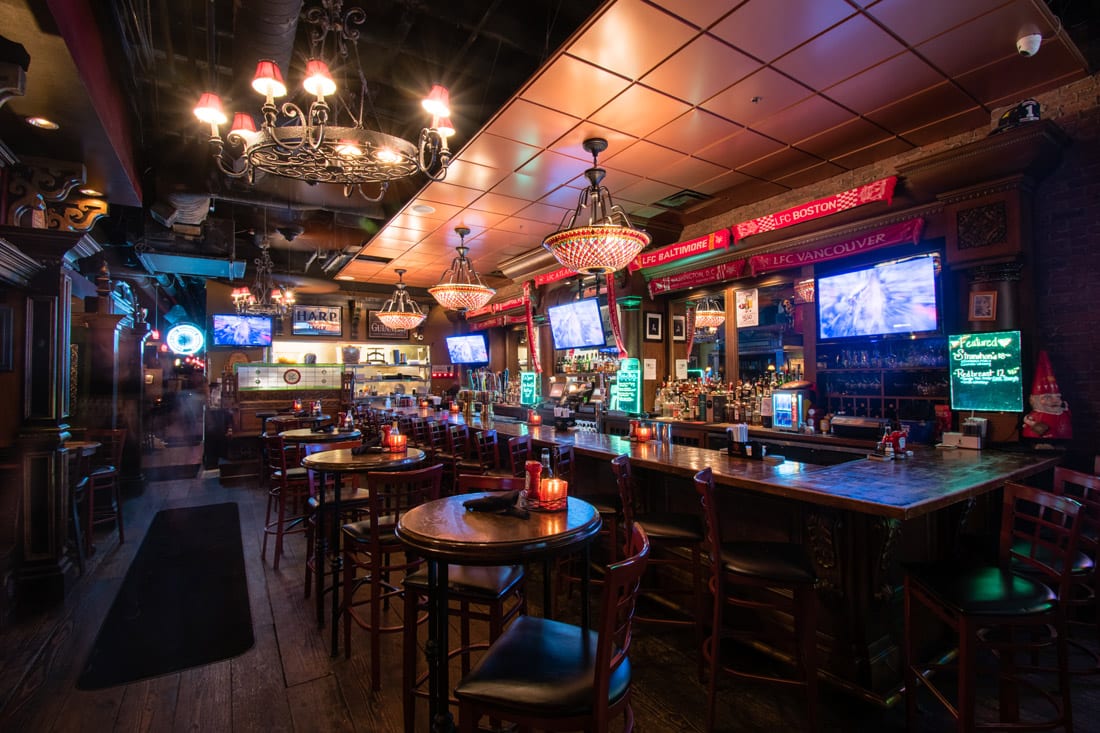 STORY: Angela Hansberger
Come March 17, we have a valid justification for wearing green and drinking beer. But you don't have to wait till St. Patrick's Day to celebrate Irish culture. Both authentic and unique, Atlanta's Irish taverns preserve a time and way of life full of laughter, comfort food and seriously smooth pours of the Emerald Isle's signature dark brew.
Fadó Irish Pub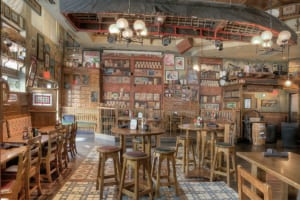 From the light fixtures to the floorboards, Fadó's interiors were manufactured in Ireland and shipped via freight containers to Buckhead. Three levels offer room to explore, including a rooftop patio boasting Irish murals and the "Grand House" featuring an oversized fireplace that beckons on cool or rainy days. "Fadó" means "long ago" in Irish Gaelic, and the place is brimming with Victorian-era pub flourishes.
The menu reads as an Irish influenced gastro pub, with a broad range of drinks from Irish whiskeys and craft beers to regional riffs on classic cocktails such as the Irish Whiskey Sour. Regulars love the beer battered goat cheese with jalapeño infused honey and thyme as much as traditional corned beef and cabbage. Much like the live broadcasts of European sporting events shown on the TVs around the bar, there's a little something for everyone here.
Fadó Irish Pub
273 Buckhead Ave. N.E.
Atlanta 30305
404.841.0066
fadoirishpub.com
Olde Blind Dog Irish Pub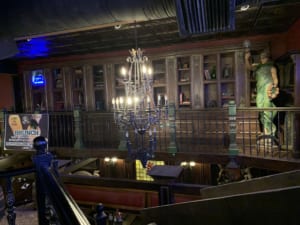 There's usually a story behind an Irish pub's name, and Olde Blind Dog's is as charming as its interior. When trying to create an inspiring moniker, owner Ron Wallace looked no further than his trusted sidekick, his blind-in-one-eye bulldog.
With decor imported from Europe and authenticity as its goal, the space has a lived-in feel. For a restaurant, it's like a wonderland with multiple levels, carved-out snugs, cobblestone pathways, street scenes with signage and alcoves that feel like independent shops. Reclaimed wood, stained glass and ironwork heighten the Old World charm of the space. A Brave heart-era replica of Mel Gibson stands over the top level with wardrobe accents that change with the season or sporting events.
The pub's menu is similarly stuffed with comforting Irish belly warmers such as the lamb stew served with a hefty wedge of housemade soda bread and Irish butter. And don't skip the popular ale and cheddar dip made with Dubliner cheese; go ahead and order extra pretzel bread for dipping. Sticky toffee pudding is a delightful finale. Instead of green beer, opt for something from the lengthy list of 50 whiskies and 40 beers.
Olde Blind Dog Irish Pub
705 Town Blvd. N.E.
Atlanta 30319
404.816.5739
oldeblinddog.com
Meehan's Public House
Meehan's unassuming classic matte facade with jaunty yellow lettering over black paint opens to a dark and convincing ambiance of brick walls and dark wood. It's chock full of old art, photos of Ireland, stoneware flagons and sports memorabilia. The bric-a-brac accentuates the rich mahogany, leaded glass, brass accents and wood flooring. Its dog friendly patio is ideal for sipping pints on sunny days with your canine pal.
The menu of pub classics will satisfy your Irish cravings where chips are fries, crisps are chips and rashers are bacon. Traditional throwbacks such as shepherd's pie, bangers and mash, and fish and chips complement the burgers, buffalo wings and H&F pretzels with housemade mustard and queso. Along with rotating taps of premier Irish imports and local craft and microbrews, more than a dozen Irish whiskeys are available to choose from. A fun cocktail/dessert hybrid is the Chocolate Milk, consisting of Guinness with vanilla cacao syrup.
Meehan's Public House
227 Sandy Springs Pl. N.E.
Atlanta 30328
404.843.8058
meehanspublichouse.com
Angela Hansberger
Drinks columnist at Simply Buckhead. Food, spirits, and culture writer.