WHERE TO CATCH THE SEASON'S BIG GAMES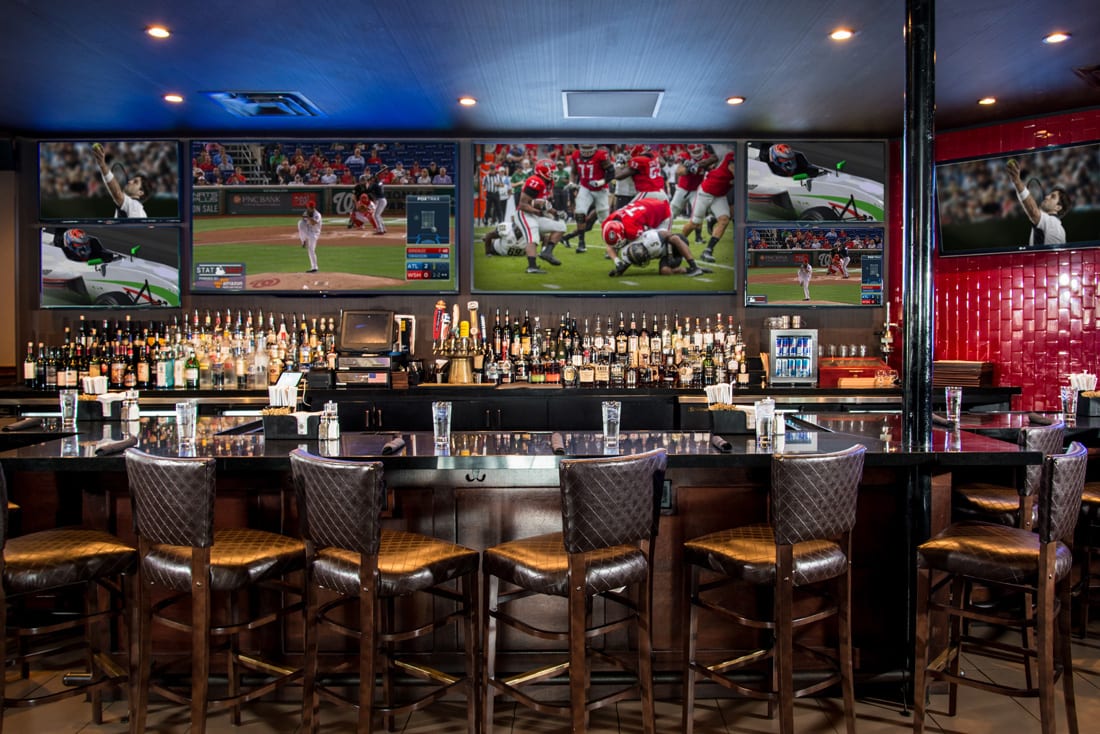 Come January and February, there are countless great sporting events you'll want to watch on the tube. The Super Bowl, NBA All-Star Weekend and the Winter Olympics are just a few. Here are five of the best sports bars in the Buckhead area for catching the action.
DANTANNA'S
Scouting report: An upscale steakhouse meets sports bar that makes an ideal place to cheer on your favorite team.
Signature dish: Sports can be a primal experience, so what better dish to pair with them than meat? Dantanna's serves up 28-day aged Angus beef, and while each of the steaks is great, we find the filet mignon to be particularly tender and mouthwatering.
The sports vibe: Plush banquettes invite you to order another round, and the minimal decor keeps your eyes focused on the big-screen TVs.
Dantanna's
3400 Around Lenox Road
Atlanta 30326
404.760.8873
dantannas.com
BLACK BEAR TAVERN
Scouting report: A convivial neighborhood spot with zero frills but some of the best burgers around.
Signature dish: The menu is extensive, but the MVP is the burgers. Go for the Texas Burger, eight ounces of beef smothered in wing sauce and melted blue cheese crumbles, with a side of tater tots.
The sports vibe: A dive that still allows smoking (you've been warned), Black Bear bills itself an official Chicago sports bar, so there's plenty of Chi-Town team insignia adorning the walls.
Black Bear Tavern
1931 Peachtree Road N.E.
Atlanta 30309
404.355.9089
blackbeartavern.net
THE PAINTED PIN
Scouting report: A sexy entertainment venue with craft cocktails and upscale bar eats.
Signature dish: Since The Painted Pin is a group outing destination, get something the whole group can share: the loaded fries, piled high with bacon, cheese, scallions and sour cream. While you're at it, share a bowl of one of their signature punches, such as the rum punch spiked with hibiscus, lime juice and cava.
The sports vibe: The Painted Pin is an entertainment venue first—with bowling, shuffleboard, Skee-Ball and more— and a sports bar second.
The Painted Pin
737 Miami Circle N.E.
Atlanta 30324
404.814.8736
thepaintedpin.com
OLDE BLIND DOG IRISH PUB
Scouting report: Modern version of a classic Irish pub with a careful attention to detail in the decor, including antique wood paneling imported from England.
Signature dish: The menu has American bar grub on it, but the standout is the Irish pub fare. Order the fish and chips with housemade tarter sauce and, naturally, a pint of Guinness.
The sports vibe: The indoor cobblestone road, complete with street signs that have you thinking you're on the Emerald Isle, creates a friendly and fun environment for watching the big game with your best blokes.
Olde Blind Dog Irish Pub
705 Town Boulevard
Atlanta 30319
404.816.5739
oldeblinddog.com
INDUSTRY TAVERN
Scouting report: A sports bar with an industrial warehouse setting offering a relaxed sports-watching spot in the heart of Buckhead.
Signature dish: Sure, you can make nachos at home, but if you're looking for something "next level," order Industry Tavern's lobster nachos, which boast lobster knuckles and claws in addition to the usual fixin's.
The sports vibe: The ceiling is lined with TVs, so there's not a bad seat in the house, and the 360-degree bar is as inviting as it is open.
Industry Tavern
3280 Peachtree Road
Atlanta 30305
404.254.4468
industrytavern.com
BY: Lia Picard
Lia Picard
Freelance writer covering food, travel, and interior design.