A trip to Maui is a return down memory lane.
I moved to Maui when I was 9 years old and left when I was 13. Since then, I've always had a place in my heart for this enchanting, down-to-earth locale. As the phrase "Maui no ka oi" goes, this island truly is "the best." I longed to go back and visit the "Valley Isle" so many times, but something always kept me from hopping on a plane for a cross-country trip—school, finances, work, you name it. But, 16 years after saying goodbye to the second-largest Hawaiian island, I gathered up the family (mom, stepdad, two brothers and spouses) for a visit to our former home.
Our headquarters during our weeklong visit was a plantation-style home rental called Lilikoi Lani—"Passion Fruit Heaven"—bordering the towns of Haiku and Makawao, not far from our previous residence in upcountry Pukalani. As we drove away from the airport, seven people jam-packed in a minivan, we noticed the downtown development that had occurred during our absence, but could still see the Maui we knew and loved through the increased traffic. Our drive toward our vacation abode took us past beaches and on winding roads where my brothers and I excitedly pointed out familiar hangouts, friends' homes and roadside stands from our childhood.
Although our fuzzy memory took us on a few wrong turns, we finally found our destination hidden behind a veil of lush vegetation. Past the gate and on to a gravel road was the five-bedroom, three-bathroom retreat surrounded by tropical gardens. From banana, guava and the namesake lilikoi (yellow passion fruit) trees to a mélange of orchids and tropical flowers, the two-acre property was bursting with plant life. There was also an on-site organic vegetable and herb garden and a chicken coop. As I walked up to the front door, I was tempted to park on one of the rocking chairs on the huge wraparound lanai and sleep away my jet lag.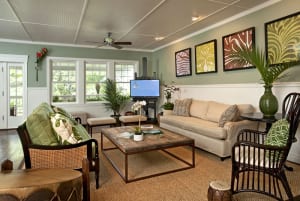 Stepping through the screened door, I was not disappointed. The 3,700-square-foot residence was built to look like an elegant Hawaiian plantation home. Hardwood floors and dark wood furnishings mixed with vibrant pops of color from bright-hued pillows and Hawaiian-inspired décor. Everywhere you looked were fragrant fresh flowers in vases and sconces, picked from the backyard. Two large master suites, the Lilikoi and Mana, offered views of the gardens and king beds outfitted with white linens and pillows with colorful designs, topped with decorative mosquito netting. The Ohana and Lani rooms matched the tropical styling, as did the Plantation room, which connected to the living room via French doors and doubled as a study. Our preferred place to gather soon became the open and airy living room and spacious checkered-floor kitchen with a cozy breakfast nook. Special touches— a dozen eggs in the fridge that came from the on-site chicken coop; a basket of fresh lilikois; a personalized welcome greeting on the study chalkboard; and a basket filled with yummy island specialties—made us feel even more at home.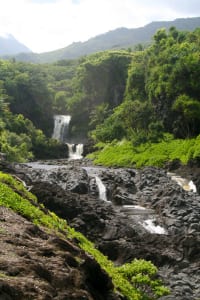 Over the next week, we rediscovered the island we'd left years before and introduced it to our spouses for the first time. We spent an afternoon in Lahaina's old town, shopping the touristy shops and enjoying live hula performances before watching the sun set from the patios of Kimo's, stereotypical frozen drinks in hand. We drove the road to Hana, stopping at the must-see waterfalls and Seven Sacred Pools, and then took the much-less-traveled route home on Piilani Highway, breaking for a cold drink at the landmark Kaupo General Store.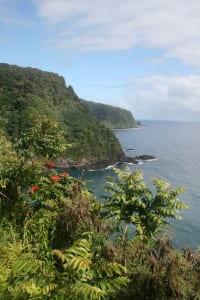 We rose at 3 a.m. to watch the sunrise on Haleakalā Crater—a majestic sight no matter how many times you've seen it—then enjoyed coffee and croissants at La Provence, a hidden spot tucked in a hillside in Kula. We went down memory lane by driving past our old homes, strolling the little towns of Paia and Makawao and spending lazy days on our favorite beaches, Makena and Baldwin Beach Park—all laid-back spots off the tourist path.
For a new experience, my husband and I splurged on a mind-blowing helicopter trip above Maui and Molokai with Sunshine Helicopters. Gliding above towering cliffs, we saw Hawaii's tallest waterfalls (over 3,000 feet) on Molokai's isolated north shore. We returned home through the West Maui Mountains, allowing me to see my beloved island from a completely new perspective
When we weren't out and about conquering our old stomping grounds, we soaked in the peace of simply being at home together. We sat in rocking chairs on the lanai, catching up on life and enjoying the crisp breeze and gentle evening "Ulalena" rain typical of the area. We surrounded the dining table over home-cooked meals and visited with friends we hadn't seen in years. To be able to spend time with my family, now scattered across North and South America, was a priceless gift and to be able to do it in Lilikoi Lani's lap of luxury was an added bonus. We may have encountered a few hiccups—running out of warm water and accidentally getting locked out of one of the bedrooms—but what's a family vacation without some memorable inconveniences?
I may no longer live on Maui but my heart will always be there, and hopefully so will Lilikoi Lani, which means I can come back to visit again and again. Regardless of what may be going on in my life, I vow that it won't take me another 16 years to do so.
STORY: Giannina Smith Bedford
IF YOU GO:
Hawaii Tourism Authority
gohawaii.com/en/maui
Lilikoi Lani
llfarm.nubook.com
Sunshine Helicopters
sunshinehelicopters.com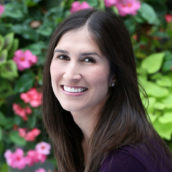 Giannina Bedford
Giannina S. Bedford is multi-faceted writer and editor. Her work covers design, travel, food and business. She's penned Simply Buckhead's home feature since inception and held a variety of editorial roles at the magazine. Her freelance work has appeared in Condé Nast Traveler, USA Today, Virtuoso Life, Hemispheres and TravelandLeisure.com. She also contributes regularly Atlanta Business Chronicle. Fluent in Spanish, Giannina was born in Miami and grew up in Brazil, Chile, Hawaii and Australia. She currently lives in Dunwoody with her two kids and husband.