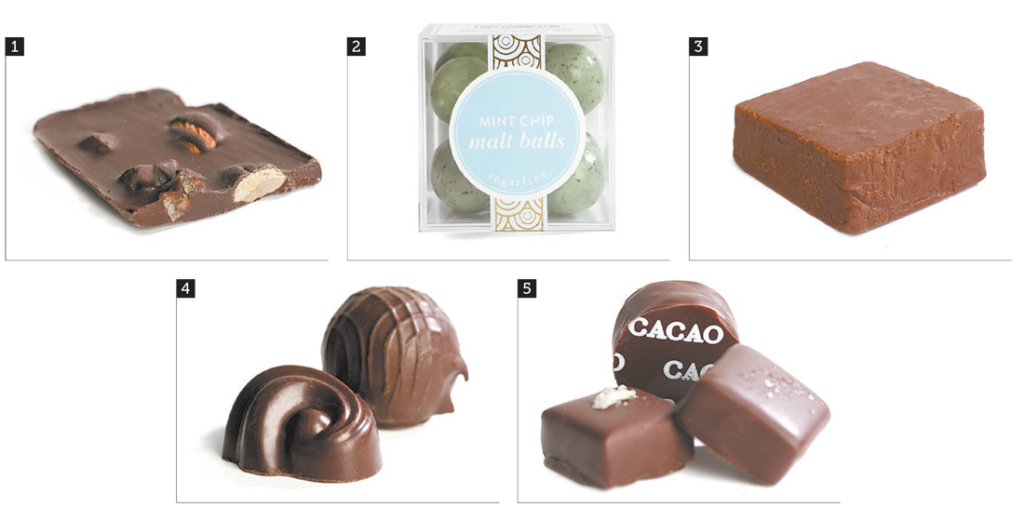 If you have a passion for chocolate, indulge your sweet tooth with confections from some of Buckhead's leading chocolatiers. Discover everything from bark to balls with this innovative mix of melty delights.
1. DiAmano Chocolate: Almond, Orange Peel, Sea Salt Bark ($14 for 6 pieces)
This small, family-owned gourmet confectioner is known for a variety of mouth-watering chocolates, including truffles and swanky bark, all made in-house. The bark combines chocolate with roasted and salted almonds, and cashews with bits of orange peel topped with a sprinkling of fleur de sel sea salt. The ingredients paired with the intense flavor of dark chocolate dissolves effortlessly on the tongue, delivering a rounded sensory experience with fruit flavors and a pleasant, tangy-bitter finish.
1100 Hammond Drive N.E.
Atlanta 30328
770.730.9770
diamanochocolate.com
2. Sugarfina: Mint Chip Malt Balls ($7.50 for 8 balls)
It's hard not to feel like a kid in a candy shop in this boutique sweets store for adults, where sensory overload trumps decision making. Originally on the gourmet candy map for their famous Champagne Gummy Bears, chocolate fans now swoon over the Mint Chip Malt Balls. Just like a scoop of mint chocolate chip ice cream, this melt-in-your mouth malt center is dredged in rich chocolate and then coated with refreshing mint cookie crumbles.
3393 Peachtree Road
Atlanta 30326
470.344.3440
sugarfina.com
3. River Street Sweets: Chocolate Fudge ($22.95 per pound)
Step inside River Street Sweets and back to the days when candy was always handmade. The creamy Southern fudge recipe is made at the store in small batches with fresh cream and butter. It's perfectly blended with chocolate for a rich and dense, not-too-sweet taste. This old-fashioned candy is offered in a variety of flavors, including peanut butter and maple.
3500 Peachtree Road
Atlanta 30326
404.364.0810
riverstreetsweets.com
4. Godiva: Dark Chocolate Truffles ($52 for 24-piece box)
Chocoholics will revel in the consistently rich and creamy selection of Godiva's super-premium chocolates, including their signature ultra-smooth truffles. Savor the Dark Chocolate Truffle collection, a rich, decadent mix of sweet, savory and spicy truffles in flavors such as Aztec spice, Key lime and Black Forest cake.
3393 Peachtree Road
Atlanta 30326
404.262.2108
godiva.com
5. Cacao Atlanta Chocolate Company: The Epiphany Collection ($36 for 12-piece box)
Made-from-scratch concoctions at Cacao combine exotic ingredients and flavors from all over the world, including beans from Venezuela and Peru. The Epiphany Collection is best for an all-around decadent tasting experience. Dark chocolate covers exciting combinations of ganache blended with flavors such as honey ginseng, peppermint, rosemary cardamom, bourbon espresso and more.
3035 Peachtree Road N.W.
Atlanta 30305
404.228.4023
cacaoatlanta.com
STORY: Jessica Dauler
PHOTO Sara Hanna