Getting personal with autographed memorabilia.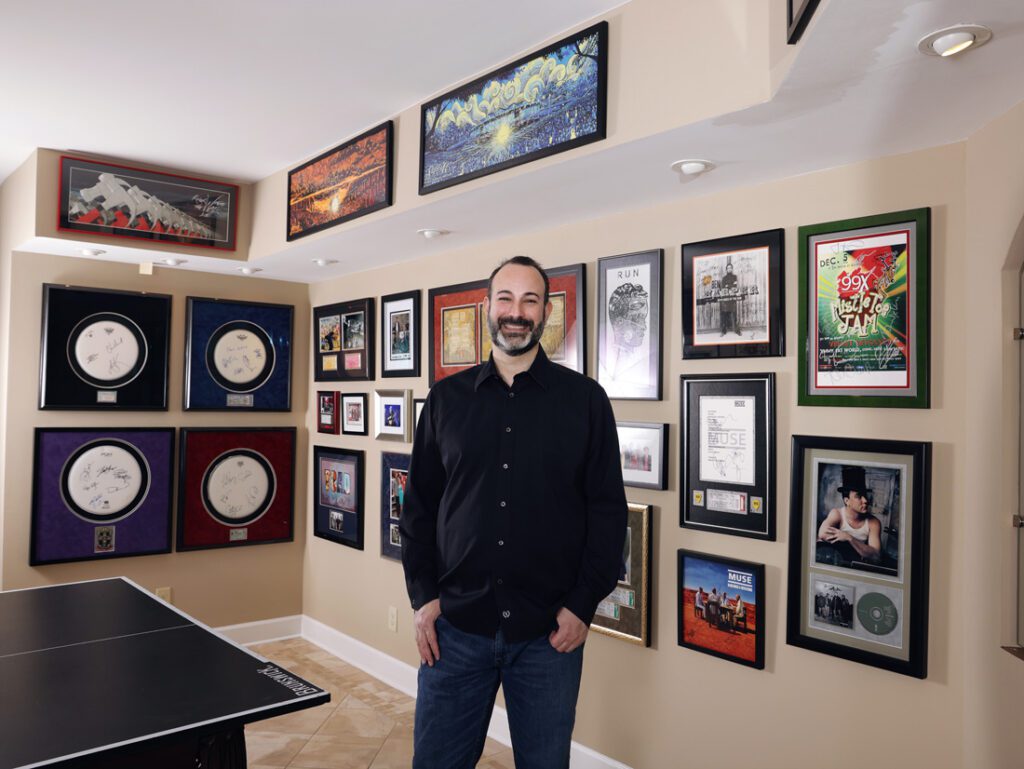 For Sandy Springs resident Dave Cohen, each of the 250 pieces in his rock music collection is personal, and every commemorative record, guitar, poster or picture is autographed.
A lifelong rock music lover, he built his collection around his favorite rock stars. Some pieces came from artists he met during his six-year tenure with 99X (formerly WNNX), an alternative rock station that staged hundreds of concerts and featured on-air guest artists. Others came from the stars he met during the six years he created, produced, sold ads and managed Unplugged in the Park at Piedmont Park. Others were purchased at the hundreds of concerts he has attended.
His all-time favorite is Dave Matthews, and to date, Cohen has seen 90 of his concerts. "I even managed to get photos with him that included my son's mother when she was pregnant," he says. "Dave also dedicated a separate photo to my unborn son, Carson, who is now 11 and has favorites of his own."
The collection is displayed floor-to-ceiling in rooms he specifically designed, an arrangement he cloned from the Hard Rock Cafe. One entire wall is devoted to hard-to-find awards from the Recording Industry Association of America. Each has a hologram proving its authenticity. He also created niches to display rare guitars autographed by Radiohead and Pearl Jam.
Cohen's memorabilia was featured on AXS TV's "Rock My Collection," a program similar to "Antiques Roadshow," and in April, he was inducted into the 2020 Hall of Fame at SUNY Brockport's radio station, WBSU, where he learned his craft.
PHOTO: Sara Hanna
Mickey Goodman
Award-winning Ghostwriter, Journalist, Content Creator.