WINNING GAME-DAY RECIPES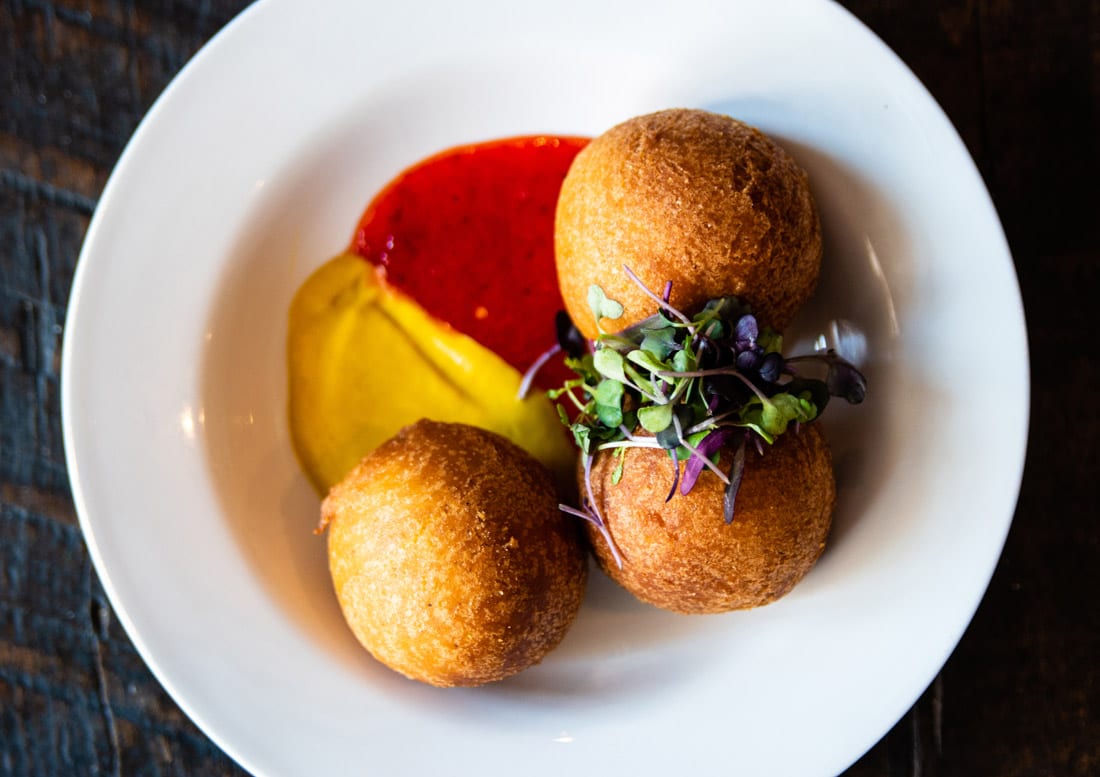 BY: Lia Picard
Photo: Henri Hollis
The Super Bowl is Feb. 3, and although at press time we don't know who's playing in it yet, we do know that Atlanta will be partying. And what's a Super Bowl bash without good food? A proper watch party doesn't necessarily call for gourmet eats, but they do need to be tasty.
Irby's Tavern opened in Buckhead last June, giving us a polished sports bar with classic bar grub. Its executive chef Jarelle De'Long knows all about preparing for such an event, so we asked for his best advice for feeding your fellow football fans. "You can't go wrong with a dip, which is a game-day favorite that's tasty, quick and easy to prepare," he says. "Set it up next to your favorite bag of chips and watch it serve itself." A few of his favorites include buffalo chicken, French onion and crab.
To prevent getting overwhelmed, start planning your party early, suggests De'Long. "Keep the menu simple, make a checklist and get as much done ahead of time as possible," he says. "And remember to have fun and enjoy yourself."
While the big game is happening in our own backyard this year, if you're planning on staying home to watch with your best buddies, here are a couple of can't-miss nibbles.
Irby's Tavern
322 East Paces Ferry Rd. N.E.
Atlanta 30305
404.254.1333
irbystavern.com
Pimento Cheese Dog Bites
Serves 5-7
De'Long recommends serving a brown ale with these tasty treats as it complements the andouille flavor.
PIMENTO CHEESE
6-ounce can diced roasted red peppers
2 cups shredded cheddar cheese
½ cup mayo
1 tablespoon minced garlic
¼ cup minced onion
1 tablespoon Sriracha
Salt and pepper to taste
CORNDOG BATTER
1 pound andouille sausage
2 cups yellow cornmeal
2 cups all purpose flour
1 teaspoon salt
½ cup sugar
3 tablespoons baking powder
2 eggs
2 ¼ cups milk
3 cups vegetable oil
Thoroughly combine pimento cheese ingredients. Cut the andouille sausage in half, lengthwise. Then with each half make a V-cut, removing the inner meat. (When the two halves are put back together, there should be a hollow center.) Fill the center of each sausage half with pimento cheese and put the two halves back together. The cheese will act as an adhesive. Place stuffed sausages in freezer until firm (about 30 minutes), then cut into 1-inch pieces. Heat vegetable oil to 350 degrees in a pan with high sides. Skewer each piece of sausage and dip into corndog batter, shaking off the excess. Fry up to 10 skewered bites at a time for 4 to 5 minutes until golden brown. Remove and place on a paper towel-lined baking sheet. Serve with your favorite condiments or dipping sauces.
De'Long created this recipe to remind people of their childhoods, and loves dunking doughnut holes into the dip, but you can use anything (cookies, fruit, etc.).
½ cup butter
8 ounces cream cheese
Pinch of salt
1 teaspoon vanilla extract
1 cup powdered sugar
½ cup tricolor sprinkles
Using a mixer, cream together butter and cream cheese. Add the salt and vanilla extract.
Continue to mix until a smooth, creamy consistency is achieved. Add the powered sugar and mix until it dissolves, then fold the sprinkles into the mixture with a spatula.
Lia Picard
Freelance writer covering food, travel, and interior design.