MATT AND NICOLE SCOTT ARE ON A MISSION TO SAVE LIVES THROUGH JUICE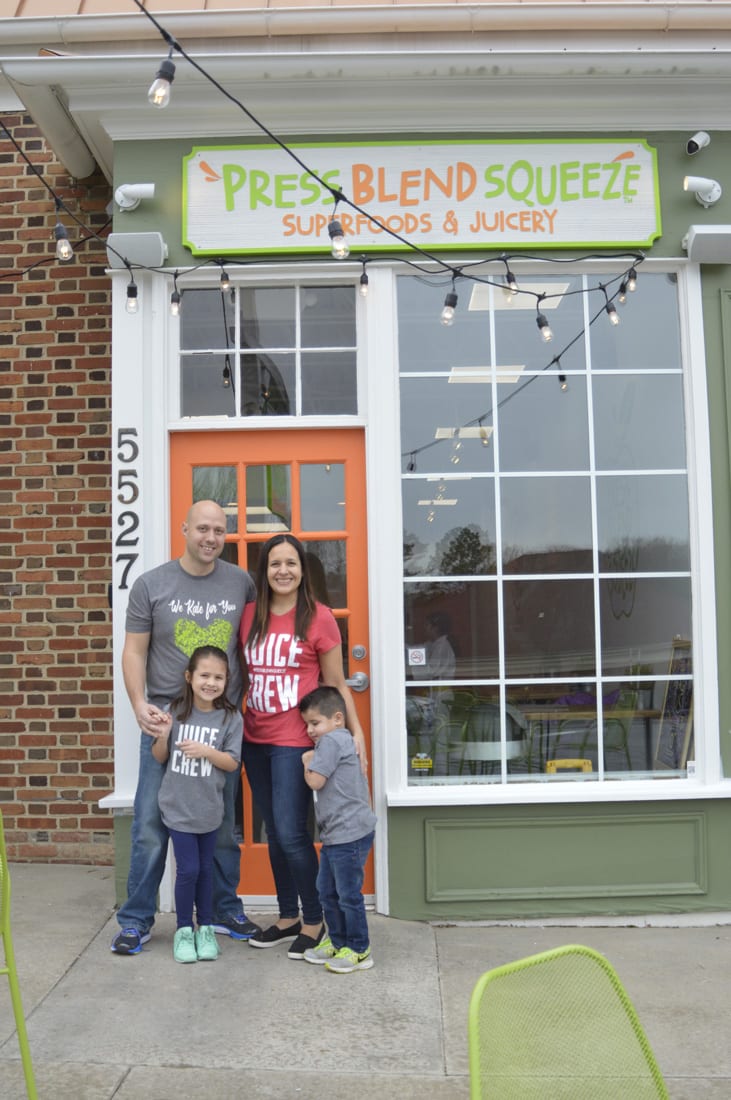 BY: Lia Picard
We've all been there: You're hungry but in a rush, so you grab the nearest convenient bite, which isn't usually that nutritious. Matt and Nicole Scott, the husband and wife team behind Dunwoody's Press Blend Squeeze, are on a mission to change that. The duo has opened two locations of their juice bar-meets-cafe (the other is in Peachtree Corners) and hopes that it will one day be a household name. We chatted with Matt to learn more.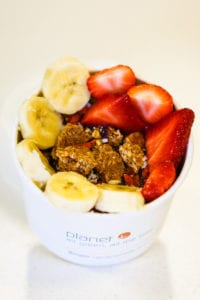 What was the inspiration for opening Press Blend Squeeze?
One of the reasons we went down this path was both of our parents got sick. My father had cancer and was given five months to live. But we changed his diet, did a whole bunch of research and learned all this stuff. And through food and other things, my dad lived for more than five years. [Nicole's father] lived to his mid-80s, and while he ate healthy, he did have one of the most horrible habits in the world [smoking], but we believe the reason he was able to live such a high-quality lifestyle was because of the way he ate.
In addition to fresh juices, you also have açaí bowls. Tell us about them.
We use 100% pure açaí, and there's no middleman. A lot of these places, they add in certain things, or they mix it. We have people who travel— they literally pass two or three stores that sell açaí bowls—and come to get ours. I've had legit Brazilians come in and say, "We've lived in Sao Paulo. This açaí bowl is the closest we've ever had [to theirs]. This is exactly what we would eat in Brazil."
Why was it important to you to have a kid's menu?
We have two kids, and they're one of the reasons why we started this. To be fully transparent, after my father passed away, I was pretty upset and had some anxiety, and I went to his doctor and said, "You got to help me out. I'm very nervous. I've got two young kids." He said that my father's cancer was not genetic and that there are only three things proven to help fight cancer: eating clean, eating green and exercise. So we're doing this for our kids. And not only for us to be there and provide for them, but also to introduce and get healthy options into their hands. And we're not the type who are just going to push healthy for healthy. We wanted the options to taste good and make kids believe that healthy food is delicious as well.
Press Blend Squeeze
5527 Chamblee Dunwoody Rd.
Dunwoody 30338
470.719.9479
pressblendsqueeze.com
Lia Picard
Freelance writer covering food, travel, and interior design.