After lending out their DIY-designed townhouse on Airbnb, a Buckhead couple finally becomes its permanent residents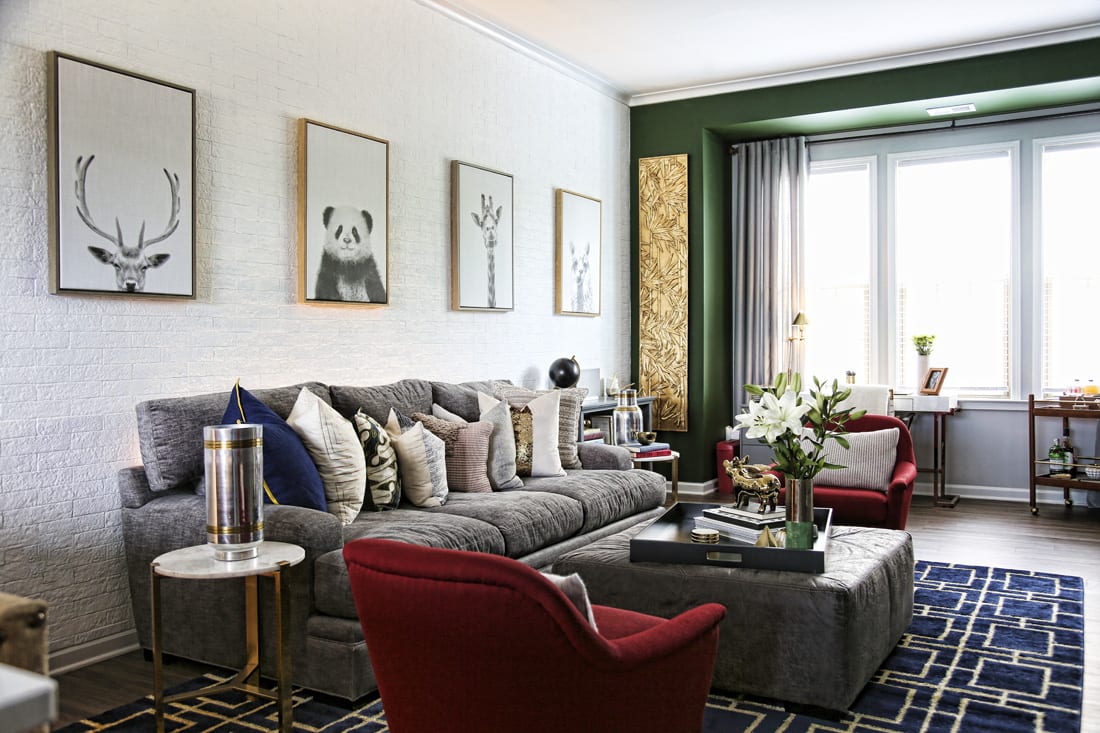 STORY: Giannina Smith Bedford
PHOTOS: Sara Hanna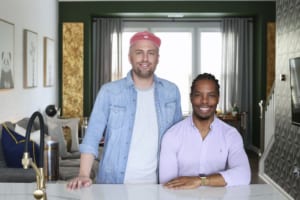 Sometimes you have to jump on the purchase of a new home, even if you're not ready to move in. That's what Jeremy Garriott and his partner, James Hunter, did when they found the right fit. They knew they wanted an end-unit townhome in a convenient location near Buckhead or Midtown, and Lindbergh's Broadview Place hit the mark. At 1,440 square feet, the two-bedroom, two-anda- half-bath residence wasn't as spacious as some of the properties they had looked at, but its proximity to MARTA and the interstate made it a winner. The three-level residence, built by Edward Andrews Homes, is also within walking distance of nearby retail and includes a private garage and open floor plan. "We looked at a few different townhomes and most were much larger and had more closet space, but none were quite as convenient," says Garriott. "This is right in the middle of everything."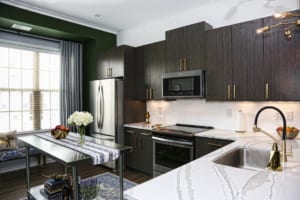 Once they found their future home, Garriott and Hunter, who both work for real estate startup Opendoor, were excited to move in, but they still had five months left on the lease of their Midtown apartment. Instead of paying both rent and a mortgage, they listed their new place on Airbnb and stayed in their apartment until the lease was up. After closing, they worked day and night to customize the interior of the new townhome to fit their modern, chic aesthetic and make the abode a top pick for short-term renters. "We tried to get everything done in two weeks because we wanted to get it out on Airbnb," says Garriott.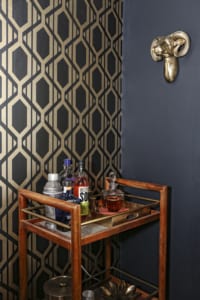 They repainted the yellowish-gray brick veneer in the living room a bright white and changed all the kitchen hardware, including the sink faucet, to an eye-catching gold. They also painted the white doors a dark gray. They couldn't change everything they wanted, however, including the dark finish on the kitchen cabinets. "We would have picked a different finish and inquired about changing it, but it was too difficult," says Garriott. "We didn't like the cabinets at first; they didn't look right with the brick wall.
But once we painted the wall, we were fine with them." To liven up the design, Garriott and Hunter selected three different geometrically patterned Sherwin-Williams wallpapers and dispersed them throughout the space. A black-and-white rectangular pattern went in the main-level powder room, a triangular 3D design went behind the television in the living room and a black-and-gold diamond design found a home in the downstairs bonus room that they use as a media room. When it came to the install, though, they hired a professional. "We weren't going to do that ourselves and have it look terrible," says Garriott.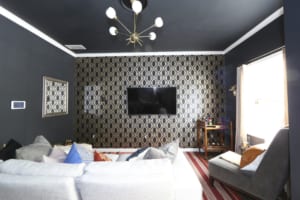 The couple filled the rest of the home with their own furniture and newly purchased items from shops such as Rooms To Go, CB2, West Elm and Z Gallerie. In the meantime, they "lived in disarray" in their apartment, sleeping on a mattress on the floor. Before officially making the move to the Lindbergh townhome in May, scores of renters had the chance to enjoy Garriott and Hunter's new home—some maybe a little too much. "Every time we had a bad guest, we were getting more and more antsy, because we were worried they were going to mess something up," says Garriott. "One time we came to clean and noticed a guest had clearly had a party and had been smoking, and various items had ashes in them. I was like, 'How do you do that?'" In the end, the decor survived.
The living room's metallic finishes, soft grays and pop of red from two chairs combine to create a comfortable, trendy vibe. A playful touch comes through in the black and-white animal prints, purchased at HomeGoods, that hang on the brick wall. The lounging space is the ideal spot for Garriott and Hunter to host their Real Housewives of Atlanta and Game of Thrones watching parties. They also love having friends over for game nights filled with rounds of Heads Up! and Cards Against Humanity. From the rug to the curtains to the wallpaper, geometric patterns create a fun and edgy style that works. "We were thinking with the space being so tight, that if we gave the [TV wall] a 3D look, it would draw your eye to that versus the smallness of the room, and we thought it looked cool," says Garriott.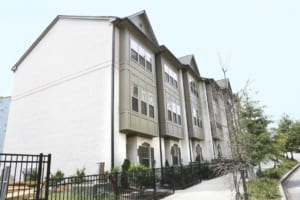 The adjacent kitchen, outfitted in white and gray quartz countertops and nail-studded Z Gallerie barstools, is the perfect spot to overlook the living room activity. Or you can grab a seat at the opposite end of the room at the faux snakeskin desk from Rooms To Go, which is framed by emerald green walls and gold palm frond art. Nearby, a West Elm bar cart conveys the living room's work-meets-play purpose.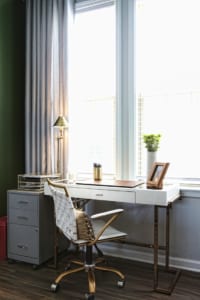 When it's time for Garriott and Hunter to kick back with a movie, however, they often head downstairs to stretch out on the plush sectional with their pooches, Jacob and Axel. The media room coordinates with the upstairs' gold elements through the shimmery wallpaper, as well as a gold light fixture and faux gold deer head purchased from Houzz.
The dark and metallic theme also continues two levels up where the master bedroom and guestroom feature walls painted in Behr's dark-gray Limousine Leather, navy linens and gold accents. The decor in the master stands out thanks to a canopy bed of matte-black, powder-coated iron from CB2, gold lamps from Target and screen-door nightstands by Nate Berkus, also from Target.
"Target online has unique pieces that can adapt to most home design themes," says Hunter. "We love going to the suburbs to HomeGoods because they tend to have better finds than the intown locations. Likewise, the online choices at Rooms To Go are completely different than what's available in-store."
Overall, the DIY townhome looks professionally put together, but Garriott says finding finishes and decorations that both he and Hunter could agree on was tough at times. In the end, they compromised. "We really wanted a space we could feel cozy in but that would have some sophistication to entertain in," says Garriott. "With James' extravagant style and my more simple aesthetic, we met in the middle with a more subdued deco design."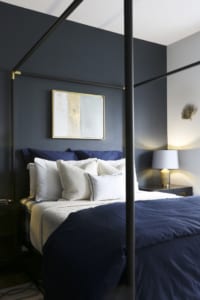 Although Garriott and Hunter had to delay becoming the townhome's permanent residents for a few months, they're relieved to finally be the only ones occupying the welcoming urban abode. "We are so thankful to get to come home every day to our own little Airbnb and be able to continually refine the feel and design of the home," says Hunter.
JEREMY GARRIOTT AND JAMES HUNTER'S TOP 5 BEST PLACES TO SHOP FOR A BARGAIN
1. Houzz.com: "A huge selection and unique pieces."
2. HomeGoods: "Affordable and constantly changing selection."
3. CB2.com: "Trendy pieces that can mesh with lots of different styles."
4. Goodwill in Buckhead: "Lots of hidden treasures, including hardback books for an extremely affordable price."
5. Amazon.com: "Because they literally have everything from A to Z."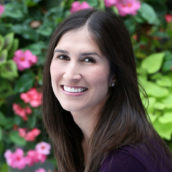 Giannina Bedford
Giannina S. Bedford is multi-faceted writer and editor. Her work covers design, travel, food and business. She's penned Simply Buckhead's home feature since inception and held a variety of editorial roles at the magazine. Her freelance work has appeared in Condé Nast Traveler, USA Today, Virtuoso Life, Hemispheres and TravelandLeisure.com. She also contributes regularly Atlanta Business Chronicle. Fluent in Spanish, Giannina was born in Miami and grew up in Brazil, Chile, Hawaii and Australia. She currently lives in Dunwoody with her two kids and husband.