F&B is both charming and decadent.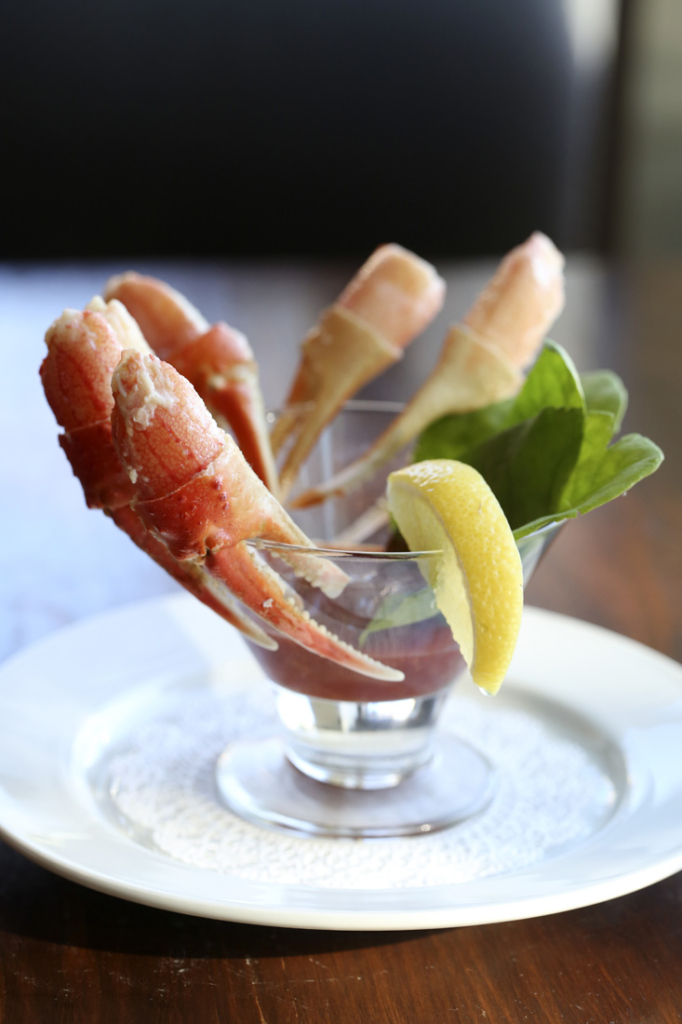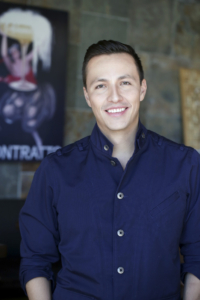 F&B charms, even tucked away on the ground floor of the glitzy Ritz Carlton Residences. It's the kind of place you can return to when you crave the unfettered taste of home. That is, if home is the South of France.
The third iteration of much-loved Brasserie le Coze that closed in 2006, F&B succeeds FAB, the large downtown version that shuttered its doors in 2011. Menu favorites from both predecessors endure, and the owner, Fabrice Vergez, still serves as ambassador and host, circling the room during service. Head chef Gabriel Capo adds personal touches to the French/Mediterranean cuisine, but with restraint and balance— sauces aren't too rich, greens are delicately dressed and spices are kept in check.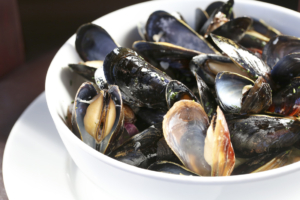 It's immediately apparent that what lies in store at F&B is 100 percent French bistro. Next to the hostess stand is a full-size, custom- made guillotine, a holdover from a Bastille Day celebration. The lighting is subdued. Past a long, sweeping wood-topped bar on this particular Saturday night, a crooner belts out Dean Martin's version of "La Vie En Rose" into a microphone. Above the wooden plank floor are shelves with stacks of creamy white dishes and soup bowls. Chandeliers in cages dangle above green-striped banquettes with soft brown leather seats.
Business meetings and "ladies who lunch" fill the tables during the day, while the evening welcomes regulars who linger over bottles of wine. A woman who walked in before my dining companion and me was ushered to her "regular seat" with the best view of the singer.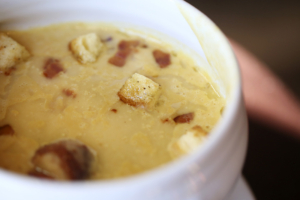 French de rigueur white cloths dress the tables that are surrounded by bistro chairs, all nestled closely together. Vintage French advertising posters line a terra cotta wall, and a curved cutout made of glass panels lends a view to the semi-open kitchen. Front and center stands a cast iron Godin stove like the ones used in the 19th century to heat French households.
The menu echoes the singer's lineup— a core of old-fashioned classics with a few new dishes such as tuna crudo, quail rosettes and seasonal flatbreads added in for a refresh. I mentioned to our server, Jeremy, that a Sancerre from the flinty white soils of the Loire valley that was only offered by the bottle sounded lovely. He agreed and brought a glass with the bread service, which included an equally exquisite housemade salted butter.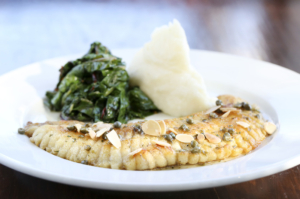 While sipping wine and noshing bread, we studied the menu, which is broken into three categories: petit, moyen and grand. At first glance, it reads like a glutton's feast: beef Bourguignon, foie gras, escargot, oysters, whole lobster, duck two ways, 20-ounce ribeye. But it's also very possible to have a lighter meal by choosing delicate soups, salads and raw seafood.
The glass of Sancerre paired beautifully with the half dozen crab claws, the wine's acidity and minerality embellishing the freshness of the seafood and awakening the subtle sweetness of the claws, which we dipped in clarified butter. The mussels, piled high and swimming in a broth of white wine and shallots and giving off wisps of briny steam, were enchanting before the first taste. The sea taste in the slightly chewy meat was enhanced by the spices, and the crusty French bread helped sop up the tangy and garlicky broth.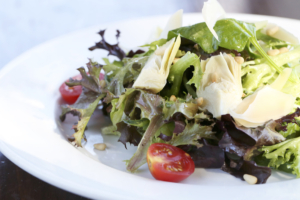 Lunch starters are equally satisfying. The F&B salad is a colorful kaleidoscope arrangement of mixed greens, artichoke hearts, shavings of salty Parmesan, tomatoes and pine nuts delicately dressed in a bright lemony herb dressing. My dining companion ordered a bowl of white bean soup to share, and our server kindly split the legacy dish, which has been on all Vergez's menus, into two terrines. The creamy potage hit all the right notes—silkiness with crunchy bits of bacon and earthy croutons coated in truffle oil. We tried to order the duck confit salad our server talked up, but the kitchen was out of duck that particular Wednesday. Instead, we opted for the chicken paillard, which, compared to the F&B salad, was just a salad with a side of season-less chicken. The roasted lamb sandwich with rosemary saved the day with its impossibly tender meat on rosemary aioli-brushed olive bread.
We were also charmed by the skate wing that was intensely flavored with brown butter and peppered with roasted almonds and fried capers. It sat atop velvety pureed potatoes and bright, slightly wilted Swiss chard. F&B takes great pride in its steak preparation. The filet, ordered medium rare, arrived with a seared crust. Our server asked us to check the interior—a perfect warm, red center. The steak frites, too, were charred to an exact medium rare were a reminder of why this cut is one that butchers used to keep for themselves. The frites, cut in long thin strips, were fried hot, but could have used a bit more salt.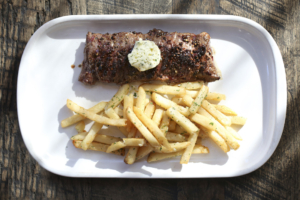 Vergez has done a fine job selecting interesting French wines that match the food. One example: the robust Guigal Côtes du Rhône, a racy and lingering blend. Beverage manager Randy Kuder's cocktail menu delivers spot-on dry martinis and his own creations, such as The Line of Destiny, a rich and refined concoction of bourbon, Antica Formula, Cappelletti bitters and an orange slice. Bitter and brooding like the floating tunes.
Classic desserts such as crème brûlée don't disappoint and the warm Granny Smith apple tart with drizzles of caramel, bits of pecans and a quenelle of bourbon pecan gelato was both sophisticated and homey.
Throughout our meal, we overheard conversations—" It tastes just like when we went to France" and "I always get the…."—that solidify F&B's status as a classic brasserie with reliable, down-to-earth food in a cozy atmosphere.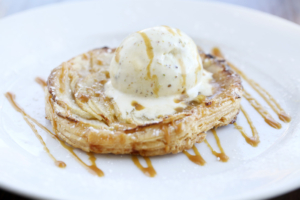 F&B
3630 Peachtree Road. N.E., Suite 160,
Atlanta 30326
404.254.1797
fandbatl.net
Prices: Appetizers $6-$18. Desserts $6-$8. Cocktails $10. Large Plates $11-$42.
Recommended Dishes: Skate wing, white bean soup,lamb sandwich, 8-ounce filet, F&B salad, The Line of Destiny cocktail.
Bottom Line: Timeless and unpretentious Provençal food.
STORY: Angela Hansberger
PHOTOS: Sara Hanna
Angela Hansberger
Drinks columnist at Simply Buckhead. Food, spirits, and culture writer.