Chef Jared Hucks helps transform a neighborhood's culinary character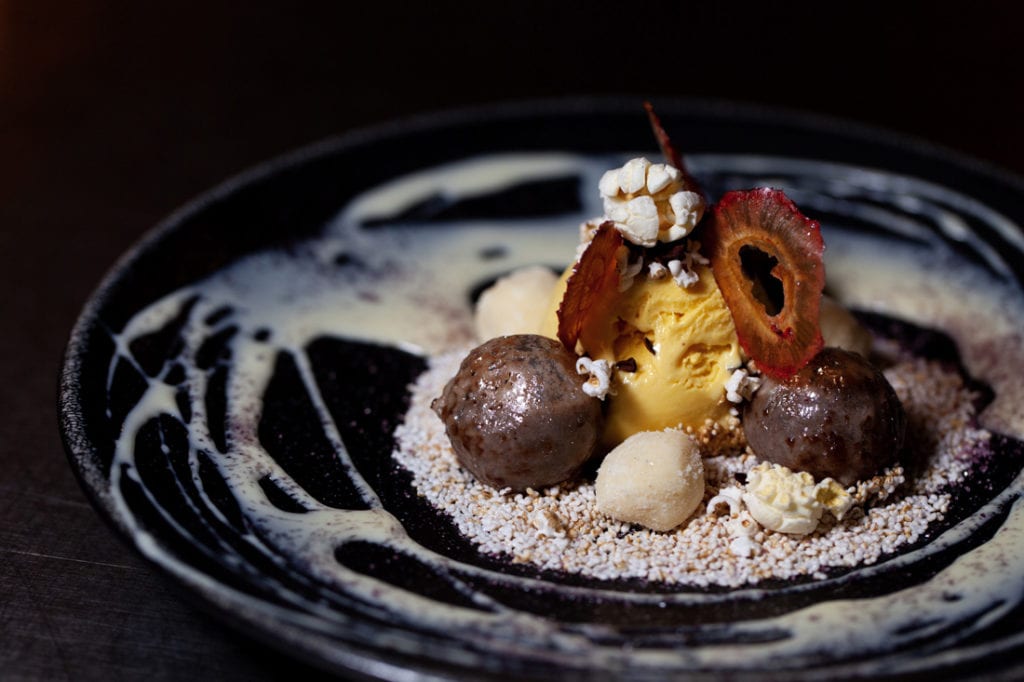 I used to work in a professional kitchen. It's tough, sweaty and painful. You feel broken at the end of every day. Still, I'd peel spuds in The Alden's kitchen if I could, so inspiring is chef Jared Hucks' food. Creatively conceived and masterfully executed, it rouses the same worship diners had for Michelin honored chefs back when that metric could make or break careers. In short, Hucks has single-handedly restored my faith in Atlanta's food scene.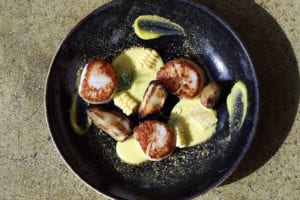 After years of trotting his knives through acclaimed kitchens in Australia, Denmark, Thailand, Spain and the U.K., Atlanta-born Hucks returned home to venture out on his own, and in 2018, he opened The Alden in Chamblee's Solis Parkview mixed-use complex. The 2,300-square-foot space is the epitome of refined industrial chic: soaring ceilings and a neutral palette of clear glass, white walls and caramel woods. Rob Stern, Hucks' brother and renowned glass artist, created the bespoke pendants, chandeliers and sconces.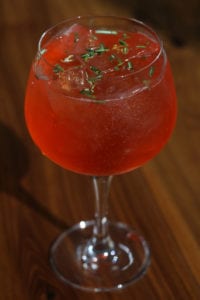 Any spot in the 74-seat room is a winner, but we were sold on the intimate chef's counter in front of the open kitchen. Cooks weave seamlessly from station to station, dabbing and re-touching each plate like so many Picassos.
While Miles Davis' "Kind of Blue" hummed overhead, cocktail wizard Bryan P. Hunter whipped us up a paloma riciente. Made with Banhez mezcal and grapefruit, and served with a chile-rubbed rim, it was the ideal choice for a multi-course meal—the smooth, citrus liquor cleansing our palates between courses.
Drinks called for nibbles, and we opted for the bread plate—thick slices of homemade sourdough with neat quenelles of prosciutto butter and Grafton Village Vermont cheddar pimento cheese. It was decadent and filling enough to be a meal in itself. Sweet potato bisque arrived soon after, glowing like gold, in a slanted white porcelain bowl. The apricot- hued soup was exceptionally silky and rich, garnished tweezer-style with delicate blades of tarragon, shaved skillet Brussels sprouts and toasted brioche.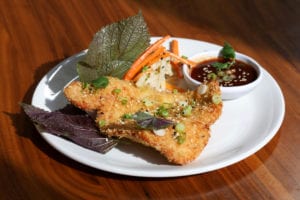 We were blown away by the Maine sea scallops, one of two "larger dishes" ordered. Sashimi-like inside, golden crisp outside, the scallops were so tender and sweet, it pained me to think that perhaps I'd never tasted real scallops before. Adorned with fried kale leaves, decorative smears of citrusy Buddha's hand and sunchoke puree, the dish was a game-changer.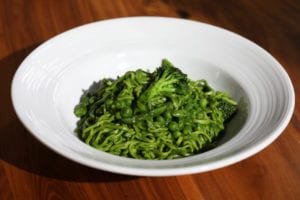 When the pasta course arrived, my young daughter bolted upright. Actually, we both did. The pasta was green—a gloriously all-green, housemade tagliarini with perky bits of broccoli rabe, asparagus and kale, sprinkled with fragrant Parmigiano. I watched wide-eyed as she gobbled up every last strand and licked the plate clean—my green, clean, eating machine.
Meanwhile, we grown-ups polished off the pristine Alaskan salmon. Cured, then cold hickory-smoked and cooked sous-vide, the luscious pink flesh was layered with rich, smoky marine flavor. The plate was filled out with a trio of delicately seasoned winter squashes, and a garnish of verdant chervil sprigs atop radiant cape gooseberries added just the right amount of artistry.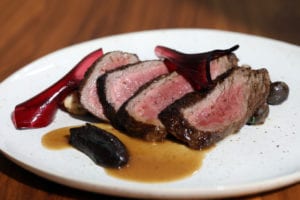 At our next visit, the restaurant was packed with well-heeled diners, their laughter and various languages ricocheting off the walls. My guest and I squeezed into the last two remaining seats in the house and toasted our good fortune with a Hunter-mixed golden mojito. Sunset-hued and muddled with mint, this refreshing amber rum-based drink was a fine beginning to the end of a long week.
The dishes at The Alden are nothing if not complex, and it's a bit of a miracle that each one lands so gracefully. Case in point: the hickory-smoked Brasstown coulotte steak. The juicy-pink top sirloin slices, rapturous on their own, are partnered with 24-hour roasted black onion jam, braised to- perfection cipollini, creamy yucca hash and delicate sheets of Malbec jelly. It's no wonder that, come closing time, the chef is swarmed by grateful fans.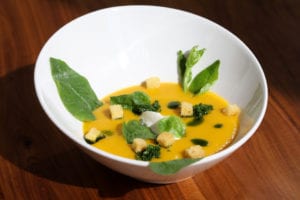 Hucks' version of shrimp and grits is a revelation. The dish features fresh sautéed shrimp, grits that might be the creamiest in Chamblee, herby chermoula and a smoky harissa drizzle. North African flavors meet a Southern classic for the win.
With desserts, the chef's avant-garde flavor combinations and artistry are on full display. The lush banana bread pudding's base is buttery Cuban brioche, and for a touch of drama, the chef pours a bourbon caramel sauce (tableside) into a tiny pitcher of dry ice; it instantly erupts, flowing like lava into the pudding and accompanying roasted pineapple gelato. This playfulness shows up, too, in the "lunar chocolate," which the chef describes as a "dessert moonscape." Featuring multi-step liquid chocolate truffles, milk crumb shortbread, popped grains and natillas (Spanish crème anglais), this popular dessert is a lesson in culinary chemistry.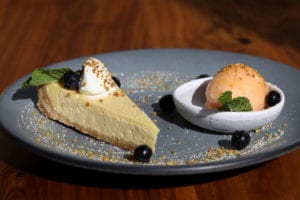 While many dining experiences in the metro area hang loosely in memory, coming to mind only if occasion or geography dictate, The Alden is hands-down magical and unique. So go here, as soon as possible. Whether your palate craves foie gras or ball park franks, Hucks' food has universal appeal, and you will be inspired and fed like never before.
THE ALDEN
5070 Peachtree Blvd, Suite B-140,
Chamblee
30341
678.395.6982
thealdenrestaurant.com
Prices: smaller dishes: $11 – $21; larger dishes: $23 – $45; desserts: $9 – $15.
Chef's seven-course tasting menu: $95. Recommended dishes: bread plate, sweet potato bisque, Maine sea scallops, green tagliarini, cold-smoked Alaskan salmon, shrimp and grits, hickory-smoked Brasstown coulotte steak, banana bread pudding, lunar chocolate.
Bottom line: Run, don't walk to this real-deal chef's Chamblee establishment. Bring your friends and family for a meal they won't soon forget.
PHOTOS: Sara Hanna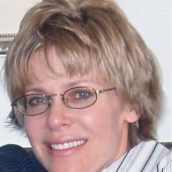 Rebecca Cha
Food, beauty and interiors writer at Simply Buckhead. Linguist, teacher, chef, parent.