A sampling of great eats in and around Buckhead!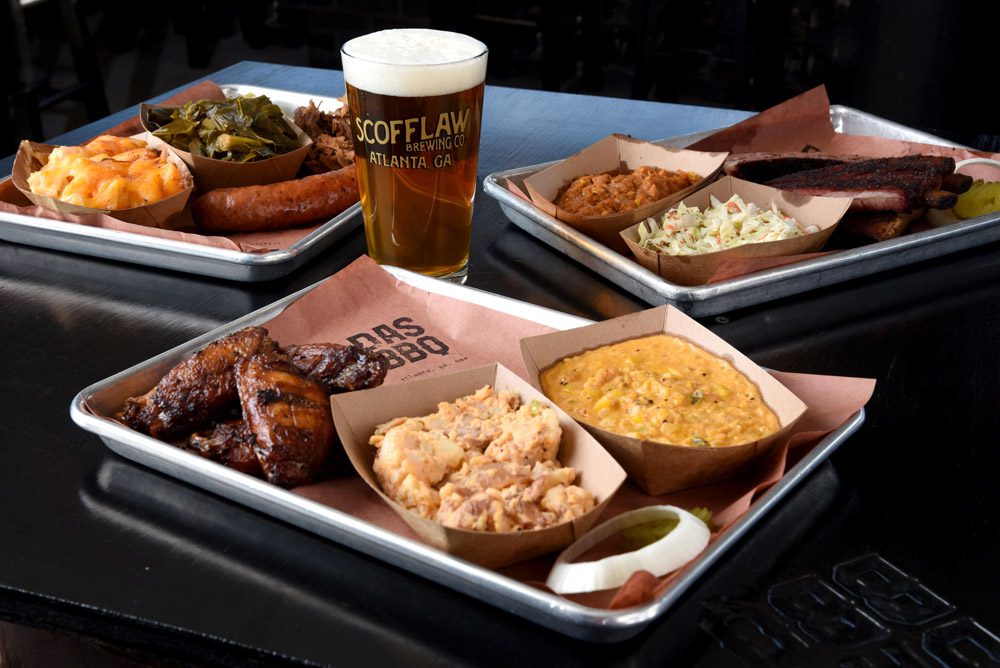 THE ALDEN
Chamblee's popularity as a residential and dining destination seems to be on the rise, and Chef Jared Hucks is here to make sure diners eat like royalty. Winning starters include a homemade bread plate with prosciutto butter and cheddar pimento cheese, silky sweet potato bisque and sashimi quality seared scallops. For mains, go with the cold smoked salmon, Moroccanspiced shrimp and grits or the hickory smoked Brasstown coulotte steak. Desserts are deliciously unique. If you've got belly room to spare, be sure to witness the chef's gastrotheatrics with the banana bread pudding service. Our favorite was the lunar chocolate, which the chef calls his "dessert moonscape."
Smaller dishes: $11-$21 • Larger dishes: $23- $45 • Desserts: $9-$15 • Chef's tasting menu: seven courses/$95
BUTTERMILK KITCHEN
Chef Suzanne Vizethann offers thoughtfully handcrafted food in a room as pure and simple as its namesake drink. Southern classics are the foundation of this Roswell Road breakfastand- lunch spot, and you can't go wrong with the Brunswick stew, chicken salad, pimento cheese or the fried chicken biscuit with pepper jelly and pickles. Vizethann's love of sweet confections really shines at weekend brunch, when folks line up in front of the inviting bright-blue cottage for the likes of toasted blueberry coffee cake and poppy-seed pancakes with strawberries and lemon curd.
Breakfast dishes: $8-$13 • Salads and sandwiches: $8.25-$11.50
DAS BBQ
In 2016, Stephen Franklin had a dream to make Georgia the most "inclusive, creative barbecue experience in the country," and that's just what he did at DAS BBQ. Whether it's the rosy, smoke-ringed brisket, equally pink and juicy St. Louis-style ribs or the spicy, smoked chicken wings, every bony bite is a testament to Franklin's focus on the art and science of smoked meats. Bring the whole family and don't pass up house-made sides of decadent cream corn, mac 'n' cheese and stick-to-your-ribs Brunswick stew. Dig into white chocolate banana pudding after if you're willing and able.
Meats (whole, half and sandwich): $7-$28, sausages $5/link Wings: $9/$18 for half dozen/dozen Side dishes (in regular, pint or quart): $3-$23 Desserts: $3-$5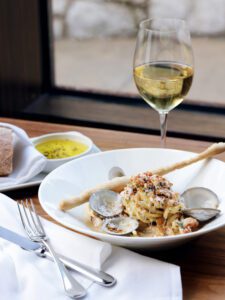 ECCO BUCKHEAD
Meals at Ecco in Buckhead have the elegance and spontaneity of a spin around the dance floor, thanks to the hyper-seasonal approach to the menu. The kitchen shines in creative interpretations of European cuisine with dishes such as Spanish octopus with Castelvetrano olives, grilled pork tenderloin with beet top risotto, and tortellini stuffed with butternut squash and mascarpone. Perennial favorites such as fried goat cheese with honey and cracked black pepper and the Allora flatbread (with its San Marzano tomato sauce, still bubbling mozzarella, hot sopressata and pepperoni) don't fail to impress. Paired with expert service, a nicely curated wine list and an atmosphere that's at once sleek and cozy, this Phipps Plaza-adjacent eatery warrants a visit. Bottom line: If you find something you crave, visit soon to get it before it's gone.
Small plates: $9-$18 • Flatbreads: $15-$21 Pasta and mains: $19-$36 • Sides: $7-$12 Desserts: $6-$9
GYPSY KITCHEN
Take your taste buds on a nomadic journey at Gypsy Kitchen in the Buckhead Village District, where you'll find abundant flavors plus an upbeat vibe. Small plates dominate the menu, true to the Spanish tapas experience. The eclectic assortment ensures there's something to please just about anyone, with abundant vegetarian options as well as diverse omnivore plates. Don't miss tirokroketes, a trio of crisp cheese balls served with spicy-tart almond romesco sauce. Grilled octopus is cooked to tender perfection. Roasted mushrooms and whipped goat cheese toast surely makes avocado toast green with envy. Moroccan spiced lamb skewers are pleasantly spicy. Sumac honeyroasted carrots offer a healthy way to satisfy sweet cravings. The bar menu presents wine, beer and creative cocktails including gin and tonic on draught with an exclusive tonic. Sangria is offered in both red and rosé versions, with shareable carafes available for an authentic Spanish experience.
Cocktails: $9-15 • Small Plates: $9-20 Meat & Cheese: $8-48 • Mains: $25-65 Desserts: $10-12
LE COLONIAL
Le Colonial's website describes this upscale French-Vietnamese restaurant as "a luxurious escapist oasis," and we'd agree. Amidst potted palms, starched white tablecloths and whirring vintage fans, glitzed-up diners are transported back to 1920s Vietnam and enjoy the culinary synthesis of the era. Favorite street fare such as banh mi thit nuong (chargrilled pork sandwich) and pho bo (beef noodle soup) get the white glove treatment with chef Richard Lee's skillful way with Asian herbs and spices. Classic favorites of crispy pan-seared chicken dumplings, garlicky beef rice noodle rolls and curried green papaya salad will have you hankering for a one-way ticket to Saigon.
Small plates: $12-$24 • Soups and salads: $10- $18 • Large plates: $14-$60 • Sides: $4-$11 Desserts: $12-$14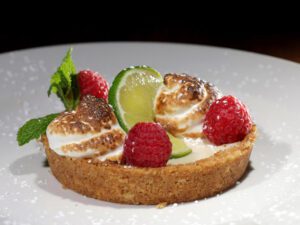 LITTLE ALLEY
A meal at Little Alley is an escape, an immersive experience no matter where you find yourself seated. Settle in and indulge in the daily rotating selection of ultra-fresh raw oysters served with a trio of housemade sauces and an appetizer of brûléed bone marrow that's so rich it could double as butter for grilled bread. The main event is an array of prime Angus cuts, both wet- and dry-aged from 28 to 60 days, so guests can choose their steak's flavor intensity, cut and tenderness. If you're really going for broke, make it a surf-and-turf with the addition of a flash-fried Maine lobster tail with drawn butter. Whether you're out for a special occasion, a business meeting to close a big deal or a "just because" meal, this is a carnivore's paradise, with aged prime beef, ultra-fresh seafood and hearty sides served with gracious, professional service in a luxe atmosphere.
Starters: $16.95-$27.95 • Steaks: $51.95- $139.95 • Sides: $11-12 • Desserts: $12-14
RUMI'S KITCHEN SANDY SPRINGS
Treat your tastebuds to as many dishes as possible at Rumi's Kitchen Sandy Springs, whether you sit in the spacious dining room with its bubbling water feature or order to-go. The menu is packed with powerful culinary rhythms and rhymes. Falafel stuns with crisp-tender chickpea balls, pickled veggies, tangy tabbouleh and savory tahini sauce. Mirza ghasemi (smoked eggplant with tomato and garlic) presents strong notes without hiding the scrumptious plant flavors. Chicken barg infuses a juicy wedge with exotic flavors thanks to the saffron marinade. Pair it with Shirin polo, fluffy rice dotted with orange zest, red barberry, pistachio, almond and rosewater—a divine mix of flavors and textures. Lamb hummusiya tops hummus with lamb sausage for a pleasing contrast of spicy heat and cool umami. Dukkah roasted carrots play nutty-spicy notes against tangy-sweet yogurt cheese. Good luck choosing a favorite.
Starters: $8-15 • Salads: $8-12 Mains: $18-45 • Sides: $4-10 Desserts: $10
STARFISH
Starfish—which can look just a little lost on the block that houses Restaurant Eugene and Holeman and Finch—is exactly the kind of sushi joint we have been trolling for. In a city where Japanese cuisine can be hit-or-miss and sometimes not the freshest, chef-owner Seung K. "Sam" Park's reticent little pearl is a superior catch—cute and compact as a bento box but with just a hint of luxury. At dinner, we were delighted to see how the kitchen plays around with untraditional ingredients such as truffle oil and balsamic vinegar, slicing fish as thin as carpaccio and arranging it in dazzling presentations. When our flounder sashimi arrived, the server told us to place a dab of the ponzu jelly spiked with cilantro, jalapeño and lime on a strip of the fish and roll it up. Exquisite. Starfish isn't the kind of place that announces itself with screaming klieg lights or red carpets. But in this culture of excess, sometimes being a little bit under-the-radar can be very seductive.
Lunch Entrees: $7-$16 • Dinner Entrees: $12- $30
TREEHOUSE
Occasionally, sitting at Treehouse feels more like a cookout. Neighbors and regulars have been coming here for the familiar comfort food and laid-back atmosphere for more than 20 years. Brunch is a big deal, with a large menu and generous portions of favorites such as the Georgia pecan waffle and Southern-style eggs Benedict covered with sausage gravy. It's all about the patio here, and dogs are welcome guests. The chef works to enliven old favorites with as much attention to the all-American fried chicken sandwich as the New York strip au poivre. He also curates a mighty fine list of craft beers.
Brunch: $8-$10 • Appetizers: $3-$13 Burgers and sandwiches: $7-$10 • Large plates: $17-$22
TRUE FOOD KITCHEN
Don't be put off by the mobs of hipsters waiting for a table or the funky menu items with unfamiliar ingredients such as hemp, flax and chia. Though it could easily be mistaken for an ephemeral, crunchy beardo hangout, True Food Kitchen is here to stay—not just because of its good intentions and exemplary karma, but because of its tasty eats. Favorites include the shiitake lettuce cups, spring asparagus toast and the T.L.T. (tempeh, lettuce and tomato) sandwich. Good for the uninitiated are the margherita pizza, steak tacos and Mediterranean chicken pita. Recommended drinks include the non-alcoholic Cucumber Cooler and Medicine Man tea or the buzzinducing lemongrass margarita, citrus skinny margarita and Strawberry Smash.
Starters and vegetable plates: $7-$13 Salads and bowls: $10-$14 (added protein $3-$9) • Pizzas and sandwiches: $12-$16 Entrees: $14-$26
BY: Wendell Brock, Rebecca Cha, Jennifer Bradley Franklin, Angela Hansberger, Hope S. Philbrick
PHOTOS: Sara Hanna, Joann Vitelli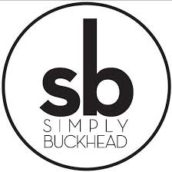 SimplyBuckhead
Simply Buckhead is an upscale lifestyle magazine focused on the best and brightest individuals, businesses and events in Buckhead, Brookhaven, Sandy Springs, Dunwoody and Chamblee. With a commitment to journalistic excellence, the magazine serves as the authority on who to know, what to do and where to go in the community, and its surroundings.