10 essentials for creating a proper at-home bar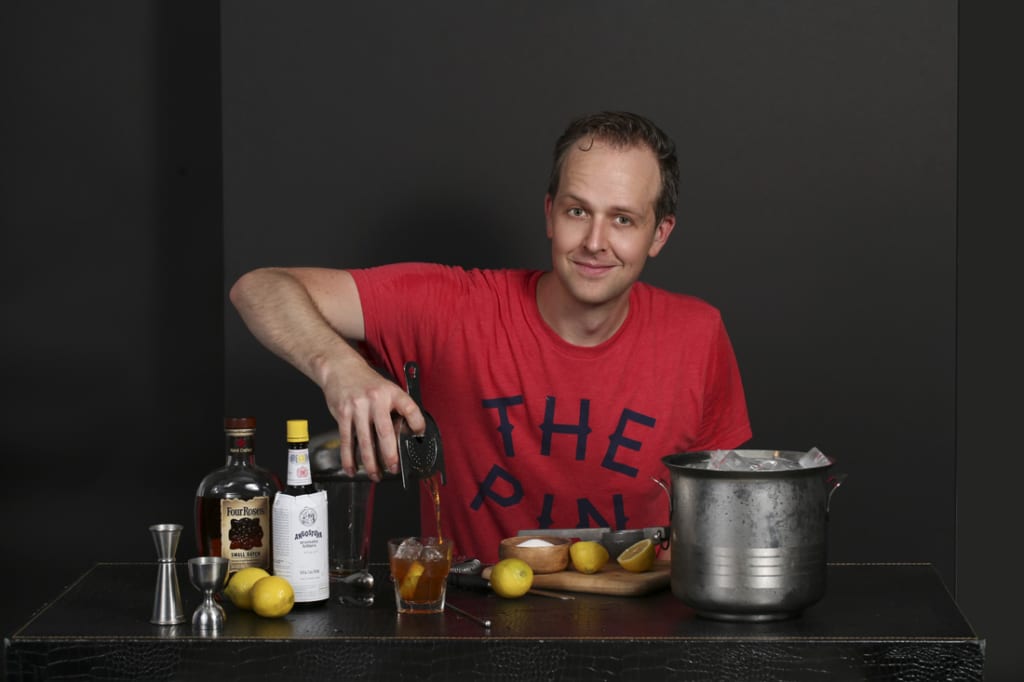 Whether you have room for a single tray, a cabinet or a bona fide wet bar, a proper home bar adds an element of sophistication to your space. To help you take your entertaining up a notch, we pulled together the essential items you need to get started, with help from a local expert. As bar manager at The Painted Pin in Buckhead, Trip Sandifer knows the luxury of playing with exotic ingredients and abundant varieties of spirits to craft the perfect cocktail. He assures us that putting together a bar in your own home isn't as daunting as it might seem.
Here are the top 10 items you'll need:
1 A JIGGER.
Sandifer says learning cocktails is learning ratios. A jigger is the equivalent of a shot. He advises purchasing a jigger that measures 1 ounce on one side and 2 ounces on the other, with lines indicating ¼, ½, ¾ and 1 ½ ounces.
2 A SHAKER.
Sandifer recommends a Boston shaker, a two-part mixer of glass and tin that is used to shake when fitted together or to stir cocktails in the mixing glass portion. "It might be impractical for a busy bar, but it's perfect for home."
3 A BAR SPOON.
Cocktail spoons should be long enough to stir with easily and should be comfortable to the holder. They are also used to measure strongly flavored ingredients.
4 A STRAINER.
You often see two types of these at a bar. A julep strainer is shaped like a tiny colander with a handle on it, while a Hawthorne strainer is a flat metal disc with a spring coil rounding it. Sandifer's advice: "Never let anybody tell you that you need a julep strainer for anything. Buy a good Hawthorne with a tight coil."
5 LIQUOR.
Begin by choosing spirits you enjoy. Sandifer suggests starting with one you can use to make two radically different drinks. "Maybe not vodka. I don't think a vodka Old Fashioned makes sense." Locally made Fiddler bourbon from ASW Distillery is a great choice for making both an Old Fashioned and a Whiskey Sour (see recipes above).
6 BITTERS.
These botanical-infused alcoholic mixtures of herbs, spices, roots and other aromatics are used to flavor cocktails. Sandifer stands by Angostura bitters. "Classic is classic for a reason," he says, but he likes to use local 18.21 Prohibition aromatic bitters as well.
7 THE SWEET.
For simple syrup, mix equal parts sugar with hot water and stir to dissolve.
8 THE SOUR.
Lemon juice is the most versatile citrus when a sour ingredient is needed.
9 GLASSWARE.
Libations in highball glasses typically use ice. Stemmed cocktail glasses are used for drinks that are shaken or stirred but don't include ice. Hold stemware by the stem to keep your hands from warming the contents of the bowl of the glass.
10 ICE.
Sandifer says, "Fancy ice is less important than proper technique." What's important is building a balance where no one ingredient dominates another, shaking when mixing and chilling components together and straining using a Hawthorne strainer.
Start with this bare-bones set of essentials and build on it over time. For less than $100, you can put together a decent kit to make a variety of cocktails.
CLASSIC COCKTAIL RECIPES
Sandifer's basic home bar is pulled together based on two types of drinks: the cocktail (liquor, bitter and sweet) and the sour (liquor, acid and sweet). Here are two of his favorites:
WHISKEY SOUR:
2 oz. whiskey
¾ oz. lemon juice
¾ oz. simple syrup
Shake and strain.
OLD FASHIONED:
2 oz. whiskey
½ oz. simple syrup
Several dashes of bitters
Stir with ice in a highball glass.
STOCK UP AT …
Holeman and Finch Bottle Shop
2357 Peachtree Road, Suite 3
Atlanta 30305
404.841.4070
hfbottleshop.com
Tower Beer, Wine & Spirits
2161 Piedmont Road N.E.
Atlanta 30324
404.881.0902
buckhead.towerwinespirits.com
STORY: Angela Hansberger
PHOTO: Sara Hanna
Angela Hansberger
Drinks columnist at Simply Buckhead. Food, spirits, and culture writer.