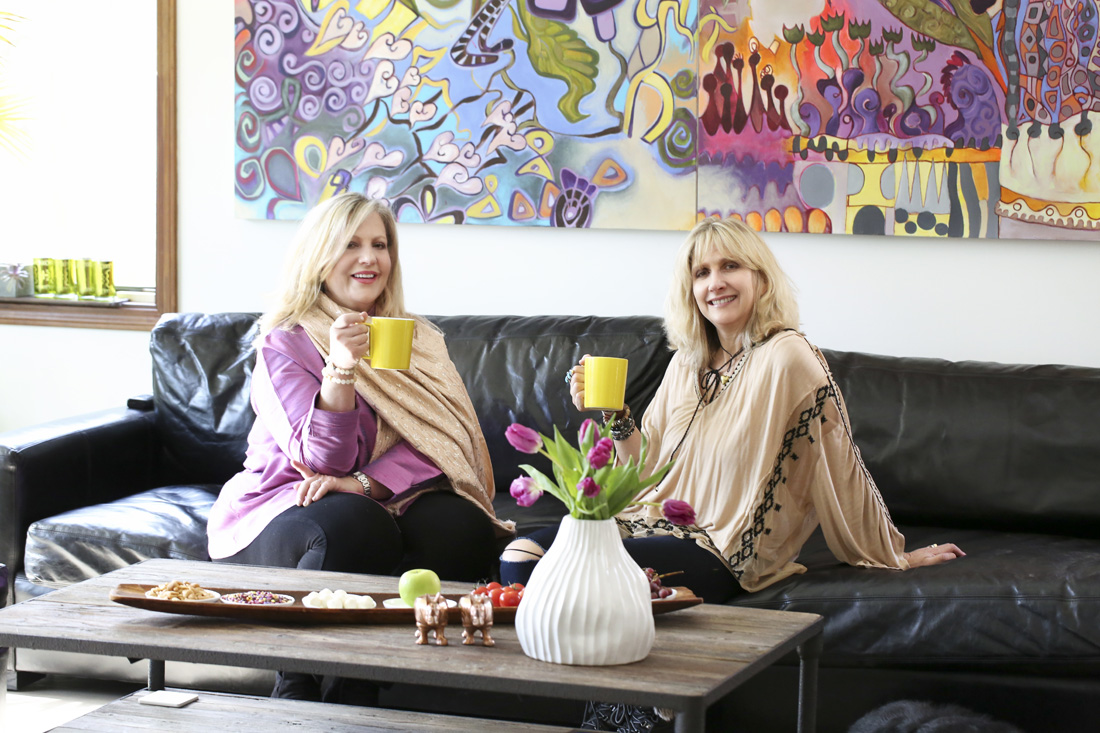 Born and raised in South Africa, these sisters and self-proclaimed BFFs have both called Sandy Springs home for more than 20 years now. Sandra Bank, 60, runs a successful catering company called Added Touch, and Karin Mervis, 55, is a teaching visual artist at the High Museum of Art. Through the Woodruff Arts Center and Alliance Arts for Learning Institute, Karin has also worked with kids to create more than 1,000 community canvases at schools all over Georgia, as well as in New York, California and Australia. Although they work in different fields and have busy lives as wives and mothers, their bond couldn't be stronger. "We do everything together," says Sandra of her sister. "She is my first call in the morning and my last call at night."
What was your childhood in South Africa like?
Sandra: I had a glorious childhood, growing up with a fantastic warm and close family. My parents loved to entertain, and we would have frequent braai–South African-style barbecues. Karin: Sundays were definitely braai day. They were hot days spent hanging out on the veranda and swimming until the sun went down. There were loads of salads and usually chops and chips. Boerewors [sausage] was a staple. Beer or beer shandy—beer with Sprite—and fresh fruit juice were served. Sandra would be cooking something or other in the kitchen or managing the food in some way, whatever age she was. Those were halcyon days that we try hard to replicate here in Atlanta with friends and family.
Were you and your sister always close?
Karin: Sandra and I have always been very close. We have a fierce loyalty to each other, and in addition, for my entire life, Sandra has been there for me at any hour or time of need. Then I grew up and have stepped into the same role for her.
You don't work together, but you're both very supportive of each other's careers, right?
Sandra: Yes, I have some of Karin's artwork in my home. I love her bright colors. Her work makes me so happy. Karin: I help her when she has a huge function. I will typically go and help plate up. Her parties are art!
How much time do the two of you spend together these days, and what do you like to do together?
Karin: We talk to each other on the phone between one to five times a day. Other than that, we usually will see each other before the week is up. We are Jewish, so we try and get together for family Sabbath meals and definitely for other Jewish holidays. Sandra is very involved with her catering, so we will eat at each other's homes or meet at restaurants.
If the two of you ever have an argument or don't see eye to eye on something, how do you get past it?
Sandra: We let it go. Our relationship is too important to worry about silly things. How would you describe your sister? Sandra: Fun, funky, genuine, caring, smart, articulate and a great friend. Karin: Sandra was born to be a caterer. She is capable, kind, hardworking, available, a "yes" person, creative and an amazing sister and aunt to my children, and also an amazing grandmother.
What's your favorite memory related to being siblings?
Sandra: Karin has always been a part of [my husband] Clive's and my life, from sitting in the back seat when we were dating to living three miles apart in Atlanta. How lucky am I? Karin: This is how kind and caring Sandra has always been. I was 8 years old, and our mom was reversing her old Hillman convertible out of the garage so we could climb in, and I thought the car had rolled onto my toe. Although it just touched it, I started screaming, and Sandra immediately tried to lift the car—and pulled her back out in the process.
STORY: Jill Becker
PHOTOS: Sara Hanna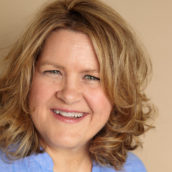 Jill Becker
Award-winning writer and editor who has penned stories for CNN, Woman's Day, Good Housekeeping, and dozens of other outlets.