How one couple filled their home with items collected throughout their travels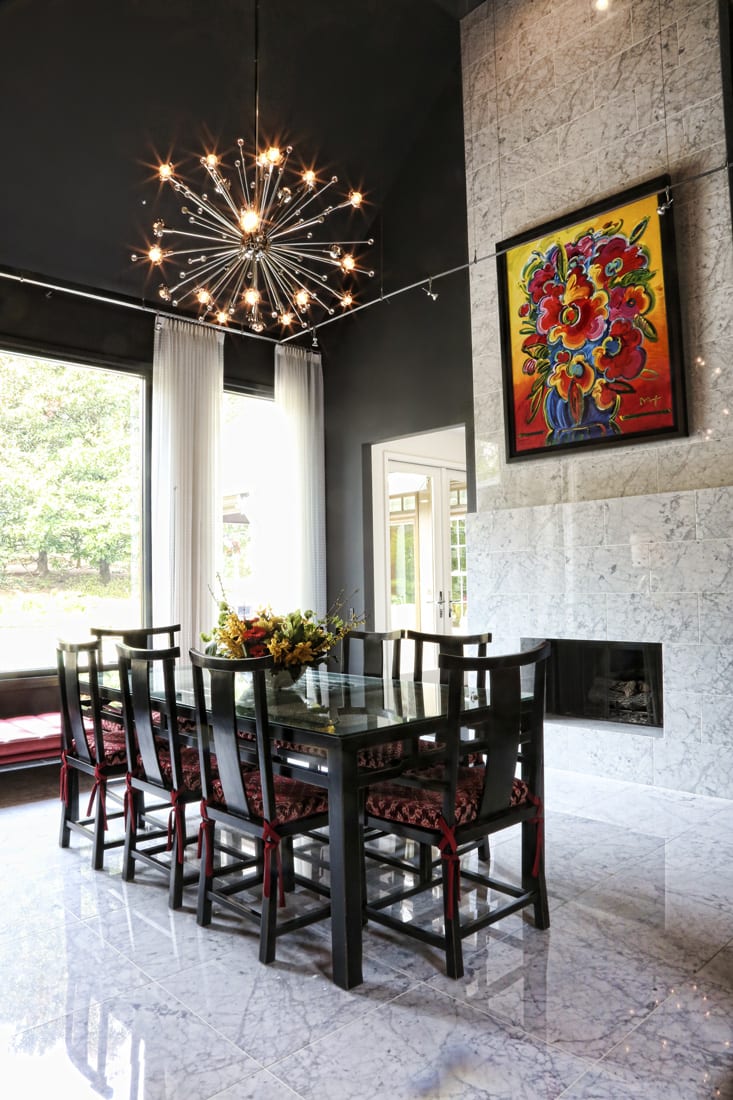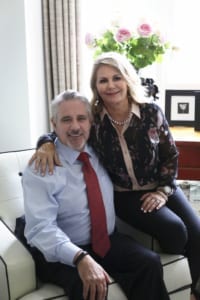 When Graeme and Rebecca Burnett moved to Atlanta from Houston in 2013 for his job as a Delta Air Lines executive, they had no idea where to look for a home. They had moved around a lot for Graeme's job, never staying in one place for very long. Their living quarters were usually a corporate apartment provided by the company. However, they planned to stay in Atlanta for a while and wanted to find a house they could turn into a home. It took some time to make that happen, but it was worth the wait.
Not being familiar with the metro Atlanta area, the Burnetts relied on real estate agents to help them find a house. After a few days with no success, Graeme's boss directed the couple to the Brookhaven area. When they first saw the house that would become their home, they weren't overwhelmed. In fact, they weren't even interested—that is, until the real estate agent took Rebecca for a walk through the backyard.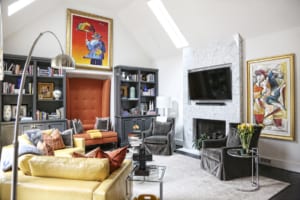 Because the nearly 6,000-square-foot house sits on an acre, the yard is extensive, with a terrace, swimming pool, outdoor kitchen, putting and chipping greens, a garden shed and walking paths leading to various seating areas. Once Rebecca followed the agent down one of those paths, she knew she had to have the property, regardless of what the house looked like. "I just fell in love with the yard," she says. "When it's sunny, we're outside." Shortly thereafter, she and Graeme closed on the house and got to work.
The Burnetts enlisted the services of Davey Construction and Pineapple House Interior Design to remodel and update the home. Originally built in 1989, it had been renovated in 1996 by the previous homeowners, and when the contractors got started, they discovered problems with the HVAC system, plumbing and wiring that had to be replaced. "Some of this house was down to the studs," says Rebecca.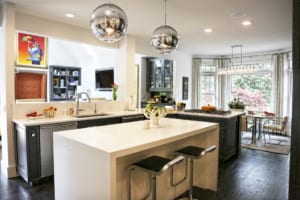 As part of the project, several arched doorways and window transoms were removed, and the master bedroom was reduced in size to create Rebecca's walk-in closet. The wrought iron railings of the staircase were replaced with glass, the oak floors on the main floor were painted black and the beige carpet upstairs was ditched for hardwoods and area rugs.
In the great room, the stone fireplace was replaced with a marble version, which turned out to be a good thing. "When the contractors tore it out, they said they didn't know how the fireplace hadn't fallen through, because for probably at least a decade, maybe more, there had been a slow drip, and the whole thing underneath was just rotten," says Rebecca.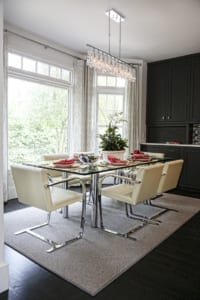 In the kitchen, the countertops, sinks and fixtures were switched out, and the cabinets were repainted and received more-modern hardware. The island was reduced in size, with the cooktop moved to the end of the main counter. New lighting fixtures were also installed throughout the residence.
When it came to decorating, the Burnetts had much to draw on from their years of travel. The couple picked up pieces of furniture here and there, but never had the opportunity to put it all together before. "We had to buy very little, considering we'd lived like gypsies for 13-plus years prior to moving to Atlanta," says Rebecca. Most of their furnishings remained in storage as they moved from corporate apartment to corporate apartment, but now they fill the couple's home.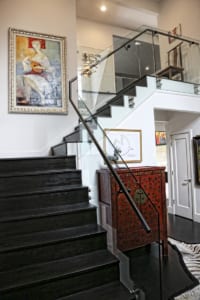 Examples include the privacy screen in the living room, which was purchased in Venezuela; the custom-made dining table constructed of Chinese windows; and bedroom furnishings that include a sofa from China, a bed from Venezuela and a mirror from Morocco. "Everywhere I look, I see reminders of where we used to live," says Rebecca.
One of her favorite pieces is the orange sofa in the great room, which she calls the Alice in Wonderland couch. "It was just such a funky, crazy-shaped piece," says Rebecca. She measured it and told the construction crew to make a space for it. "Believe it or not, if you're short like me, it's a great place for a catnap," she says.
The couple worked with Pineapple House using a black, white and red palette that's complemented by their extensive artwork collection. They've been collecting pieces for years during their travels around the globe. In fact, Rebecca can recall where each piece was purchased and share a story behind its history, sometimes related to the art, sometimes related to the couple's personal connection to it, or both.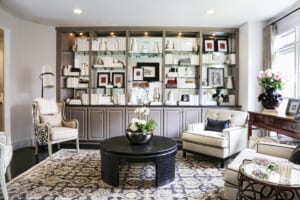 The collection includes three Peter Max paintings, a work by Western artist Carrie Fell and Colorado artist Greg Ragland's hummingbirds. Other pieces include Peruvian painter Gertie Paez Pate's rendition of the Venezuelan jungle and a painting by Argentine artist Carlos Alberto Sosa, who, because his arms are paralyzed, paints with his mouth.
The Burnetts' favorite addition to the house is the home theater in the basement. "Most nights we make our plates, put them on a tray and come down here and watch a movie," says Rebecca. Black and white photos of movie stars from the 1940s and 1950s decorate the walls, while bright red blankets rest on the theater chairs. Leopard print carpet graces the floor.
With the renovation now complete, the Burnetts say they love their house because it's like a diary of their lives. "There are lots of memories from Caracas, Venezuela; Guangzhou, China; Seoul, South Korea; and Brussels, Belgium," says Rebecca. In fact, Graeme has clocks on the wall of his home office documenting the time for each of the places they lived before moving to Atlanta.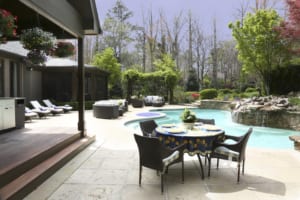 It's this mix of furnishings, artwork and the accompanying memories that the Burnetts feel makes their home unique. "I believe our house is different from others in Atlanta because it has more of a soft, contemporary style and is finished out with an eclectic mix of modern art and street art, as well as furniture gathered from living around the world," says Graeme.
STORY: Karon Warren
PHOTOS: Sara Hanna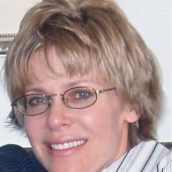 Rebecca Cha
Food, beauty and interiors writer at Simply Buckhead. Linguist, teacher, chef, parent.