Rabun County is a hotbed for grazing quality cuisine.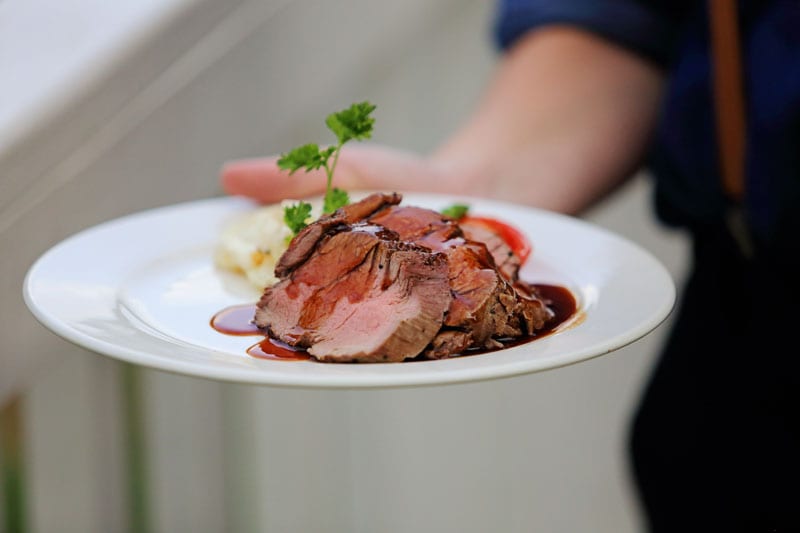 I have serious North Georgia lake-house aspirations. One day, I'll call a little slice of lakefront with a mountain backdrop my own. And beautiful Lake Rabun, where I unintentionally stumbled into farm-to-table bliss while on staycation, is a spot worthy of big dreams.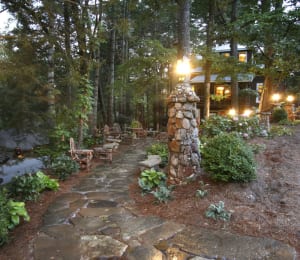 The starting point of my Rabun County weekend getaway was the country-rustic Lake Rabun Hotel, located conveniently only about an hour and 45-minute drive from Buckhead—yet worlds away. The quaint bed-and-breakfast has just eight small rooms and one two-bedroom cottage perched across the winding main road from the lake. Romantic, if you don't mind tight quarters and paper-thin walls (sound machines are provided to block out your neighbor's snores!). What it lacks in room size, however, is made up in cozy shared spaces, including a living room with fireplace, game/ reading room, bar and outside decks.
The show-stealer here is the restaurant that incorporates locally grown, organic produce. A heaping breakfast plate, as well as orange juice and coffee, is included with room rates (starting at $114), and offerings change daily. During my stay, the chef whipped up well-spiced potatoes, a perfect vegetable quiche, a home-baked apple stuffed pastry, crisp bacon and a yogurt and fruit parfait—all in one sitting. For dinner, I chose a creamy butternut squash soup that soothed the senses on a cool eve and a flaky cornmeal-crusted roasted trout with seasonal vegetables.
Thankfully, there are beaucoup area activities to work off at least a few bites of cheesy grits (enjoyed during the second bountiful breakfast), including hiking Tallulah Falls, whitewater rafting down the Nantahala River and horseback riding arranged through Sunburst Stables. Despite a small mishap when my horse Zeus decided he'd like to run me into a bunch of holly tree branches (ouch), the 2-hour ride ($75) across 9 miles of mountainous trails within the Chattahoochee National Forest was a nature feast for these city-worn eyes.
To truly discover Lake Rabun itself, book a pontoon boat (anytime except the day after Thanksgiving to just before Christmas, when Georgia Power drains the lake for repairs) through Hall's Boathouse, a 3-minute walk from the hotel. It's $40 per hour plus gas to cruise around the picturesque lake at leisure.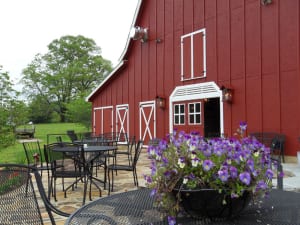 If you didn't pack a picnic for the boat ride, opt for lunch afterwards at The Red Barn Café, a 15-minute drive from Lake Rabun Hotel. I chose it mainly because the online menu marked gluten-free options that my husband could enjoy. Little did I know what a little farm-to-table gem it would turn out to be. The casual restaurant within a converted dairy barn overlooks Tiger Mountain Vineyards and is the brainchild of its sixth generation farm owners who gave up careers as doctor and lawyer to continue the family legacy. The menu, including gluten-free fried green tomatoes and a simply delicious Springer Mountain Farm chicken breast sandwich with kale slaw and tomatoes, is expertly crafted by chef Jamie Allred and his team from Fortify Kitchen and Bar in Clayton. The wine list strategically offers solely the vineyard's vintages: If you like a white, the Petit Manseng is by far the best pour.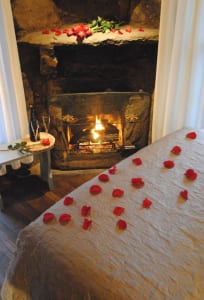 After a luxuriously long nap and reading time back at the hotel, we headed to The Farmhouse at Persimmon Creek. The 30-minute winding mountain drive was well worth the trip. It was like walking into a friend's well-appointed, candlelit dining room, complete with an open-concept kitchen where chef and owner Vince Scafiti cooked up a delightful array of mouth-watering farm-to-table fare. For warmth on a chilly night, I had the Italian wedding soup, a flavorful chicken broth base with spinach and tiny meatballs, and a grass-fed filet mignon from Painted Hills Farm in Oregon, with cabernet glaze, red potatoes, haricot verts and carrots. Why Oregon? Chef Scafiti maintains it is the best beef, and there was no argument there as I sliced into the soft, buttery meat without a steak knife. This elegant, intimate place with the friendliest of waitstaff is not to be missed—just make sure to reserve your spot in advance.
A visit to the Lake Rabun area certainly can be whatever you make of it—relaxing lake time, outdoor activities, a foodie tour, or, in my case, all of the above.
DETAILS:
Hall's Boat House
1897 Lake Rabun Road
Lakemont 30552
706.782.2628
rabunboathouse.com
Lake Rabun Hotel and Restaurant
35 Andrea Lane
Lakemont 30552
706.782.4946
lakerabunhotel.com
Sunburst Stables
251 Sunburst Lane
Clarkesville 30523
706.947.7433
sunburststables.com
The Farmhouse at Persimmon Creek
Blue Ridge Gap Road
Clayton 30525
706.782.9834
thefarmhouseatpersimmoncreek.com
The Red Barn Café Tiger Mountain Vineyards
2592 Old Highway 441
Tiger 30576
706.782.4777
tigerwine.com
STORY: Karina Antenucci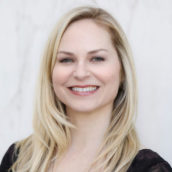 Karina Antenucci
Managing Editor and Wellness Columnist at Simply Buckhead. Blogger at Badass + Healthy.