A rustic inn above Amicalola Falls is worth the 5-mile climb to get there.
The only way to get to Len Foote Hike Inn, one of the few back country inns in the country, is via 5 miles on foot through the Chattahoochee National Forest.
My journey began at Amicalola Falls State Park Visitor Center, located 90 minutes from Buckhead, where you are required to check in by 2 p.m. to ensure arrival at the eco-friendly inn, named after a renowned conservationist, by 5 p.m.—just in time for the campus sustainability tour.
The Hike Inn Trail shares its first leg with the Appalachian Trail (AT) Approach Trail, leading to the southernmost entry point of the AT at Springer Mountain. Maybe because it was Georgia's steamiest month, August, and I sweat the equivalent of taking multiple hot yoga classes in a row, but I couldn't imagine doing even the first mile with more than what I had in my backpack—a change of clothes, a few toiletries, book, camera and 32-ounce water bottle. Though I admired the backpackers I passed, I didn't envy them, with packs 10 times the size of mine. The trail is well traveled (meaning there's quite a clear path), but about 75 percent uphill … up-mountain, rather.
If you look up from carefully observing where you are stepping so as not to trip over tree roots or rocks—or, in my case, to avoid packs of aggressive yellow jackets (who nest in the ground in late summer)—the scene is grounding with natural beauty. The forest canopy of hickory, pine and oak offers shade the whole way. You'll cross small streams, pass wildflowers and more of nature's scenic vignettes. The feeling when I reach Hike Inn after two hours of nonstop hiking is one of accomplishment and relief.
Upon check-in, the receptionist hands me a bag with towels and sheets to make up my bunk bed. The 20 small, rustic rooms, each with two bunks, feel like a summer camp. I popped into the cantina for a glass of selfserve ice-cold lemonade, and enjoyed it on one of several Adirondack chairs on the wraparound veranda with views of the Blue Ridge Mountains. Simply divine. Next stop: The solar-powered bathhouse for a refreshing shower—I came out a new woman.
If you join the tour of the grounds, you'll learn about what gave the four-season inn Gold LEED-Certified building status. The eco-friendly attributes include a compost pile complete with over 1,000 worms; composting toilets that don't smell because of a high tech continuous ventilation system; solar panels; limited lighting; and stilts that hold the buildings up, lessening construction's impact on the mountain underneath.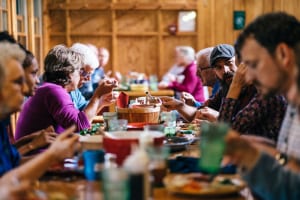 A bell rings promptly at 6 p.m., announcing the start of a family-style dinner on picnic tables inside the cantina. The menu on this Saturday evening is roast beef, salad, green beans, potatoes and apple cobbler. Hungry from the hike, the motley crew of teenagers, moms, older outdoorsy types and couples all devour it—and also the breakfast of scrambled eggs, bacon and creamy grits at 8 a.m. sharp the next morning.
Once it's dark outside, everyone heads to the Sunrise Room, where you play board games, read, chat with fellow hikers or do a puzzle, without an iPad or cell phone in sight. While the inn discourages alcohol consumption in accordance with being part of the State Park system, there's some discreet sipping of flasks that goes on, too. After putting together a mere quarter of a 500-piece tiger puzzle, a round of Battleship and a little bourbon, I retire early to refuel for the next day's return hike.
This time, with mind relaxed, I take more time to appreciate the majesty of the trees and to breathe in the gentle aromas of the great outdoors. But somehow, the way back still manages to be mostly uphill.
IF YOU GO:
Amicalola Falls State Park Visitor Center
280 Amicalola Falls State Park Road
Dawsonville 30534
706.265.4703
Len Foote Hike Inn
hike-inn.com
From $117 per room for single occupancy
STORY: Karina Antenucci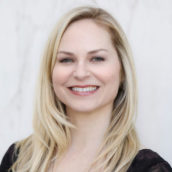 Karina Antenucci
Managing Editor and Wellness Columnist at Simply Buckhead. Blogger at Badass + Healthy.