Monograms add a special touch to this year's coolest accessories.
In the Victorian era, monograms were used as a royal signature or a way to denote an individual's status in society. Today, monograms are simply a classic way to personalize your favorite items and turn them into a fashion staple for the stylish Southern girl. They also make foolproof personalized gifts for grads, brides and birthdays. Here are some of our favorite products under $100 in Buckhead to showcase your signature style.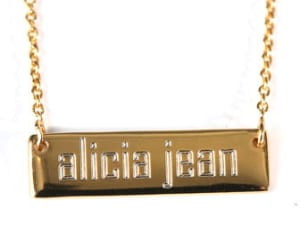 PERFECTLY LAYER-ABLE
Update your modern-preppy style with this bar necklace, a minimalist design with ample space to personalize names, sayings and entertaining messages. Not only is it a cute and fun idea, but it's also very affordable. Brooklyn Nameplate Necklace available for $44 at Swell Caroline.
TIP: Mix and match metals and lengths to make a statement.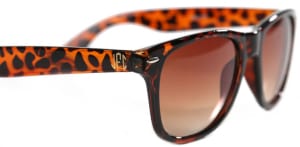 A BRIGHT IDEA
Custom sunglasses define your sense of style and alliance to a state or organization. These classic tortoise wayfarers can be personalized with an icon, state or sorority symbol. The icon will appear on both sides of the sunglasses in either silver or gold monogram. Moon and Lola Classic Tortoise Wayfares available for $48.95 at Swoozie's.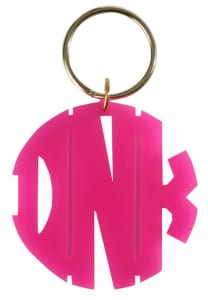 KEY CLUB
Keep your keys together and in style with this personalized monogram keychain. This solid acrylic disc is available in 30 colors. Moon and Lola Hartford Keychain available for $34.95 at Swoozies

SOUTHERN FLAIR
Stay true to your Southern roots by sporting this simple bracelet with a stately and thick sterling silver medallion that will stand the test of time. Classic Sterling Silver Monogram Bracelet available for $72 at Swell Caroline.

START STACKING!
Now a thinner acrylic monogram bangle for all of your stacking needs! Create your own unique look by pairing with your favorite cuff or fashion bracelets. Everly Bangle available for $38 at Swoozie's.
DETAILS:
Swoozie's
4285 Roswell Road
Suite 10
Atlanta 30342
404.252.7979
swoozies.com
Swell Caroline
404.913.7121
swellcaroline.com
STORY: Jessica Dauler
PHOTOS: Sara Hanna