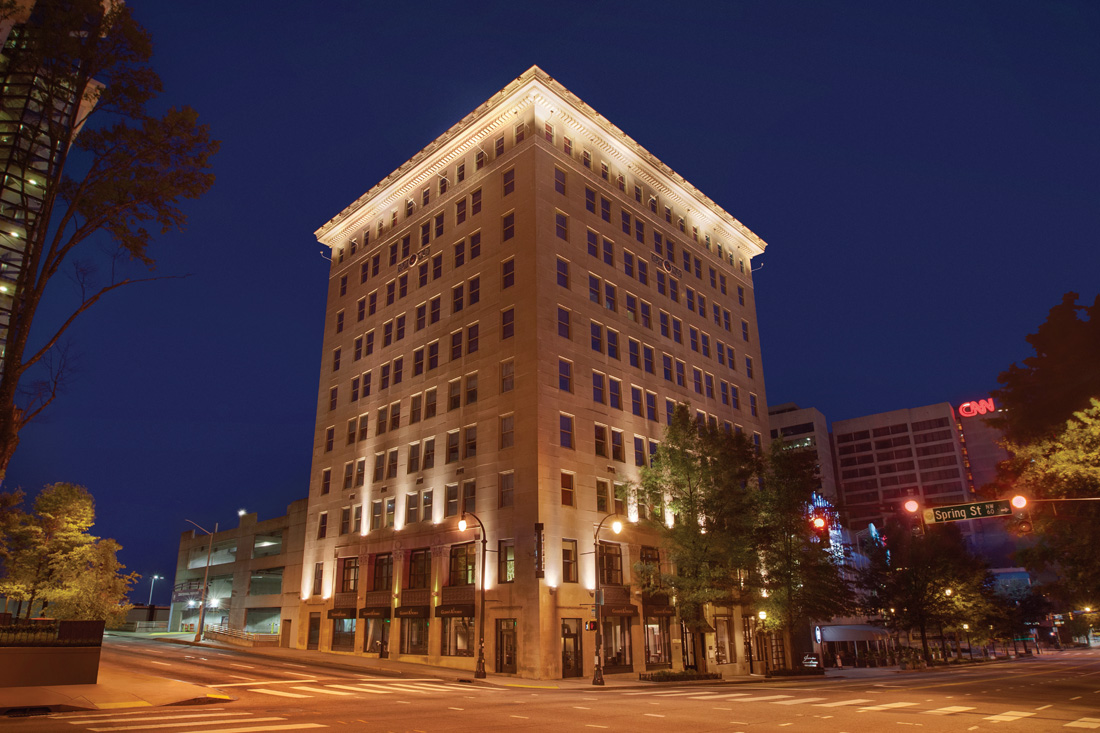 Experience the best of downtown Atlanta.
Atlantans tend to "get in and get out" of downtown Atlanta, stopping by for concerts or sporting events and then fleeing for more familiar territory. But the area begs a wary local's second look. Sift through the hordes of visitors and traffic, and you'll find special experiences that make playing tourist in your own city pretty darn entertaining. The following is a curated roundup of the best downtown has to offer for the traveler with a discerning palate.
Stay: The Glenn Hotel
Built in 1923 and listed on the National Register of Historic Places, this boutique hotel with 93 rooms and 17 suites offers a chic stay that blends classic architecture with contemporary interior design. Situated on Marietta Street, steps away from Centennial Olympic Park, The Tabernacle and the CNN building, it provides accessibility by foot to most of downtown's activities.
I entered The Glenn's dimly lit lobby on a Friday afternoon when its Living Room bar of leather banquettes and round, wooden tables were filled with travelers on laptops and coworkers having cocktails. I immediately became enveloped in its buzzy, intimate ambiance. My very comfortable, contemporary, corner King Dream Suite had a similarly warm feel, featuring dark wood, gray and white decor with orange accents, an expansive view of downtown and a small but sleekly designed bathroom with a rain-flow shower and Lather bath products.
Before heading out for dinner, I rode a separate elevator up to the rooftop's covered, open-air SkyLounge and enjoyed a cold Sauvignon Blanc and stunning panoramic view.
The Glenn Hotel
110 Marietta Street N.W.
Atlanta 30303
404.521.2250
glennhotel.com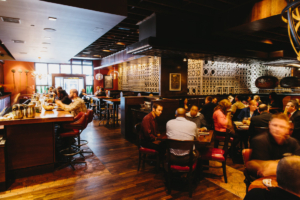 Eat: Alma Cocina
There are oodles of eateries to choose from downtown but very few food-forward options. Casual and laid-back, Alma Cocina is the place to go for bright, creative and authentic Mexican fare. Try the huitlacoche empanadas stuffed with corn truffle that boast a deep and earthy mushroom flavor; the sunchoke salad, a tonguetantalizing vegan dish of grilled carrots, sunchokes, kale and grapefruit in a seed-based puree; the hibiscus-cured cobia, a crudo paired with icy green tomato and serrano-flavored granita; and the braised goat huarache, pulled goat goodness on top of a sandal-shaped masa boat with tomatillo de arbol sauce, chile rajas and queso cotija. And don't miss sampling the margaritas, such as the Amatitan, or tequila served neat, made with Alma's own custom-barreled Herradura double reposado tequila. From the fresh flavors to the cozy atmosphere (think loads of dark wood, red leather seats and funky light fixtures), this Fifth Group Restaurants eatery knocks a dinner experience out of the park. Staycation or no staycation, I'll be back for more.
Alma Cocina
191 Peachtree Street N.E.
Atlanta 30303
404.968.9662
alma-atlanta.com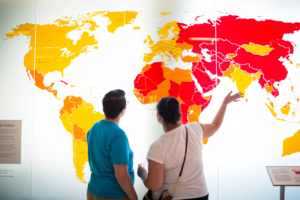 See: National Center for Civil and Human Rights
Powerful and moving, this educational museum sits on grassy Pemberton Place within the trifecta that includes the World of Coca-Cola and Georgia Aquarium. The first floor exhibit is dedicated to the American Civil Rights Movement of the 1950s and 1960s, walking you through interactive displays of pivotal events in our nation's history, including a wall of photos displaying the March on Washington, a stirring video highlighting the Freedom Riders who protested segregation in interstate bus terminals and a heart-crushing presentation of Martin Luther King Jr.'s assassination. The second floor broadens the scope to the Global Human Rights Movement, highlighting issues past and present and stories of affected civilians alongside life-saving activists and oppressive tyrants. Despite accounts of mass genocide and civil abuse, the bright, modern museum leaves you feeling hopeful for a better tomorrow. It's truly a must-visit.
National Center for Civil and Human Rights
100 Ivan Allen Jr. Boulevard
Atlanta 30313
678.999.8990
civilandhumanrights.org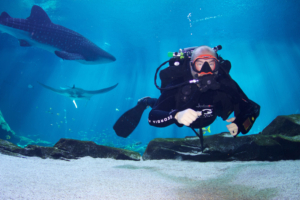 Do: Georgia Aquarium's Rebreather Dive Program
The best view at Georgia Aquarium is from inside the tank. Certified divers can partake in the new Rebreather Dive Program ($995.95 plus tax) within the Ocean Voyager exhibit, a habitat containing 6.3 million gallons of salt water and thousands of animals from all over the world, including four 18- to 22-foot-long whale sharks (a.k.a. "gentle giants"), four manta rays and a 450-pound green sea turtle. Besides its sophisticated electronics, the coolest thing about rebreather diving equipment versus a regular setup is that the system recycles your air and doesn't release any air bubbles, which means the fish—and sharks (hello!)—come right up to you.
After watching a manta ray with what looked like a 10-foot wingspan come to the surface and do a flip (a feeding behavior) for his audience of three participants and two instructors, I wet-suited up and descended into the massive tank. The instructors led us slowly through the sections of the exhibit, across the top of an acrylic tunnel where we waved to onlookers, through schools of colorful fish, such as porkfish and crevalle jack, that encircled us as if we weren't even there, and past picture windows with more waving museum-goers. I've scuba-dived in areas with plentiful marine life, such as Belize's barrier reef and St. John, but this was by far the largest concentration of underwater animals I've experienced in one place. Several times, I kneeled in the thin layer of sand at the bottom of the tank to just look up and around in awe of the aquatic creatures.
Available on Saturdays and Sundays at 10:45 a.m., the experience takes 3.5 hours and includes a review of how the high-tech diving equipment works, a brief classroom presentation, about an hour of diving and post-shower time. Your program ticket includes admission to the Aquarium, all dive equipment, a T-shirt, souvenir photo and HD video of your experience. Not a certified diver? Opt instead for snorkeling with the Swim with Whale Sharks program ($235.95 plus tax for nonmembers).
Georgia Aquarium
225 Baker Street N.W.
Atlanta 30313
404.581.4000
georgiaaquarium.org
STORY: Karina Antenucci
Photo: Thomas Lee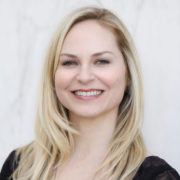 Karina Antenucci
Managing Editor and Kids Columnist at Simply Buckhead. Wellness & Beauty Writer, Certified Holistic Health Practitioner and Mother.