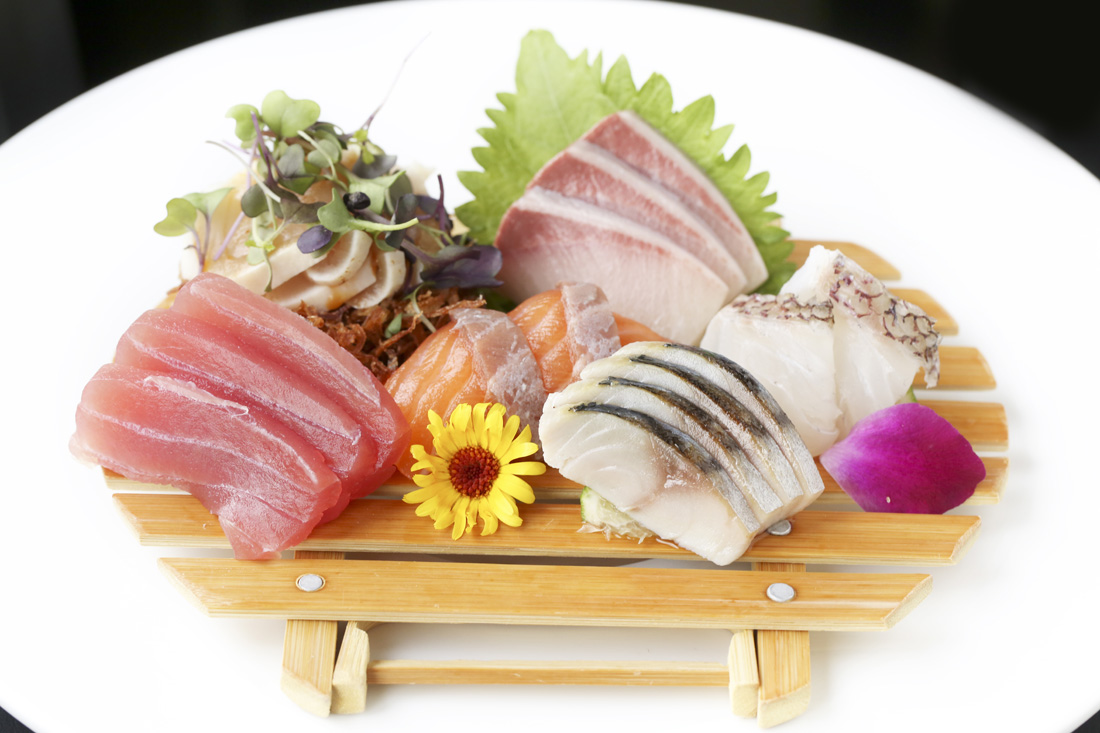 Brookhaven's The One Sushi Plus makes room for all discerning diners.
The server lifted the glass dome from the white plate, releasing a drifting swirl of intoxicating smoke. My sushi novice friend and I were intrigued, and this smoked toro was only our first course at The One Sushi Plus. Could this place excite both a rookie and avid sushi eater?
Tucked in the back corner of Brookhaven's Village Place, One is chic yet unassuming. It is easy to miss, on the edge of the parking lot. On this particular Friday evening, a sizable crowd waited for tables and mingled with patrons doing the same at Kaleidoscope next door. The valet stand out front was busy; the patio and bar were packed.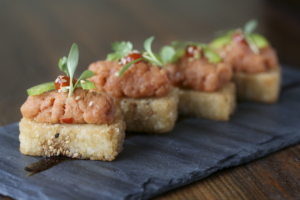 The interior is chic and industrial with concrete, steel and glass. The dimly lit space is hip and sophisticated. Triangular modern art pieces suspended from the ceiling soften the scale of the lofty space, while an abstract mural depicting a rainbow of brushstrokes energizes the grey concrete and metal. Chopsticks are made of steel, and water glasses are wonkily askew in shape, as if they are tipping over. Diners are young, polished, most around 30. We witnessed many diners exchange hugs and hellos before sitting to peruse the menus—a sure sign of a huge neighborhood draw. It's not a quiet place.
The Japanese menu is grouped into the usual categories—appetizers, sashimi, nigiri, raw dishes, rolls and platters—but what stands out in those categories is what sets One apart. Unique dishes with interesting ingredient pairings and attention-grabbing presentations abound.
Even on this crowded Friday (we also visited on a Wednesday), service was quick and friendly. Each visit we were told that the food is served tapas style and comes out as small plates in no particular order. A couple seated nearby ordered a garden salad with a light ginger soy dressing, then an appetizer of alien-looking, crispy squid leg fries. They followed with a third order of spicy tuna on the rocks: squares of crispy rice topped with a moderately hot tuna tartare flavored with chilies, cilantro and jalapeno. The mix of colors and textures was so enticing that we ordered one, too.
We asked for the off-the-menu fish.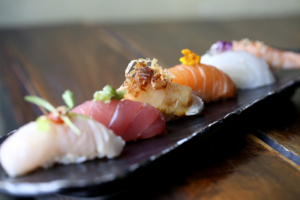 Much of the seafood is flown here from the renowned Tsukiji Market in Tokyo. That evening, the menu featured Japanese uni and a few other options our server had not tried, but his attention to detail impressed us, especially when he asked about the flavors of each after we tasted them. He scribbled notes in his ordering pad to guide others. Nigiri is served two order and sashimi with five slivers. Two pieces of blue fusilier arrived gleaming, thanks to a quick finish from a blow-torch with bits of scallions, and a few grains of pink salt over a tightly packed bundle of lightly vinegared rice. It was a small package but had a perfect balance of flavor. The delicate fish was made even more elegant by the tiny size of One's nigiri. Two nigiri are about the size of one piece at Umi or Tomo but priced about the same.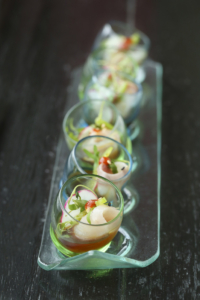 A sushi or sashimi platter is more valueladen if you are up for the sushi chef making the choices. The $31 sashimi platter comes with 14 pieces of fish (although mine had 19). The assortment included toro (tuna), madai (red snapper), hamachi (yellowtail), kinmedai (big eye snapper), saba (mackerel) and salmon. All were fresh and expertly trimmed. The only downside was that the salmon was farmed from Scotland, even though it was wild Copper River salmon season. Most other upscale Atlanta sushi houses had Copper River salmon on the menu.
The majority of tables seemed to have the same item: The Sex and the City roll with a lineup of spicy tuna and crisp tempura flakes, tuna, mango and avocado with a spicy aioli thinly spread on top. My male dining companion was excited about the roll but couldn't bear ordering by its moniker. Same with "the #Selfie" or "OMG," so he chose the Toro on Fire instead. Large wheels of fatty chu-toro tartare and lightly seared tuna mixed with tempura flakes crowned with a spicy wasabi-lime aioli were an invigorating mixture of cool freshness and heat. After hearing that hand rolls came burrito style, he ordered the 1 Plus, a large packet chock-full of sweet crab and corn niblets.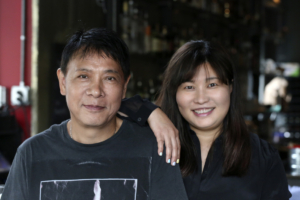 Owners Mali Hu and George Muh hail from Korea, which explains menu items like Gangnam style, a rolled up version of bulgogi with marinated and seared rib eye and short rib meat and kimchi. Another pleaser is the yellowtail jalapeno shots, six shot glasses filled with a sliver of yellowtail and a zesty mixture of cilantro, yuzu, Sriracha and balsamic. The table next to us downed them like whiskey, but I found it best enjoyed with chopsticks and then sipped. The sauce is fantastic.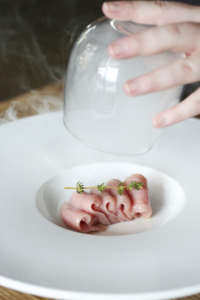 But for the most memorable dish, we go back to the smoked toro mentioned above. After being smoldered with hickory wood under a dome, five large hunks of toro come to the table. The sweet smoke released at its unveiling quickly reaches the nostrils, setting the stage. Then another tiny dome is lifted, revealing smoked soy sauce. The fish is tender, not overly flavored by the singed wood, but just the right amount to transport you to a campfire or a dram of Scotch.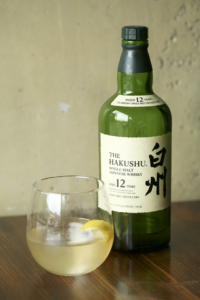 Speaking of Scotch, the bar program is legit. The final dish led me to order the Last Samurai, made with single malt Japanese whisky stirred with slightly fruity Lillet and honey. It's a bit of an Asian Rob Roy with the addition of an oolong tea ice cube that slowly melts and mellows the flavor profile.
One Sushi Plus doesn't quite fit in a box. It's a neighborhood joint but also upscale. It's a playground of inventive plates that caters to both the occasional dabbler and the sushi devotee.
THE ONE SUSHI PLUS
2523 Caldwell Road N.E. Suite 1000,
Atlanta 30319
404.869.6988
theonesushiplus.com
Prices: Nigiri (2 pieces) and Sashimi (5 pieces), $6-$12. Signatures and rolls $11-$20. Platters $23-$37. Sides $5-$12. Cocktails $9-$15. Desserts $7-$9.
Recommended: Smoked toro. Spicy tuna on the rocks. Yellowtail jalapeno shots. Toro on Fire. Last Samurai cocktail.
Bottom line: Low-key and high-brow sushi spot.
STORY: Angela Hansberger
PHOTOS: Sara Hanna
Angela Hansberger
Drinks columnist at Simply Buckhead. Food, spirits, and culture writer.