Animal-assisted therapy benefits kids in the hospital.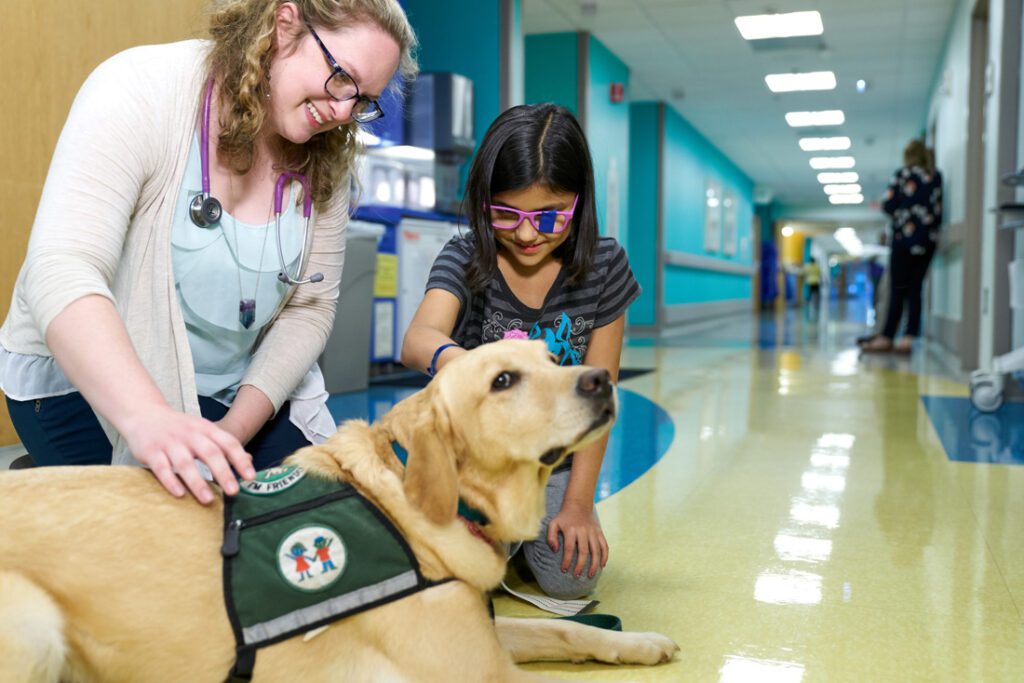 It is often said that dogs are man's best friend because of their loving and loyal nature. Those attributes are taken several steps farther when they become part of the Children's Healthcare of Atlanta Canines For Kids program. It began in 2009 and now has 12 dogs that are brought up to provide animal-assisted therapy to patients and staff.
"Our program was the first, but now pediatric hospitals across the country have modeled similar ones after ours," says Kara Klein, senior program coordinator at Children's and manager of the Canines For Kids program that serves several locations, including Egleston and Scottish Rite.
Pups at Your Service
The duties of these facility pups range from decreasing a patient's anxiety about being in the hospital to motivating them to reach their treatment goals, which can include encouraging them to walk after a major procedure or to take medicine.
"The dogs can also provide support during procedures and tests, and they can reduce feelings of loss and loneliness associated with being separated from home, family and pets," Klein says.
Working Like a Dog
The pups that join Canines For Kids need to have a calm yet eager to-please personality, and they receive specialized education from Canine Assistants in Milton, about 20 miles north of Buckhead.
"We breed our own dogs, and they are born in our onsite vet clinic and often begin working with staff and volunteers as early as eight to 12 weeks of age," says Kizzy Marco, director of development for Canine Assistants. "We then get a good sense of which dog is best suited for this unique work, and as long as they are happy and enjoy that part of their education, they become a hospital dog."
According to Marco, Canine Assistants uses the Bond Based Choice approach to training created by founder Jennifer Arnold. Dogs are taught words, tasks, colors and numbers instead of given strict commands. They are often asked binary questions such as, "Would you like to jump on this bed?" that she says allows the dogs to make choices and only do what feels safe and comfortable.
Canine Assistants matches dogs with the appropriate handler based on lifestyle, personality, work area and what the dog will routinely be doing.
Meet Some Pups
Children's recently added two pups to the team: golden retrievers Marvel and Blanche. Marvel supports young patients, including those who need respiratory treatment because of sickle cell crisis. Blanche will give love and provide care to kids with leukemia and lymphoma.
As part of Canines For Kids, Children's recently launched Pen Paws that invites patients to write letters and send cards to the facility pups. The program will provide opportunities to motivate patients to participate in certain therapies they need. Simply writing the letter may help with mental and emotional stimulation after a procedure.
According to Children's, Pen Paws also boosts kids' spirits simply by writing and receiving a letter back from their favorite facility dog.
CHILDREN'S HEALTHCARE OF ATLANTA
choa.org
@childrensatl
STORY: Chelsie Butler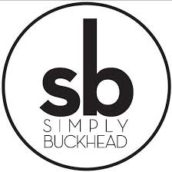 SimplyBuckhead
Simply Buckhead is an upscale lifestyle magazine focused on the best and brightest individuals, businesses and events in Buckhead, Brookhaven, Sandy Springs, Dunwoody and Chamblee. With a commitment to journalistic excellence, the magazine serves as the authority on who to know, what to do and where to go in the community, and its surroundings.