Warm up winter with a steamy bowl of soup at any of these popular Buckhead eateries. From universal classics to unfamiliar combinations, discover a few reasons to revisit the comforting essence of soup.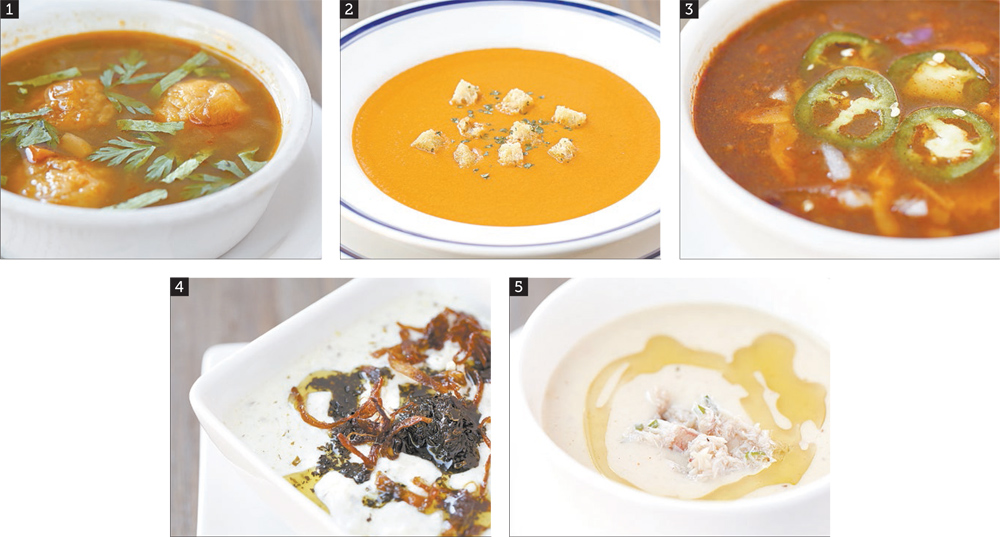 1. Watershed: Potlikker Soup with Cornmeal Dumplings ($8)
A pioneer in the farm to table movement, Watershed serves soulful dishes with locally sourced ingredients. Do not miss the opportunity to try the seasonal Potlikker soup that blends a chestnut broth with delicate, toasted porcini meringues melted on top. Crisp, sage-flavored croutons tie the dish together, giving each thick spoonful a bit of crunch, while the addition of cornmeal dumplings make it a filling meal.
1820 Peachtree Street N.W.
Atlanta 30309
404.809.3561
watershedrestaurant.com
2. Buckhead Diner: Roasted Tomato Soup ($6)
This high-end, retro-style diner serves upscale American comfort food including a familiar classic: tomato soup. A top seller at the restaurant, the slow-roasted tomatoes yield a rich, creamy puree for the perfect palate balance of sweet, sour and savory. Scoop up a parmesan crouton floating on top for added crunch, or pair it with the four-cheese grilled cheese served on buttered parmesan bread. It's a satisfying winter dinner, especially when accompanied by a glass of red wine.
3073 Piedmont Road N.E.
Atlanta 30305
404.262.3336
buckheadrestaurants.com
3. Ted's Montana Grill: Karen's Flying D Bison Chili ($7 per bowl)
Cozy up to a hearty bowl of bison chili in this Old Weststyle American grill. Boasting the largest array of bison menu offerings in the world, the restaurant also offers a meaty chili that combines a slew of ingredients, including lean ground bison, garlic, onions and ranch-style beans (pintos made with chili seasonings). Top it off with cheddar cheese, red onions and jalapenos, and a timeless American classic is reborn. The helping is generous, filling and pairs nicely with a house-made margarita.
1874 Peachtree Street N.W.
Atlanta 30309
404.355.3897
tedsmontanagrill.com
4. Divan: Yogurt Soup ($5)
Tucked away off of Piedmont, this homey Persian restaurant is a hidden gem with memorable Mediterranean fare. The yogurt soup is similar to the Persian-style soups that are so popular in the Middle East. An affinity for yogurt is not required as the warm, velvety blend is totally different than what you'd find in the grocery store. Served warm with basmati rice, chickpeas, herbs and mint oil, it's a great introduction to an authentic Persian dining experience.
3125 Piedmont Road N.E.
Atlanta 30305
404.467.4297
divanatlanta.com
5. South City Kitchen: She Crab Soup ($8 per bowl)
Known for its sophisticated Southern comfort food, South City Kitchen doesn't disappoint with its she crab soup. It's a cross between a bisque and chowder, loaded with the meat of a female crab. Variations exist, but purists know that the recipe served here is made in true Southern tradition, resulting in an addictive blend of buttery, creamy crab soup that is both sweet and salty. The bowl is topped with a dollop of cream and sherry.
350 Peachtree Road
Suite 175
Atlanta 30326
404.815.6677
southcitykitchen.com
STORY: Jessica Dauler
PHOTO Sara Hanna