WE TRY OUT THE NEW APOTHECARY PREPARATIONS SERVICE FROM KIEHL'S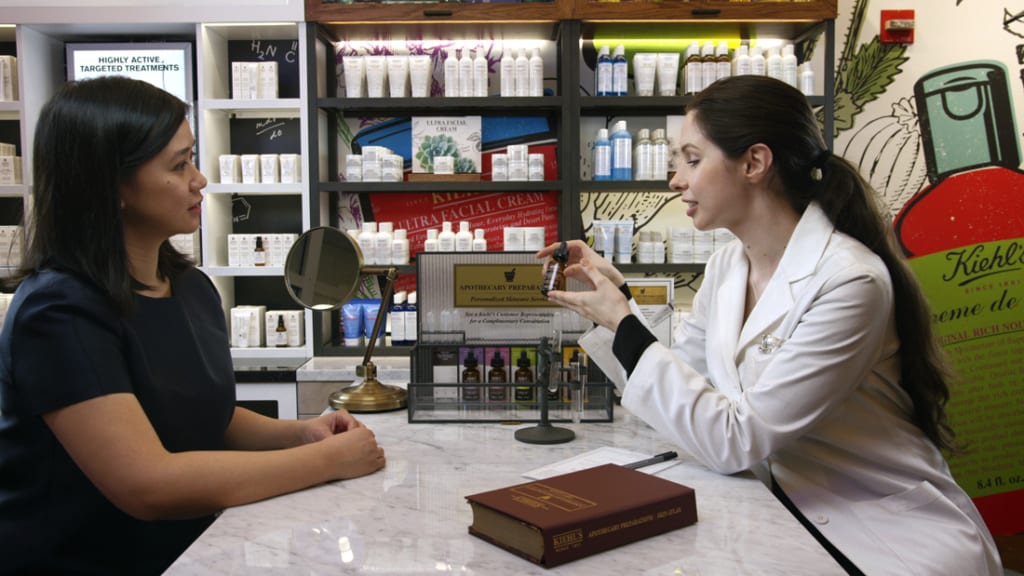 STORY: Karina Antenucci
Beauty brands come and go, but the staying power of Kiehl's can perhaps be attributed to staying true to its roots. Originally opened as a single pharmacy in New York City in 1851, it evolved into a skincare company in the 1950s, but it never lost its apothecary swagger.
When I walked into Kiehl's at Lenox Square to experience its new service, an Apothecary Preparations consultation, I immediately noticed several striking details that paid homage to the company's beginnings. All sales personnel wore white lab coats, just like their pharmacist predecessors. On one side of the store hung a skeleton. "Mr. Bones," who now appears in every Kiehl's location, was used in the original apothecary to help immigrants who spoke little English identify what ailed them. On the other side of the store was another oddity—a motorcycle. Apparently, the founding family had an extensive collection of Harley Davidsons, and starting in the 1950s, they liked to keep one in-store to add interest for men who were waiting on their cosmetics-shopping wives. Additionally, the funky beauty boutique features glass Erlenmeyer flasks, beakers and vials that are filled with dried herbs and flowers reminiscent of the ingredients you might find in its products.
After educating me about the brand's history, store manager Arthur Morrell began a 20-minute personalized skincare consultation. First, he held a "skincare tab" to my cheek and forehead to rate my skin type from oily to dry. It showed that I had mostly normal skin with some dryness. Then, Morrell used a "dehydration analyzer" wand that emitted a painless electric current into my cheek to test for moisture levels. My diagnosis: dehydrated. Next, I filled out a brief questionnaire about my skincare concerns, my top two being redness and clarity.
Armed with this information, Morrell selected the Brightening Complex, made up of vitamin C and scotch pine extract, to lighten my freckles and uneven skin tone, and the Redness Complex, with sunflower seed oil extract and vitamin E that reduce redness and dryness, to create my own custom serum. He then showed me how, when I got home, both of these pharmaceutical meets herbal complexes were to be mixed into the Skin Strengthening Concentrate, a base made up primarily of squalene, a light oil derived from olives.
And that's part of the apothecary fun. Kiehl's sends you away with a printout of your skin evaluation and instructions on how to mix and apply your personalized facial concentrate (cost: $95). Morrell advised me that the formula activates the second it's blended together and should be used immediately thereafter because the highly active and natural ingredients lose their potency after about three months.
That evening, I "activated" and sampled the product. As recommended, I applied it following cleansing, toning and eye cream application, and prior to moisturizing. I put just two tiny drops into the palms of my hands, rubbed them together and pressed the serum into my face and neck. It felt light and smooth, due to the base oil's small, refined molecules, and my skin drank it in.
As for its results, only time will tell. With the confidence that comes after 167 years, Kiehl's will be waiting to re-up my unique "prescription."
KIEHL'S
3393 Peachtree Road N.E.
Atlanta 30326
404.816.7636
kiehls.com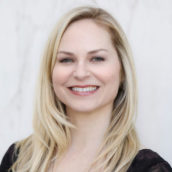 Karina Antenucci
Managing Editor and Wellness Columnist at Simply Buckhead. Blogger at Badass + Healthy.