SAY YES TO THE DRESS' LORI ALLEN SHARES WHAT'S HOT IN BRIDAL FASHION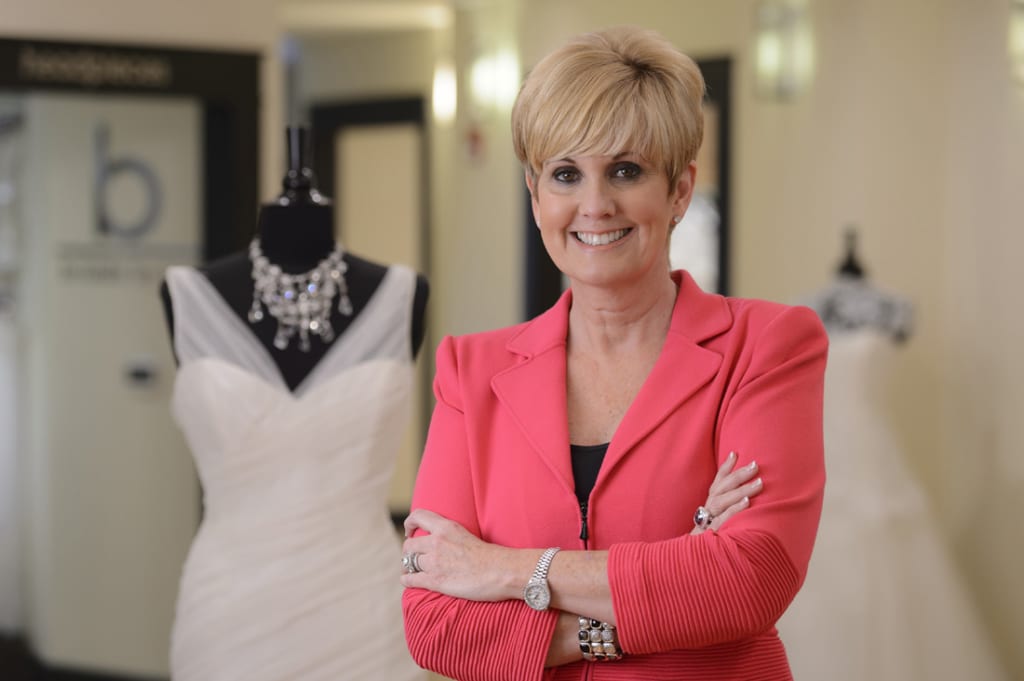 STORY: Karina Antenucci
If Lori Allen, who owns Bridals by Lori in Sandy Springs, has one piece of advice for brides on choosing their wedding dresses, it would be: "Listen to your heart. You will know when you have the gown of your dreams." The Say Yes to the Dress: Atlanta star (the TLC show's episodes are filmed at her salon) has been in the bridal business for 38 years and says she's watched this strange "connection" between brides and their dream dresses happen over and over again. "You cannot force this to happen. Once it does, order the dress," she advises. Here, the wedding style maven, set to appear in season 10 of the show sometime this summer, weighs in on the top trends for brides this year.
SHOULDER ACTION
Brides are giving the cold shoulder to strapless dresses in favor of sleeves this year. "We're seeing less and less strapless, which I'm thankful for. I'm tired of it," says Allen.
HOW LOW CAN YOU GO?
V-neck silhouettes also are replacing strapless dresses—though Vs aren't about covering up. "Designers are showing very low fronts and backs, sometimes all the way down to the waist. But we're in the South, and moms and brides often ask us to raise that deep V a bit [at their fitting]," notes Allen.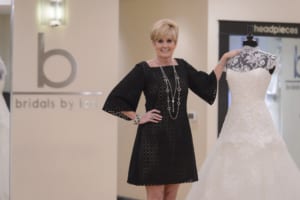 LACE IT UP
Lace has always been a wedding dress staple. This year, bridal fashion designers are opting for a softer look, such as Chantilly lace, rather than the heavier, thicker Alençon lace that's been popular for a while. "These laces are lighter and softer," Allen explains. "Designers are doing a lot of flower patterns and embroideries, such as day lilies."
IN LIVING COLOR
Colorful wedding dresses has been a trend for a few years, with no signs of slowing down. "This year, Rivini did black dresses. Lazaro did a red dress. I bought all of them," notes Allen. While there are certainly brides who crave those bold hues, a subtler blush is still the most popular color. "We have a ton of blush dresses. Blush underneath an ivory lace overlay is beautiful," says Allen.
READY FOR THE BALL
The quintessential wedding gown look is making a comeback. Ball gowns with a big, full skirt are hot to trot down the aisle for 2018. "It's a look you can't wear again. When people think of a wedding gown, they think of that," says Allen.
LESS IS MORE
Gone are the days of the large and in charge chandelier earrings that grazed the shoulder. Allen notes that earrings are getting smaller. Also out are necklaces. Many of today's dresses have such beautiful, ornate fronts, they don't need accessorizing.
TECH INFLUENCE
While online shopping has exploded, buying wedding fashions may be the one niche where purchasing over the Internet isn't as popular. "This is touching and feeling, looking at the color. It's too important to do online," Allen says of the tactile shopping experience. That said, brides are using technology to bring remote family and friends into the picture. Bridals by Lori was the first bridal boutique to feature webcams on its website. "Girls Facetime now," says Allen, "but if you have a mom in Tokyo, as we just had, and Dad is in Denver and Grandma wants to be a part of it, we can give you a passcode so that they can see you trying on your dress." As for what Allen herself would choose if she were getting married this year, she says, "Something classic. I wouldn't follow trends. A simple, great fabric and fantastic fit."
BRIDALS BY LORI
bridalsbylori.com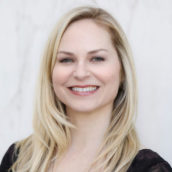 Karina Antenucci
Managing Editor and Wellness Columnist at Simply Buckhead. Blogger at Badass + Healthy.