MAN-WORTHY
Story: Giannina Smith Bedford | Photos: Sara Hanna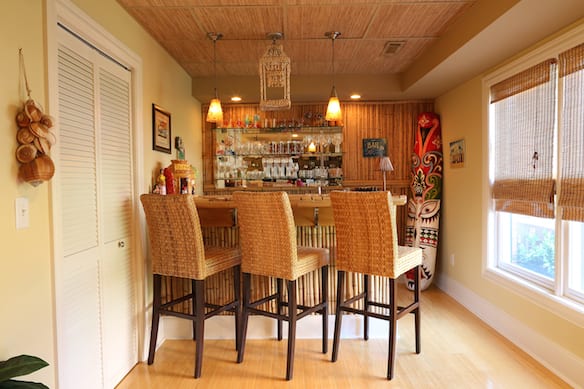 BERT WEISS' PARTY PLACE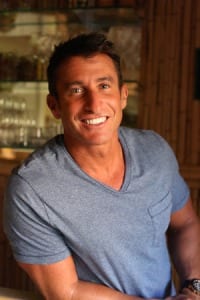 Regardless of a home's size, a man needs a space to call completely his own. A sanctuary where he can kick up his feet, quietly think or down a few beers with his buddies while watching the game. When creating his masculine haven, each of these men infused his personal passion into the design, creating a space that showcases his individuality and zest for life.
You can take the man out of San Diego, but you can't take the San Diego out of the man. A graduate of San Diego State University and lover of all things SoCal, Bert Weiss
wanted to bring his love of the coast to Atlanta when he moved here 14 years ago to be the host of Q100's The Bert Show. With help from his design-savvy wife, Stacey, Weiss transformed their six-bedroom Buckhead home's un- finished basement into a beachy man cave, complete with a tiki hut-style bamboo bar accented with tropical touches— a totem pole shipped from Thailand, hanging shell chan- delier and playful hula girl clock. "Stacey took this on as her pet project, with my input, and she ran with it," Weiss says.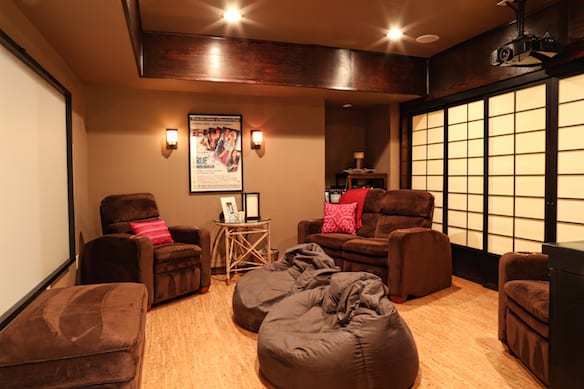 The above-ground basement also features a separate media room with a big-screen projector and reclining theater seats. Originally conceived as a sports haven for Weiss to watch the Georgia Bulldogs and San Diego Chargers, the media room eventually morphed into a half-playroom—hidden behind Chinese sliding doors—for sons Hayden, 12, and Hollis, 7.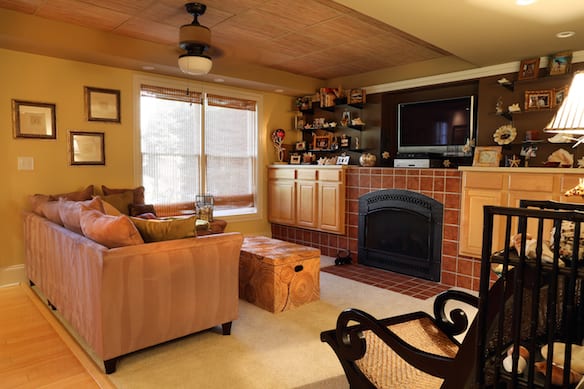 "It doesn't feel like half of it's a kids room when those are closed, but when I want to watch football on Sundays and the kids want to hang out and play with their Legos, we can open it up and all do it together," he says. "When they aren't around, I can close it up and feel manly again."
Outside the media room, a "walk of fame" hallway gives a nod to Weiss' line of work with photographs of him and Stacey with famous musicians and celebrities—one of his favor- ites is an image of the couple with U2's Bono, backstage at a Philips Arena concert. Other notable frames feature signed images of Kelly Clarkson, Lionel Richie and local artists such as Usher and Neo.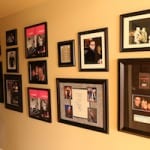 Along with highlighting Weiss' love of sports, beach and music, the man cave is a gathering spot for family and friends during fight nights, Sunday football and birthday parties. The best part: The main room opens up to the yard (and friendly neighbor's pool), making it ideal for everything from a daytime barbecue to rowdy late night revelry. "We've had a lot of parties down here. The couch gets moved and it becomes a dance floor with a disco ball," Weiss says. "It's a lot of fun. A lot of people have lost a lot of brain cells down here."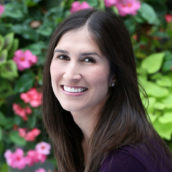 Giannina Bedford
Contributing home editor and design columnist at Simply Buckhead. Travel & Business Writer. Mother of Two.