Story: Giannina Smith Bedford
The basement watering hole is a regular gathering spot, not only for football viewing, but also neighborhood holiday parties, chili cook offs and more.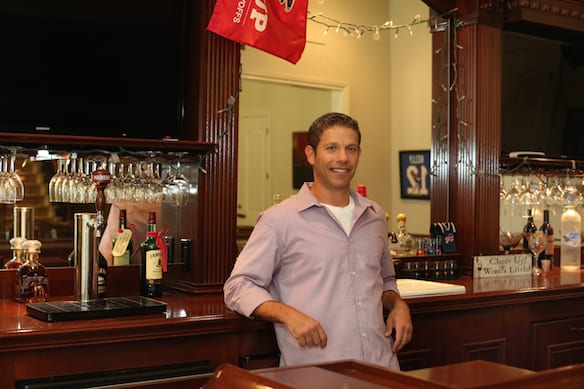 After moving into his seven-bedroom Brookhaven home in 2012, Buffalo, New York, native Dr. Andrew Feinberg wasted little time before building out his basement man cave. The co-owner and ophthalmologist at Georgia Eye Partners contracted Bob Wilson of Classic Bars to make his vision of a large bar where he could host friends and watch sports a reality.
"He helped me map this out and envision that the bar could be this big and fit in this room," Feinberg says. "He's a visionary and has done this a lot. He likes to have a centerpiece mirror to open up the room, with moldings around it."
With the help of a contractor, Feinberg installed a hardwood floor for the bar area and opened up the archway leading to its location. The biggest "conceptual struggle" he had was convincing Wilson of the need for two 46-inch televisions behind the bar one for the Buffalo Bills game and one for Atlanta friends to keep tabs on the Falcons.
"He was trying to talk me out of it the hardest he could," Feinberg says.
Needless to say, the doc won the fight. Today, the basement watering hole is a regular gathering spot, not only for football viewing on Saturdays and Sundays, but also neighborhood holiday parties, chili cook offs and more. It's also become a meeting place for the Brookhaven Club Forest neighborhood Krewe de Foret Mardi Gras crew, which puts on a community celebration each year. Feinberg's young sons—Ryan, 14; Will, 12; and Nicholas, 5—also like to spend time battling it out on the foosball table, roughhousing in the adjacent sitting room and pulling up a leather barstool to the bar for an ice ice-cold soda.
"They try to make it their own," Feinberg says. "They aren't, fortunately, trying to break into the alcohol just yet."
Thinking ahead, Feinberg has much of the liquor locked away in a cabinet behind the bar, next to the dishwasher, beer fridge, icemaker and kegerator. The 19-foot bar, which was built off-site and brought through the downstairs patio and French doors for installation, also features a dual-zone wine fridge with different temperature areas for white and red. Scattered along the shelves and walls are football helmets, including a Buffalo Bills one worn by Buckhead resident Takeo Spikes; an Atlanta Thrashers goalie mask; and a sign advising, "Cheer up! Wine a little!" Mounted on a wall is also a Duke University Blue Devils emblem that spins and lights up, teasing Feinberg's North Carolina Tar Heels friends to unplug it.
While enjoying a cold beer or a Crown and Coke with the bar host—guests can also admire a painting by Feinberg of opening day at Jack Daniel's Distillery in Lynchburg, Tennessee. One day, barflies might also be able to get a drink through a nearby window while swimming outdoors in Feinberg's dreamed- about pool, a possible future project.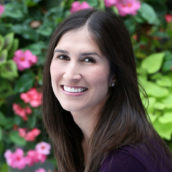 Giannina Bedford
Giannina S. Bedford is multi-faceted writer and editor. Her work covers design, travel, food and business. She's penned Simply Buckhead's home feature since inception and held a variety of editorial roles at the magazine. Her freelance work has appeared in Condé Nast Traveler, USA Today, Virtuoso Life, Hemispheres and TravelandLeisure.com. She also contributes regularly Atlanta Business Chronicle. Fluent in Spanish, Giannina was born in Miami and grew up in Brazil, Chile, Hawaii and Australia. She currently lives in Dunwoody with her two kids and husband.