Executive Chef Joe Schafer, State Farm Arena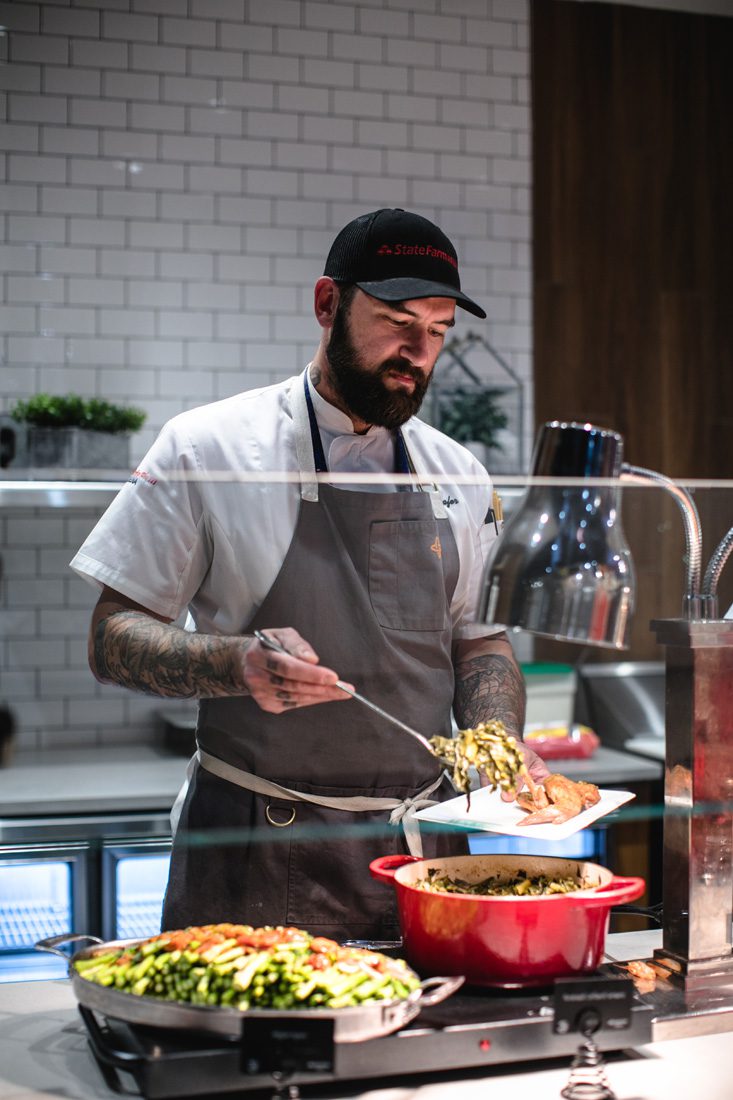 A game-day meal has surpassed the standard stadium fare of yesteryear. This shift is evident at State Farm Arena, the home court of the Atlanta Hawks. "We believe that food plays a huge part in the overall experience," says award-winning Executive Chef Joe Schafer, who joined the arena in 2017 to help transform its food offerings.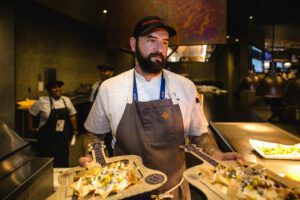 "We provide a food story that is unique. So getting up from your seat to grab a bite is less of a chore, and you can get excited about what you're going to eat."
State Farm Arena's food program is split into two sides: the restaurant, or concessions, and the premium side, which includes catering, suites and member clubs. The former consists of offerings that are familiar to fans, with more than 20 restaurants serving everything from pizza to pretzels with many items priced under $5. The latter features planned menus of seasonal, unique dishes served during events. No matter the side, all of the food is fresh and homemade. In fact, during one Hawks game, the venue goes through roughly 1,400 pounds of chicken and between 400 and 600 pounds of every other protein. Additionally, 1,000 pizzas and 300 pounds of hot dogs are served.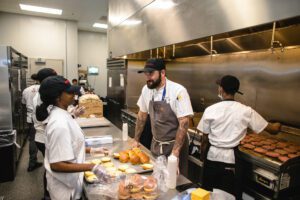 Often, the culinary staff creates dishes that coincide with the Hawks' promotional schedule for celebrations such as Lunar New Year and Hispanic Heritage Night. What's more, the staff prepares food for Hawks players and personnel during every game. In all, the culinary team feeds more than 17,000 people during any event. Some waste is inevitable with an operation of that scale, but Schafer is proud of the venue's sustainability and waste diversion efforts, which include composting and donating unused food to organizations like Goodr and Second Helpings.
"This is not your typical arena," Schafer says. "Not only do we have a little something for everyone, but we also do it with fresh ingredients and passion. We try to be as innovative as possible to create that great experience that fans have come to love at State Farm Arena."
STATE FARM ARENA
404.878.3000
statefarmarena.com
@statefarmarena
PHOTOS: Erik Meadows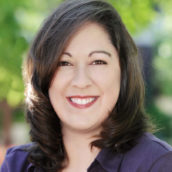 Amy Meadows
15 Minutes With columnist at Simply Buckhead. Freelance feature writer, children's book author and President of Green Meadows Communications, LLC.