The Atlanta Hawks' Million Meal Pack event surpasses its lofty goals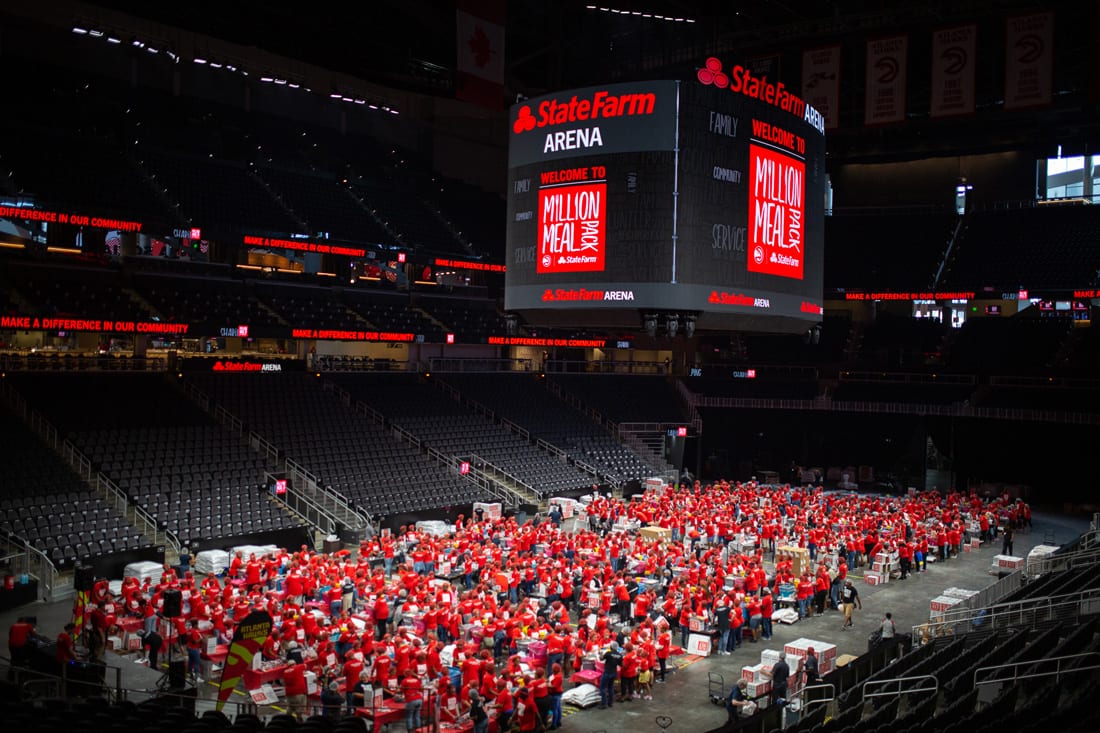 STORY: Mickey Goodman
Photos: Kat Goduco Photo Crew
When a professional Atlanta sports team, a civic minded corporation and area citizens join hands, great things happen. Case in point: The Atlanta Hawks, State Farm and 5,000 volunteers came together at the Million Meal Pack event at State Farm Arena last October to pack 1,020,672 meals to help combat food insecurity. It was the largest philanthropic project in the Hawks' 51-year history.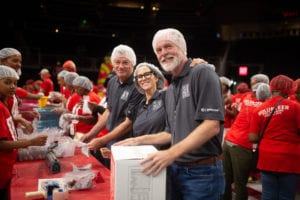 "The mission of the Hawks Foundation is to do small acts that make a big impact on the community," says Andrea Carter, the team's vice president of corporate responsibility and inclusion. "But we were looking for a bigger way to draw in community participation that would make a difference in the lives of a large number of people. With help from Feeding Children Everywhere, we came up with the Million Meal Pack, then put out a call to our fans, season ticket holders, religious groups, corporations and the community via e-mail and social media. Everyone thought it would take two to three months to get to our goal of 5,000 volunteers, but 72 hours later, we had reached capacity."
Feeding Children Everywhere served as the logistics lead for the event and handled everything from training to distribution by local feed-the-hungry groups. The Atlanta Community Food Bank, Second Helpings Atlanta, Fountain of Hope, Goodr, Lost-n-Found Youth and Veterans Empowerment Organization of Georgia picked up and delivered the more than one million food packages to organizations and shelters that regularly feed the hungry.
The volunteers worked in six 90-minute shifts to help package and seal six servings of premade vegetable jambalaya. "Some volunteers returned for multiple shifts and five remained the entire day," says Carter. Among the volunteers were a number of recognizable faces, including Congressman John Lewis; Atlanta Hawks owners and Buckhead residents Tony Ressler and Jami Gertz; Hawks' head coach Lloyd Pierce; Steve Koonin, CEO of the Atlanta Hawks and State Farm Arena; Travis Schlenk, the Hawks' president of basketball operations and general manager; State Farm senior vice president Dan Krause; and David Green, CEO of Feeding Children Everywhere. There was also representation from the team, including players Vince Carter, Trae Young and De'Andre Hunter, as well as former Hawk and Hall of Famer Dominique Wilkins, who all donned the required hairnets and gloves and pitched right in.
Although this was the Atlanta Hawks Foundation's largest event ever, it is hardly the organization's only philanthropic effort. "In partnership with State Farm's Good Neighbor Clubs, we pledged to build 25 basketball courts and activity spaces beginning in 2015," says Andrea Carter. "We exceeded that goal in just four years and have thus far completed 27 safe, fun places for teens to go after school." Carter says they also built a dance studio with space for activities such as yoga that was scheduled to open in December.
In addition, the Hawks Foundation provides scholarships to basketball camps and clinics, and is developing a high-level instruction course for volunteer coaches. It also offers mentoring, teaches leadership skills and provides free tickets, transportation and food so teens can attend Hawks games.
For more information, visit hawks.com/community.
Mickey Goodman
Award-winning Ghostwriter, Journalist, Content Creator.