A visit to The Ritz-Carlton Lodge, Reynolds Plantation is the perfect recipe for family-friendly relaxation.
Sometimes you just need to get out of town. It doesn't matter how far you go just as long as it's away from the list of to-do's that leers at you each weekend. But while you want to be free from household duties, you also want to enjoy the comforts— and space—of home. This is where The Ritz- Carlton Lodge, Reynolds Plantation swoops in to save your sanity. Famous for its 99 holes of golf, 27,600-square-foot spa and wait on you- hand-and-foot Southern hospitality, the lakefront property is much more than your typical luxury hotel. In addition to its 251 guest rooms, the getaway—just an hour-and-a-half drive from Buckhead—offers three lakefront cottages that are the perfect mixture of pampering and privacy for the entire family.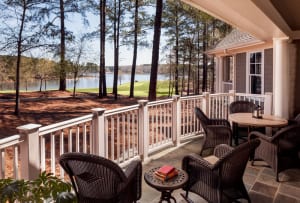 I had the fortune of enjoying one of these plush accommodations during a two-night escape from the city with my husband, infant daughter, mother and stepdad in tow. After a painless hour-and-a-half drive, we settled into a two-bedroom bungalow, ready for some R&R. The floor plan of the 1,800-squarefoot accommodation—done in a traditional residential décor with a rustic lakeside-themed twist—included two rooms (one with its own sitting area) connected by a living room with a wood-burning fireplace. It was the ideal layout to allow for both communal family time and individual privacy. Over the next two days, we sipped wine on the wrap-around porch, played board games in the living room and retreated to our rooms each evening for deep sleeps. The butler's kitchen was the perfect amenity for morning coffee and afternoon snacks—just enough bells and whistles (fridge, dishwasher, sink, toaster oven, coffeemaker and microwave) that you didn't have to leave your room for each hunger craving, but not enough to cook a full dinner (who wants to do that on vacation anyway?).
When we needed a full meal, we had our choice of three on-site restaurants. We frequented the open-air Gaby's by the Lake for lunch, where the Maine lobster grilled cheese was an easy favorite. At dinner, we got dressed up for an early bird (read: baby-friendly) meal at the white-tablecloth Linger Longer Steakhouse, where the staff went above and beyond. The delicious from-the-sea appetizers (jumbo shrimp cocktail, tuna tartare and panseared sea scallops), meats from the woodburning grill and well-curated list of wines described by our knowledgeable server (there is also a Level 2 Sommelier on hand to help), made this surf-and-turf feast one to remember. We topped it all off with some mascarpone cheesecake, raisin bread pudding and the restaurant's signature post-dinner cotton candy. Unfortunately, we were too stuffed for the resort's "S'mores by the Fire," so we instead enjoyed a short walk back to our cottage to help digest our remarkable dinner repast.
Lucky for our waistlines, we didn't spend all our time eating. We took walks on the property's well-manicured paths, relaxed in waterside Adirondack chairs, biked Reynolds Plantation's hilly terrain and took a boat tour of Lake Oconee's mansion-dotted shoreline with friends who live nearby. Although we jumped in with locals for our jaunt on the water, the resort offers both motorized and non-motorized lake activities, so everything from fishing and kayaks to paddle boarding is at your fingertips. For a less calorie-burning water activity, spend a day at the pool—ours was definitely a highlight. Recently renovated, the deck features a heated infinity pool overlooking the shimmering lake, children's pool with spraying water features and service at your lounge chair, so you can hang out all day while a friendly server takes your order (another lobster grilled cheese, please!). For a closer view of the water, there is also a sandy beach packed with comfy loungers.
While most of our visit to Reynolds Plantation included quality family time, I was able to sneak away for a morning visit to the spa, where I indulged in a Four Elements Body Treatment that melted away the stresses of life. The dry body brushing and gentle apricot buff left my skin baby soft from head to toe and the massage of essential oils and warm stones soothed my aching muscles. I walked out of there a new woman and headed back to Atlanta completely recharged and ready to take on that pesky to-do list.
DETAILS:
The Ritz-Carlton Lodge, Reynolds Plantation
1 Lake Oconee Trail
Greensboro 30642
706.467.0600
ritzcarlton.com
STORY: Giannina Smith Bedford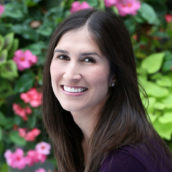 Giannina Bedford
Giannina S. Bedford is multi-faceted writer and editor. Her work covers design, travel, food and business. She's penned Simply Buckhead's home feature since inception and held a variety of editorial roles at the magazine. Her freelance work has appeared in Condé Nast Traveler, USA Today, Virtuoso Life, Hemispheres and TravelandLeisure.com. She also contributes regularly Atlanta Business Chronicle. Fluent in Spanish, Giannina was born in Miami and grew up in Brazil, Chile, Hawaii and Australia. She currently lives in Dunwoody with her two kids and husband.