Schuyler Rideout goes back to her roots for her canvas creations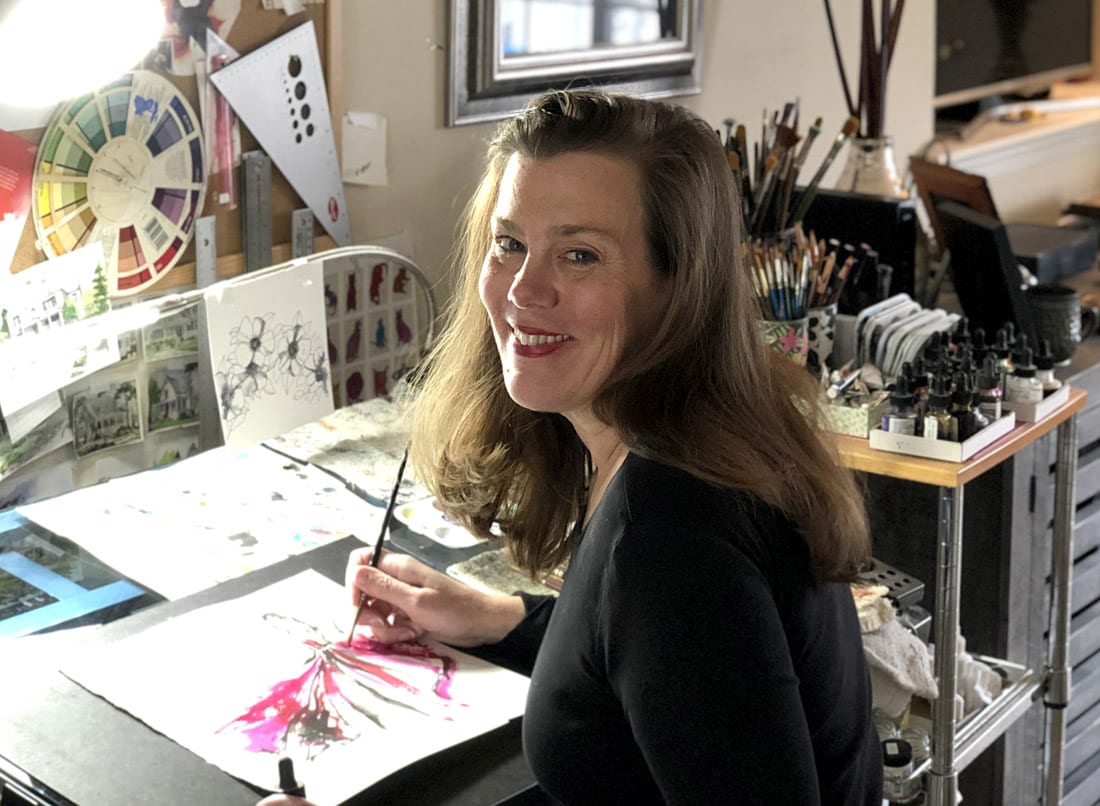 STORY: H.M. Cauley
Photos: Clay Fisher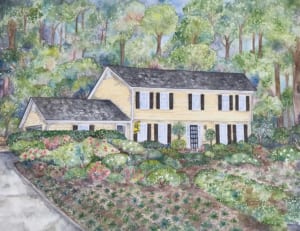 Schuyler Rideout grew up in Savannah surrounded by fashion. "My mom and grandmother were both incredibly stylish," she recalls. "They got [publications] like Women's Wear Daily with gorgeous spreads of fashion illustration. I fell in love with them."
For years, Rideout, whose actual first name makes her a sixth-generation Martha, believed she'd spend her life creating similarly stunning layouts. She earned an art degree from Washington and Lee University in Virginia only to learn jobs in that field were more than difficult to find. In 1994, she arrived in Atlanta and began planning special events for Turner Broadcasting. Then she turned 40. "I had a midlife crisis and realized it was time to finally follow my heart," she says. "If I didn't do art then, I wouldn't have the chance."
In 2009, Rideout quit her job at Turner and headed to the Fashion Institute of Technology in New York where she "lived and breathed" fashion. But she knew she'd get back to Atlanta. "I had a network here, and I knew there were lots of opportunities for emerging artists," says Rideout.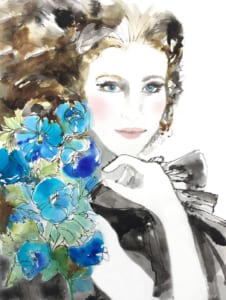 The Buckhead resident has been noticed on the local art scene for combining flowers and clothes. "When I look at a tulip display, I can see how the petals will fall into a couture gown," she says. "Or I'll look at succulents and see the texture and shape of an Alexander McQueen collection. I see an organic connection between fashion and flowers. It's a little bit fantasy but also resonates with people who love both."
About four years ago, Rideout branched beyond fashion into a new niche: doing portraits of houses. It began when a real estate agent asked her to produce a painting of a home to give as a client gift. "What's really fun is that I can personalize each piece," she says. "I'll have a photograph of the owners' dogs and put them in the yard. I'll put the family's name in the bushes or add a flowering dogwood tree if they're into plants."
The specialized portraits have also found a following among buyers looking for unusual gifts–even if the homeowners are leaving the property. "I've done many for parents who are downsizing but want a portrait of their home to pass down to their kids," she says.
But fashion remains her first love. "I have clients who have a wedding gown, a pair of shoes they adore or a purse they want to have one day, and I'll paint it and incorporate their favorite flowers," says Rideout. "A lot of women put the art in their closets, so I'm able to say I really am a closet artist."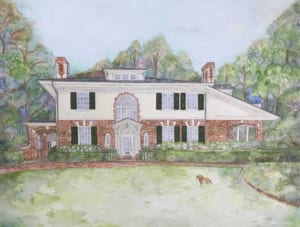 Rideout is about to start licensing her work to make it available to a larger audience. "I want to see it on dorm walls as well as in fashionistas' closets," she says. "I'm working now with a wholesaler to make some images that have the broadest appeal available to big-box retailers that can make it affordable to any demographic."
When not building an art empire, Rideout can be found fostering kittens, expanding her bourbon collection and being grateful she left the corporate world behind. "I hope I'm an inspiration to others that you can change your trajectory," she says. "I wanted to be happy, and now I'm happy and creative every day."
To see a sample of Schuyler Rideout's creations, visit fashionflowerart.com.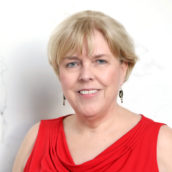 H.M Cauley
Atlanta-based writer and editor contributing to a number of local and state-wide publications. Instructor in Georgia State's Communication department and Emory's Continuing Education division.