Healthy food cafe Flower Child blossoms in Sandy Springs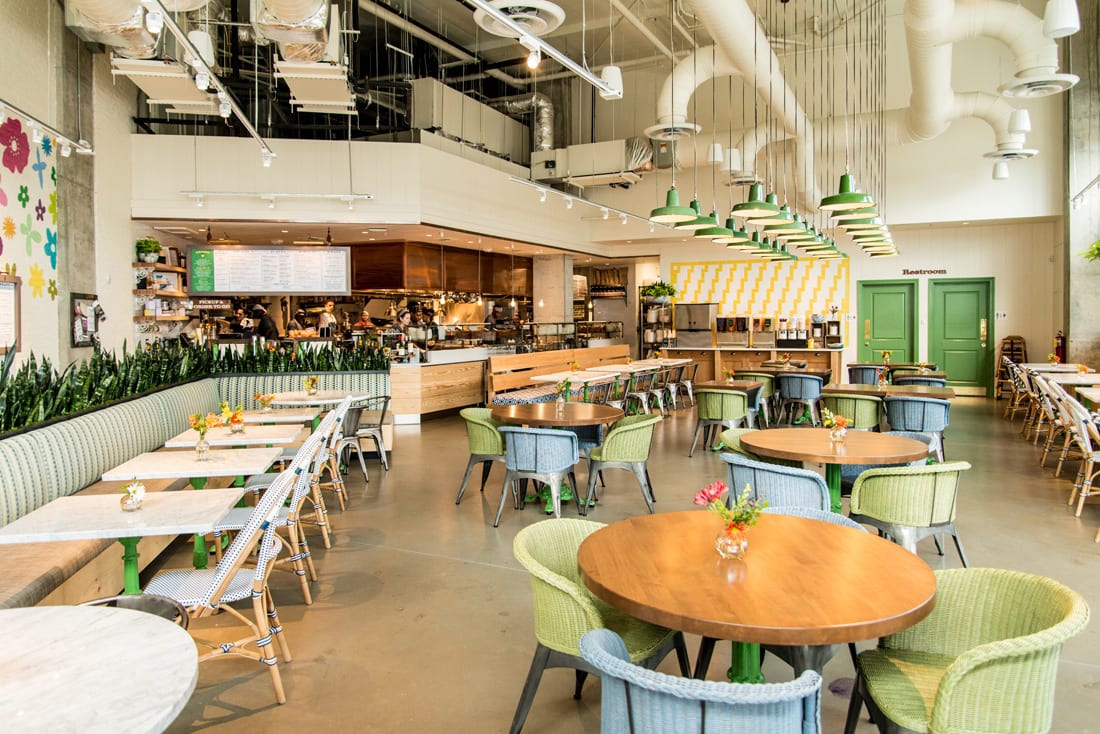 STORY: Rebecca Cha
PHOTOS: Sara Hanna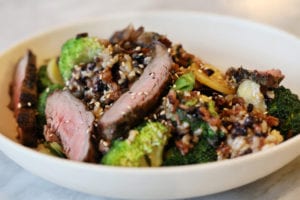 Years ago, when I was a calorie-counting, label-reading, food-obsessed teen, I dreamed of a restaurant like Flower Child. This was back when health food was sold in small, dusty shops, kombucha was a muddy, stinky brew sipped by hippies, and even the mere mention of quinoa was treated with suspicion. Health food, you've come a long way, baby!
Flower Child is the creation of Sam Fox, the same fellow who brought us True Food Kitchen with partner and anti-inflammatory food guru Dr. Andrew Weil. Of course, this health food thing is nothing new, but Fox couldn't have planned his launch any better, opening smack in the middle of the wellness zeitgeist. It is, at least in part, why the Flower Child concept is so successful. The other factor is the consistently delicious food.
If you're a patron of True Food Kitchen at Lenox Square, you know it's so popular there's often a wait to be seated. Not so at Flower Child in Sandy Springs. Despite the crowds, the seating seems to magically regenerate like the loaves and fishes; there's always enough for everyone. With its lofty industrial ceiling, pastel color scheme and sunny staff, the vibe is 1970s Malibu meets New York's Upper West Side, with stroller-pushing "Lululemoms" sitting next to bespectacled executives and NoHa (north of Hammond) hipsters.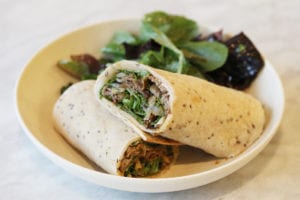 If you've just come from a workout at Orangetheory or Pure Barre, the Flower Child menu will be a natural extension of that experience. Chicken, tofu, fish and beef are identified as "protein," and all come with qualifying adjectives: "all-natural," "sustainable," "grassfed" and "organic non-GMO." And items are designated as vegetarian, vegan and/or gluten-free.
For the uninitiated, the menu will astound in its gastronomic righteousness. We revved up our first visit with a pristine cold brew coffee (on tap) and embraced the Mother Earth bowl, a mound of nutty ancient grains beneath grilled sweet potato, sautéed portobellos, ripe avocado, pistachio pesto, crisp arugula with an exquisite red pepper miso vinaigrette and, somewhere in there, hemp seed. The diced cucumber tossed with sesame oil and seeds added a delicious, if familiar, Asian touch to the dish.
While the first visit was a pleasant shock to the system, the second was a revelation. We began with the Mediterranean Quinoa salad, consisting of Georgia-raised chicken, finely chopped greens, flecks of opaque quinoa, a dusting of chunky white feta and a hint of heat from minced peppers, all tossed with a zingy harissa-yogurt dressing. Our beverage of choice was, you guessed it, kombucha. The fermented tea drink here is nothing like the sour greyish muck it used to be. Flower Child's version, served on tap, is lightly effervescent, mild and apple-y.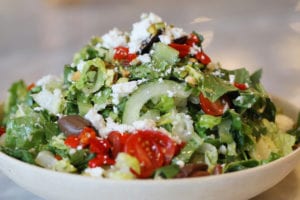 From the iced tea bar, we selected black passionfruit. Refreshing and naturally sweet, especially with a bit of almond milk, the tea was the yin to our meal's yang. The Forbidden Rice bowl, with added steak, was superlative-worthy. The grass-fed sliced steak could rival that from any chophouse in town, and the black pearl and red japonica rices were seasoned impeccably with a smoky sesame-hoisin sauce.
Tossed in the mix were al dente broccoli, snap peas and wafer-thin carrot slices. Black rice—called "forbidden" because of its low yield and association with aristocratic tables of ancient China—was a first for me, and its nutty sweetness was a masterful match for the juicy, medium-rare steak.
On our third visit, the magic waned a bit. The organic kale salad—fresh as always and tossed with whole smoked almonds, pink grapefruit segments and black currants—was underdressed and underwhelming.
Likewise the avocado hummus. A modest portion of something resembling guacamole, though not as rich and flavorful, it was served with whole grain and flax pita segments that were too flimsy to handle the hummus. These were followed by a wrap—here again, featuring the flax pita—intriguingly called The Rebel.
Our cashier raved about The Rebel's grass-fed steak, creamy French Port Salut cheese, arugula and horseradish yogurt, but the dish itself was disappointing. The shaved steak was messy (think sloppy joes), the cheese and arugula were an afterthought, and we definitely missed the kick of horseradish. A smattering of desserts is on offer, all prepared daily and in-house. The standout was a rich, vegan dark chocolate pudding that comes with a side of toasted shaved coconut and sprouted almonds. It's a good thing it's portioned at a mere half cup, because we could have eaten a mixing bowl full.
Even if you're a diehard Southerner, and it isn't a meal without chicken and biscuits, you'll likely soon cotton to the fact that Flower Child and its ilk are harbingers of a food movement that isn't going away. And I, for one, am all in. But I also believe the true pleasure of food is about balance. So, sure, I'll be dining plenty at Flower Child in the future, and health-wise, it's worth every kale-lovin' penny. But if you happen to see me sneak across the street to Brooklyn Cafe for a bacon double cheeseburger, don't be surprised.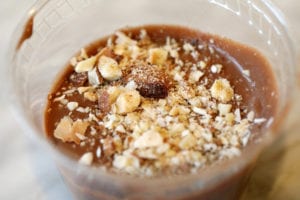 FLOWER CHILD
6400 Blue Stone Rd.,
Sandy Springs
30328
470.481.7850
iamaflowerchild.com
Prices: Soups and appetizers: $6.50-$8. Salads: $9-$12.75. Plates: $4-$10. Bowls and wraps: $10.25-$13.
Recommended: Tomato toast, avocado hummus, Mediterranean Quinoa salad (with chicken), Glow bowl, Mother Earth bowl, Forbidden Rice bowl (with steak), vegan dark chocolate pudding.
Bottom line: At Flower Child, there's no mediocre food riding the coattails of celebrity chefs, no smoke-and-mirrors marketing concealing unhealthy grub. The food is the celebrity, and for all the right reasons.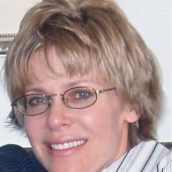 Rebecca Cha
Food, beauty and interiors writer at Simply Buckhead. Linguist, teacher, chef, parent.