A sampling of great eats in and around Buckhead!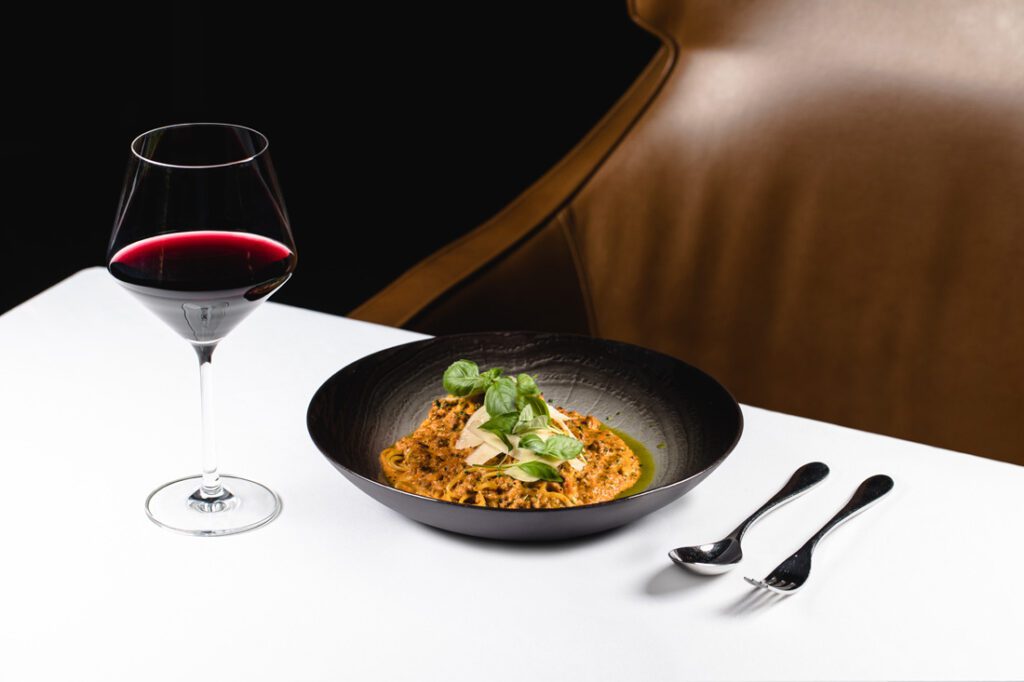 ANTICO PIZZA NAPOLETANA
The best pizzas linger in memory and spark cravings long after that last piece is gone. Antico Pizza Napoletana's original Westside location presents several contenders with its straightforward menu of 11 pizzas (five with red sauce, six with white) plus three calzones. San Gennaro makes taste buds swoon with its sweet, spicy, savory and salty combination of sausage, peppers, bufala mozzarella and cippolini onion atop the restaurant's signature charred-yet-chewy crust. The specialty Sophia pizza is topped with mozzarella, onion, mushrooms and a hint of white truffle oil with sophisticated results. The crowd-pleasing Margherita D.O.P. presents a tantalizing combination of imported tomatoes, mozzarella and basil. Lasagna pizza tops red sauce with meatballs, ricotta and Romano cheeses for flavors that are mild yet satisfying. Off-menu items include a pre-packaged salad and imported drinks. You're welcome to bring a bottle of wine to enjoy alongside your meal with no corkage fee.
Pizza: $19-27
Calzoni: $18-19
BLUE RIDGE GRILL
For more than 20 years, Blue Ridge Grill has been a mecca for Buckhead power lunchers and chill evening diners alike. Whether for business or romance, BRG is a paragon of hospitality, and each guest is embraced like a VIP. Standard crowd-pleasers on the Euro- American menu include grilled Georgia trout, French-boned chicken with wild mushrooms and filet mignon with Vidalia onions. Small plates and sides of iron skillet mussels, Caesar salad with crisp Beeler bacon, custard-like corn soufflé and (off-menu item) fried pickles with buttermilk dipping sauce are absolute must-tries. If cost is an issue, call ahead, as menu prices are not advertised online.
Lunch: $9-$42
Dinner: $13-$62
DEL FRISCO'S GRILLE
While the Texas-based chain is known for superb steaks, fusion appetizers and flatbreads, we think the burgers are sensational. In particular, the Pimento Cheese Burger, an uptown riff on the Big Mac, is a tower of juicy deliciousness: two patties with lettuce, tomato and pickle; plus housemade "sloppy sauce" (it's like a smooth Thousand Island); plus two generous smears of pimento cheese, which slides down the stack and seals in all that juicy goodness. Del Frisco's gets special points for packaging: The burger sits coyly in a partly open paper wrapper, while the fries are in a little paper cone on the side. A cold, frothy draft beer is the clincher.
Appetizers: $7-$16.50
Sandwiches and flatbreads: $12.50-$18
Steaks: $29.50-$39.50
FIA RESTAURANT
Many of the best meals are an escape, a getaway. Fortunately for Atlanta residents, it's simple enough to find bites that both awaken our wanderlust and satisfy our desire for something beyond the ordinary. Case in point: Fia, the restaurant tucked inside The Burgess Hotel. A glance at the menu will tell you that, while you'll likely be able to pick out influences—Greek, Indian, Thai, Italian—you can't put this menu in a box. That fact makes it so much fun to order what you like and explore dishes such as tender-crisp charred octopus, shrimp saganaki, pan-seared potato gnocchi, whole grilled branzino and bone-in short rib served over spiced lentils and basmati rice. A meal here is like a global getaway close to home.
Appetizers, soups and salads: $8-19
Entrees: $24-$38
From the grill: $28-$98
Sides: $13
Desserts: $12-$15
GYPSY KITCHEN
Take your taste buds on a nomadic journey at Gypsy Kitchen in the Buckhead Village District, where you'll find abundant flavors plus an upbeat vibe. Small plates dominate the menu, true to the Spanish tapas experience. The eclectic assortment ensures there's something to please just about anyone, with abundant vegetarian options as well as diverse omnivore plates. Don't miss tirokroketes, a trio of crisp cheese balls served with spicy-tart almond romesco sauce. Grilled octopus is cooked to tender perfection. Roasted mushrooms and whipped goat cheese toast surely makes avocado toast green with envy. Moroccan spiced lamb skewers are pleasantly spicy. Sumac honeyroasted carrots offer a healthy way to satisfy sweet cravings. The bar menu presents wine, beer and creative cocktails including gin and tonic on draught with an exclusive tonic. Sangria is offered in both red and rosé versions, with shareable carafes available for an authentic Spanish experience.
Cocktails: $9-15
Small Plates: $9-20
Meat & Cheese: $8-48
Mains: $25-65
Desserts: $10-12
gk-atl.com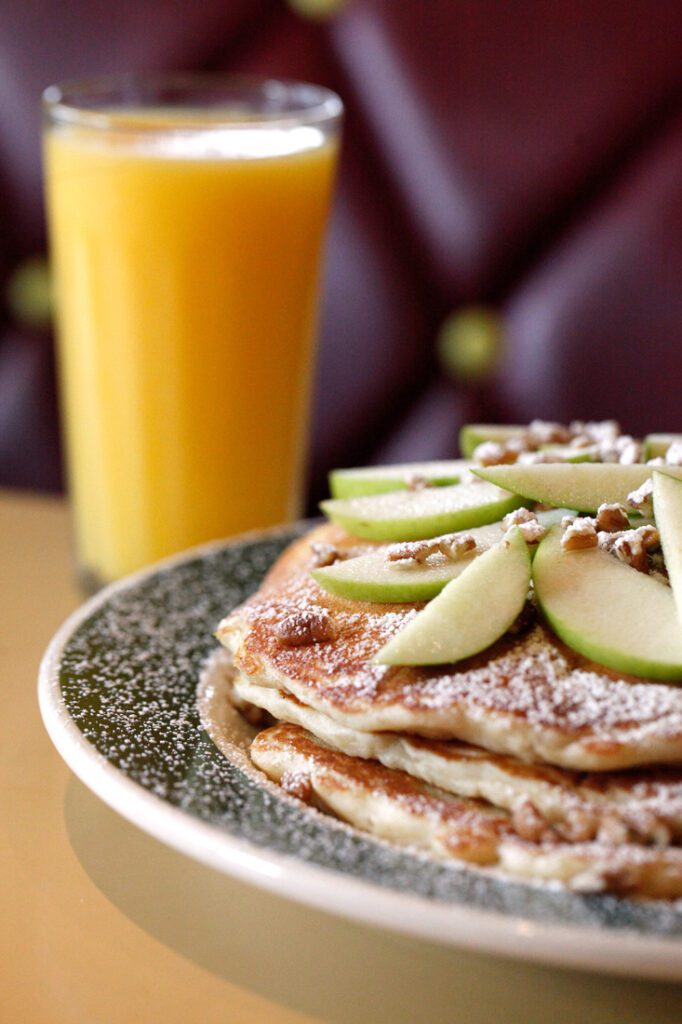 OK CAFÉ
Just as we send diners to Bone's for the definitive steakhouse experience, we suggest OK Café as a classic diner with a strong Southern twang. The offerings here are anchored in time and tradition: Root beer floats and cherry lemonade are called Black Cows and Pink Ladies. Meat-and-twos and veggie plates laden with silken collards and exquisite mac and cheese are meant to be washed down with sweet ice tea and sopped up with a perfect corn muffin. Fat slices of meatloaf encrusted with tomato sauce, roast turkey with cornbread dressing and gravy, chicken pot pie with an adorable little "OK" stamped onto its puff-pastry blanket—this stuff draws a crowd. If you don't want to play the waiting game, you'd better arrive before 11 a.m. or between the lunch and dinner rush. After a quarter-century, OK Café never goes out of style.
Appetizers: $4-$8
Burgers and sandwiches: $4-$13
Mains: $12-$16
okcafe.com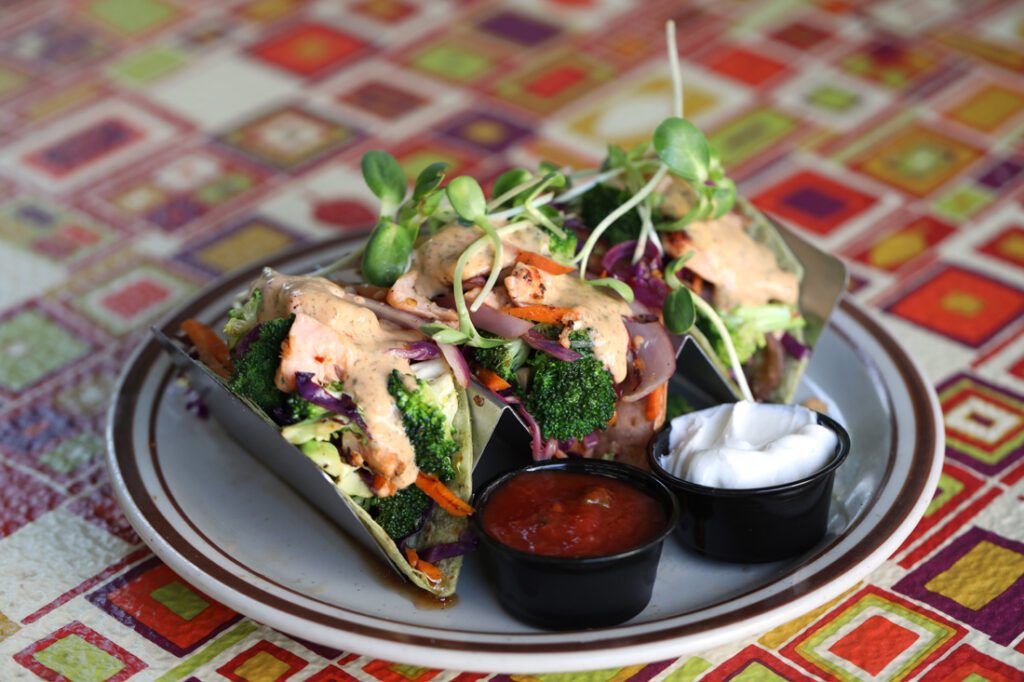 R. THOMAS DELUXE GRILL
Open 24/7 and bedecked with '70s-style disco lighting, beaded curtains and groovy plastic walls, this Buckhead favorite feels like a throwback to the days when the health food craze was in its genesis. Whether you go for the sizzling bone-in hot wings or Dr. Joe's Mango Salad with a side of raw cashew "cheese," R. Thomas lives up to its promise to "treat carnivores and vegetarians with equal respect." More menu favorites include the quinoa-rich Thai Express bowl, the classic Thomas Burger with sprouts and guacamole, the curry coconut seafood linguine, Southwestern-style R.'s Quesadilla and an unforgettable peanut butter chocolate pie.
Breakfast: $9.75-$14.75
Appetizers: $4.50- $17.50
Sandwiches, salads and veggie mains: $5.99-$17.50
Entrees: $13.25-$20.75
Desserts: $6.50-$8.75
SOUTHBOUND
A "welcome to the neighborhood" vibe lingers throughout Southbound in Chamblee, whether you sit at the bar stocked with artisan spirits, on a comfortable chair in the main dining room or under an umbrellaed picnic table on the patio. Weathered wood, exposed bricks and dangling light bulbs give the space casual elegance. The menu presents Southern comfort food with some creative international flavors and influences. Variety means there's something for just about any preference, diet, budget and hunger level. The menu changes about three times a year, but popular favorites remain, including the double-stack burger, Southern ramen, smoked short rib, Chamblee hot chicken and wild Georgia Shrimp.
Small plates: $4-$18
Mains: $14-$33
Sides: $4-$6
Desserts: $6-$9
TRUE FOOD KITCHEN
Don't be put off by the mobs of hipsters waiting for a table or the funky menu items with unfamiliar ingredients such as hemp, flax and chia. Though it could easily be mistaken for an ephemeral, crunchy beardo hangout, True Food Kitchen is here to stay— not just because of its good intentions and exemplary karma, but because of its tasty eats. Favorites include the shiitake lettuce cups, spring asparagus toast and the T.L.T. (tempeh, lettuce and tomato) sandwich. Good for the uninitiated are the margherita pizza, steak tacos and Mediterranean chicken pita. Recommended drinks include the nonalcoholic Cucumber Cooler and Medicine Man tea or the buzz-inducing lemongrass margarita, citrus skinny margarita and Strawberry Smash.
Starters and vegetable plates: $7-$13
Salads and bowls: $10-$14 (added protein $3-$9)
Pizzas and sandwiches: $12-$16
Entrees: $14-$26
THE WOODALL
With its friendly, relaxed vibe, it's easy to feel among friends at The Woodall in Westside Village, whether you prefer the comfortable dining room or outdoor patio. Whitewashed brick, shiny metal, warm woods, brown leather and modern light fixtures cozy up the converted warehouse while a mural of eagle talons clasping a silver spoon adds personality. The dinner and brunch menus present globally inspired dishes and drinks featuring local ingredients. The menu changes seasonally, with options such as lump crab beignets, open-faced tenderloin sandwich, Sicilian calamari and rock shrimp and fried chicken tucked into a feather-light biscuit. The restaurant's website confidently asserts, "You'll be back!" There are plenty of reasons to do just that.
Small plates: $9-$15
Salads: $9-12
Sandwiches: $11.5-17
Mains: $13-$43
Sides: $5-$6
Desserts: $9-$10
ZAFRON
If you're like us, the minute you hear Persian foodie buzzwords such as mirza ghasemi, hummus and kabob, your mouth starts watering, and you've got one foot out the door. If you're smart, you'll head directly to Zafron in Sandy Springs. Once seated, a beaming server will bring a complimentary sabzi plate and pita from the wood-burning oven. That extra-mile hospitality spills over into all areas, especially the food: world-class lamb kabob, fire-roasted salmon and the "Zafron special" made with chile, mango and eggplant. Plenty of classic small plates and rice dishes are joined with a few East-meets- West treats such as spicy Zafron chicken wings and tiramisu.
Starters and salads: $5- $9
Wraps (lunch only): $12
Entrees: $12-$32
Sides and rice: $3-$7
Desserts: $5-$7
persianrestaurantsandysprings.com
BY: Wendell Brock, Rebecca Cha, Jennifer Bradley Franklin, Angela Hansberger, Hope S. Philbrick
PHOTOS: Sara Hanna, Erik Meadows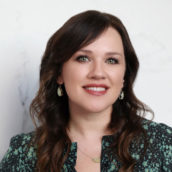 Jennifer Bradley Franklin
Senior Contributing Editor and Beauty Columnist at Simply Buckhead. Travel, Food and Design Writer and Author.