A LONGTIME BUCKHEAD HOMEOWNER HAPPILY DOWNSIZES INTO A COZY LOFT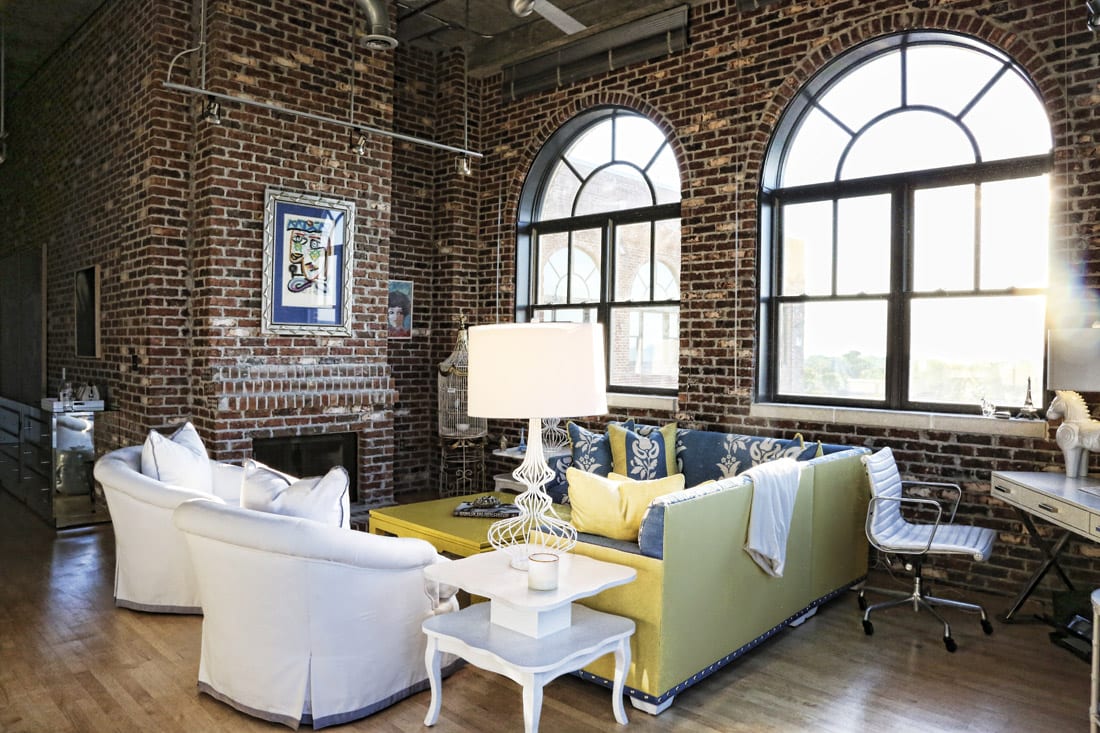 STORY: Giannina Smith Bedford
PHOTOS: Sara Hanna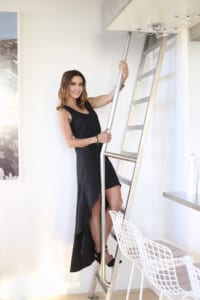 Cynthia Good moved to Atlanta in the late 1980s to take a job as a news anchor. At the time, she lived in a two-bedroom condo off Briarcliff Road. After getting married, she spent 27 years in toney Tuxedo Park raising a family and working as a Fox 5 reporter and anchor. She later launched a national women's business events company and magazine called Pink. The magazine went digital in 2009 and transformed into Little Pink Book.
In April 2017, after her two boys left the nest and Good split with her husband, she traded her sprawling two-acre home for a 2,700-square-foot abode at Buckhead's Mathieson Exchange Lofts, but the place still felt too big. "I didn't need all that space," she says. "There were rooms no one ever went into. I love the idea of using every ounce of space I have and seeing and enjoying it." So in May of this year, Good downsized even further to a 1,125-square-foot penthouse unit at Buckhead Village Lofts. "This is kind of a return to the beginning, but in a different way, because I have all these life experiences," says Good. "So many women are in this situation of transition, and you don't know what's going to happen, so to find a place and make it beautiful and make it yours, I feel so lucky."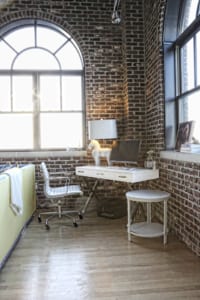 The loft, which Good shares with her dog, Zuni, and bird, Blue, is a combination of artsy sophistication and feminine flair, a quality that also leads the charge at Little Pink Book, which organizes events to empower and inspire career women. The living area's exposed brick and arched iron windows create a refined industrial backdrop for Good's yellow and blue sofa, sleek West Elm desk, Jonathan Adler lamps and vintage gold birdcage (Blue's home). "To be able to have one big, beautiful, bright open room where you can breathe with [14-foot] ceilings and the light pouring in on two sides is amazing," says Good.
The small kitchen, situated below a lofted guestroom reached via a metal ladder, features a breakfast bar with Knoll barstools and all the necessary appliances at arm's reach. "In my house on Tuxedo, we had this huge kitchen. It was almost the size of this whole loft," says Good. "You had to walk all the way over there to go to the fridge and all the way over there to get to the sink. Here, you just stand in one spot."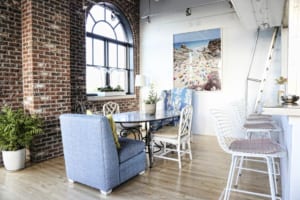 Good's boudoir-like master bedroom is filled with a custom king-size bed dressed in Restoration Hardware linens and decorative pillows spelling out L-O-V-E. Across the way, a bookshelf holds books of poetry— Good recently went back to school to study poetry—as well as photos of her sons, one of whom lives in L.A. and the other who's currently teaching English in Thailand. In addition to the items on her bookshelf, Good's most beloved possessions are her works of art. Her late mother's paintings grace the walls of the entryway, bathroom and living room. There's also photography by Christian Chaize, Elliott Erwitt, William Klein and Atlantan Rob Brinson, not to mention a Marc Chagall and first-edition Picasso.
"Every piece is meaningful to me in some way, inspiring and makes me happy. There is nothing I have of more value here than my artwork," says Good.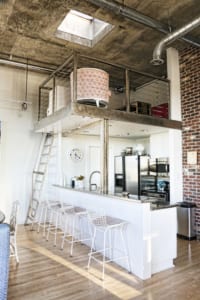 The loft serves not only as a living, lounging and entertaining space, but also an office when Good's staff gathers with their laptops around the French Provençal, pewter-topped dining table. Good recently commissioned floor-to-ceiling curtains with tiebacks from Beth Lacefield of Lacefield Designs to close off her master bedroom during these immersive workdays and to "add a sense of texture, definition of space and elegance."
When she isn't working, Good's favorite spot is outside on the balcony, which features turf grass from Home Depot; seasonal flowers in window boxes; an herb garden with basil, thyme, lavender and mint; and a stone Buddha. The quaint perch overlooks Buckhead's treetops and skyline, offering a stunning spot from which to watch the sunrise and sunset. Good often sits in the chairs at her wrought-iron bistro table listening to tunes through Sonos speakers, sipping wine or hot tea and taking in the blue sky. "The sun goes down right there, and you get goose bumps," she says. "It's a dream. It's paradise."
Although Good doesn't know what the future brings, she'd love to ultimately split her time between her personalized Buckhead loft and Villa Besame, her home in Cabo San Lucas, Mexico. For the time being, she's focused on relishing her own space. "I wouldn't live anywhere else," she says. "I'm happier here than in the loft that was three times as big because it's all mine and I use every inch."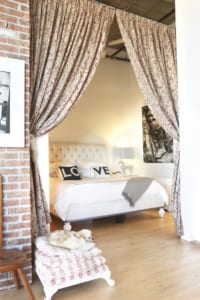 Good admits she's had to get creative when it comes to clothes storage and downsizing, but she says she doesn't miss any of the "stuff" she got rid of. "You get to the point in your life where you have so much stuff and it just doesn't matter anymore," she says. "Serenity is more important than happiness, because you can't have happiness without serenity."
Reaching a place of calm has meant editing her life and possessions down to what matters. Even though her new loft doesn't have the space and grandeur of a Tuxedo Park home, it fulfills exactly what she needs. "It's like editing a story. You edit your life down," says Good. "In school, we are talking about erasure—you erase all the things that don't matter and keep the Picasso."
CYNTHIA GOOD'S TOP 6 DOWNSIZING TIPS
1. Embrace change (which is inevitable) and simplicity.
2. Keep only what reflects who you are and the kind of life you want to live.
3. Surround yourself with what inspires you— [in my case it's my] favorite music, candles, art, comfortable furniture and books. Everything should have a purpose and be functional.
4. Have a small storage bin for your kids' photos, belongings and winter shoes, or plastic containers for stashing stuff under the bed.
5. Only keep your favorite clothes and shoes. No need to wear, or see, the rest. And remember, if you don't need it, someone else can use it. So donate what you get rid of.
6. Sell all that old-fashioned silver from your grandmother that you never use and take your kids or your girlfriends on a trip with the money you make!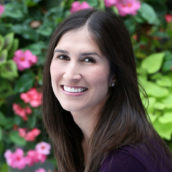 Giannina Bedford
Giannina S. Bedford is multi-faceted writer and editor. Her work covers design, travel, food and business. She's penned Simply Buckhead's home feature since inception and held a variety of editorial roles at the magazine. Her freelance work has appeared in Condé Nast Traveler, USA Today, Virtuoso Life, Hemispheres and TravelandLeisure.com. She also contributes regularly Atlanta Business Chronicle. Fluent in Spanish, Giannina was born in Miami and grew up in Brazil, Chile, Hawaii and Australia. She currently lives in Dunwoody with her two kids and husband.