BUCKHEAD'S SECOND-HAND SHOPS OFFER FIRST-CLASS HOME GOODS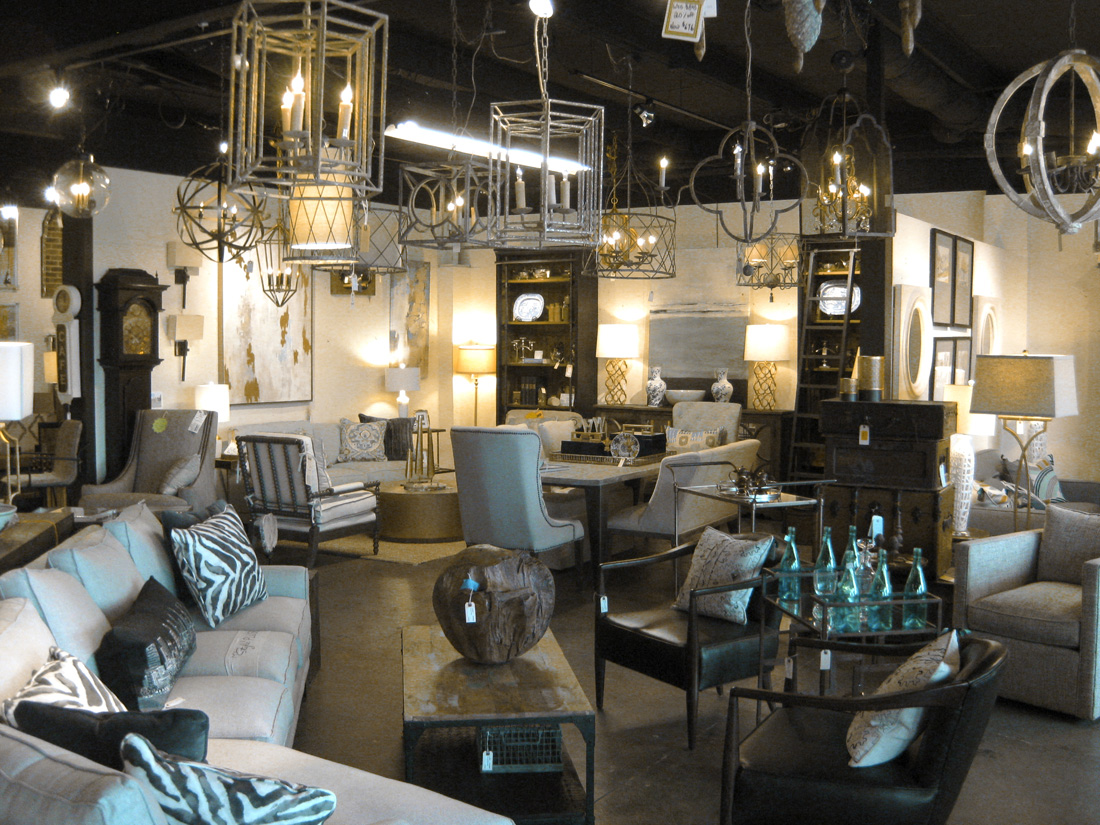 "Mommy, I want to stay at Daddy's house. Dad's house is a lot nicer. And prettier." Ouch. Did my 7-year-old just say that?
Flashback to 2015. It had been two months since my divorce, and when my daughter asked yet again to stay at her dad's place instead of my empty, gloomy, 1950s-era apartment, it was obvious I needed to kick things into gear. No more ruminating over what material goods the divorce gods had expunged from my life—bone china, one-of-a-kind antiques, the world's most decadent sofa. There was nothing that couldn't be replaced. But with limited funds and seriously limited square footage, where would I begin?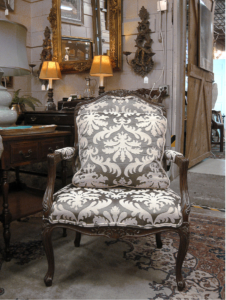 Enter the miracle that is the secondary market. In the world of furniture and home decor there are alternatives to mainstream retailers. Twenty years ago, Craigslist turned the traditional business model on its head, and I, for one, have never looked back. What used to be my source for party favors and paisley throw pillows is now my first stop for every room in the house. If you're an avid deal seeker, believe me, you will not be disappointed. But if Craigslist is not your thing, don't worry. As I soon discovered, there are plenty of secondary market businesses right in our own backyard, curated by some very talented, creative individuals.
Over the course of a few months, a couple trips across town and several enlightening conversations, I found everything I needed and wanted to furnish my "new life" space: a wrought-iron coffee table, an antique wardrobe, a few vintage lamps and mirrors, a Hancock and Moore loveseat and leather bar stools, a mahogany kitchen table and chairs. Lovely, functional pieces that together made for an eclectic but thoroughly cohesive ensemble— and all for around a couple thousand dollars. Gaining great furniture and saving buckets of money. What's not to love about that?
Sometimes I still marvel at how things worked out. I was able to create a comfortable, pretty place where my daughter and I could live and share with our friends. My sense of gratitude and fulfillment were never more complete than when, after a tough week in second grade, my daughter looked up at me with those big brown eyes and said for the first time, "Mom, I can't wait to go home."
The following are a few of the best local sources for high-end and well-made vintage, second-hand, repurposed, recycled or up-cycled items, as well as a few tips on how to master the art of the deal.
WHERE TO BUY THE BEST FOR LESS IN BUCKHEAD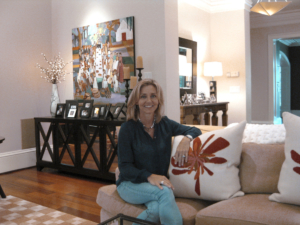 RE-FIND FURNITURE
Chris Cann's online Buckhead business has exploded since its humble beginnings five years ago. What started as a kind gesture—helping out a divorced friend sell the contents of her home—has blossomed into a full-blown, in-home consignment service. Pictures of what she sells and their prices are on Cann's website. If you want something, all you do is contact her, and Cann acts as an agent and takes you to the house of the sellers. Occasionally, furniture sales can't close before a house is sold, but pieces such as those by Mattaliano, Rose Tarlow or Kelly Wearstler, for example, are worth the wait. Whether you're downsizing, decorating or going through a major life change, Re-findfurniture.com will likely have the best version of what you're looking for.
NOW & AGAIN CONSIGNMENT SHOP
This shop merits all the time you'll want to invest wandering room to room, exploring its many treasures. Looking for a linen Hancock and Moore sofa? How about one covered in Coach leather? Whatever your desire, Mary Kirchner or one of her sales associates will assist you. Be sure to stop in at one of their twice-a-year sales for unbeatable bargains on high-end furnishings. Mark your calendar: The next one runs Aug. 19 through 26.
KUDZU AND COMPANY
Sister to Kudzu Antiques + Modern in Decatur, this store is a gift to Sandy Springs. Inside, independent merchants sell gorgeous antiques, clothes, repurposed furniture and more, but the greater part of the 24,000-square-foot space is dedicated to new home decor items at reasonable prices. Classy sofas start around $1,500, decorator pillows at $69 and accessories at $5! Plus, almost a thousand lighting options are displayed across the massive ceiling like stars in the galaxy. Be sure to check out new introductions from Gabby, Regina Andrew, Aidan Gray and others.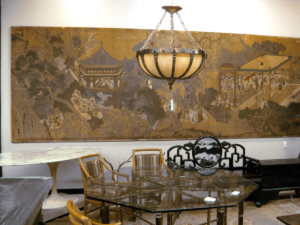 AHLERS & OGLETREE
Looking for a pair of Edward Wormley chairs? What about an English Georgian mahogany sideboard? You'll find it at this Miami Circle business that hosts gallery sales and estate auctions of exceptional vintage furniture, fine art, clothing, silver, jewelry and more. Robert Ahlers, president and CEO of the Ahlers Group (the parent company of Peachtree Battle Antiques & Interiors and Peachtree Battle Estate Sales), is one of the most congenial men in the business. Whether you're a novice or a pro, he will accompany you on an insider's tour through an auction-ready warehouse, describing one-of-a-kind items with a depth and breadth of knowledge that will delight and impress. Check online for auction item estimates and start the bidding!
3 TIPS FOR TREASURE HUNTING
1 The operative word at these venues (in particular, those selling consignment pieces) is negotiable. Welcome it. Revel in it. Use it. Your opening offer will depend largely on supply and demand, the inherent value and condition of the piece and your budget. There's no hard-and-fast rule, though.
2 Take a Zen approach when exploring these establishments. Accept the fact that, initially, it will seem overwhelming. Large spaces filled with thousands of items tend to do that. Just slow down and take the time to examine things, piece by piece. Of course, it helps to know what you are looking for before going in.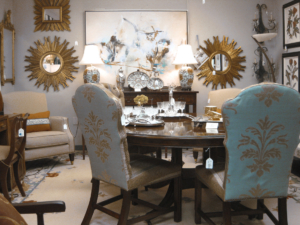 3 The buyers/designers/ creatives are there to help you. As you journey through each space, stop and ask questions. You never know what you might learn.
DETAILS:
Ahlers & Ogletree
715 Miami Circle N.E., Suite 210
Atlanta 30324
404.869.2478
aandoauctions.com
Kudzu and Company Home Design Center
6450 Roswell Road
Sandy Springs 30328
404.255.2548
kudzuandcompany.com
Now & Again Consignment Shop
4310 Roswell Road N.E.
Atlanta 30342
404.262.1468
nowandagain.net
Re-Find Furniture
404.213.5018
re-findfurniture.com
STORY AND PHOTOS: Rebecca Cha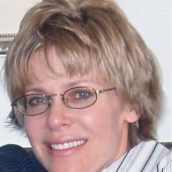 Rebecca Cha
Food, beauty and interiors writer at Simply Buckhead. Linguist, teacher, chef, parent.