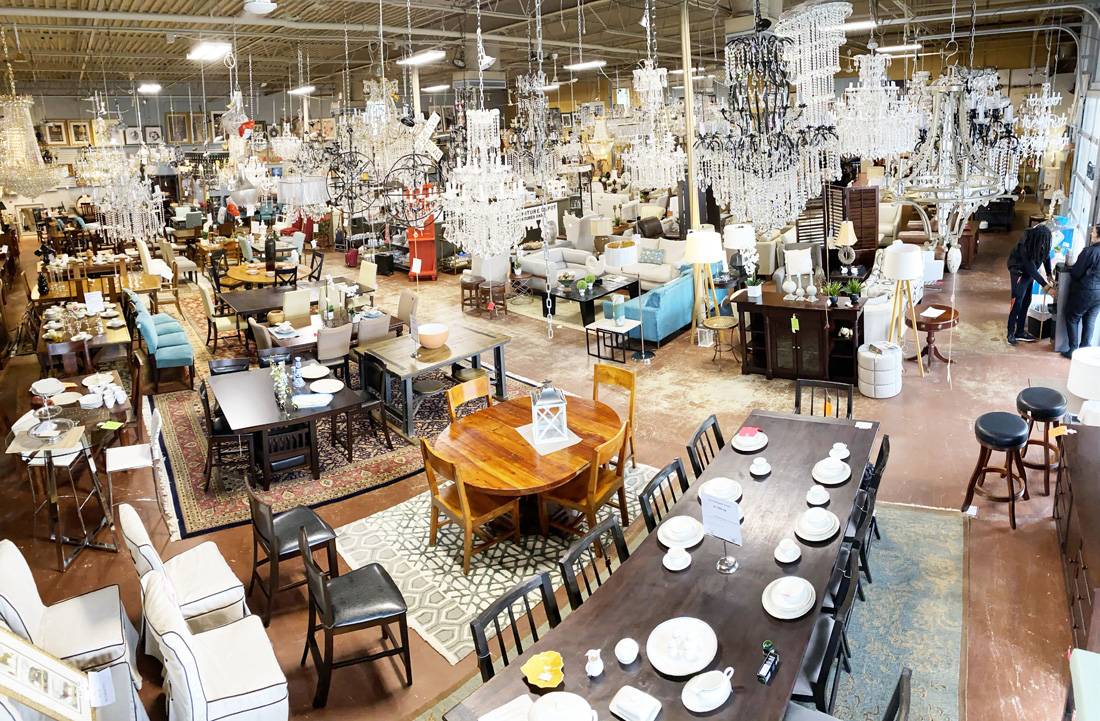 CONSIGNMENT FURNITURE DEPOT
With 12,000 square feet of showroom space, Chamblee's Consignment Furniture Depot is one of the largest consignment furniture stores in the region. The sprawling shop is owned and operated by husband-wife duo Mark and Victoria Schutter. The couple, once consumer electronics professionals, opened the store 12 years ago in an attempt to keep busy after retirement. They were enamored by the consignment furniture business model, despite the questionable timing of their launch: It was 2008 and the thick of the recession. "Had we gone into any other kind of retail, it would have been bad, but at that particular time, it was great for consignment stores," says Mark. With rare exceptions, Consignment Furniture Depot is strictly a consignment store. According to Schutter, they do not augment their furniture selection with new pieces. Instead, shoppers will find pieces from model homes, return items from manufacturers and other contemporary furniture in great condition.
Those interested in consigning pieces can email photos and a brief description of items to info@cfdatl.com. Once the email is received and reviewed, you will likely receive a call from Victoria who will discuss the photos and what she thinks will (or won't) sell. Once approved, consignors deliver pieces for a 90 day consignment period. Generally, 80% of items are sold within the first 60 days. The consigner split is 50/50, and checks are mailed on the 15th of the month following the sale. Items that sell well (and quickly!) include modern, contemporary and midcentury pieces, but unfortunately, you'll have to find another place for more traditional or antique pieces such as armoires and china cabinets.
5461 Peachtree Road
Chamblee 30341
770.452.1545
consignmentfurnituredepot.com
---
MÉLANGE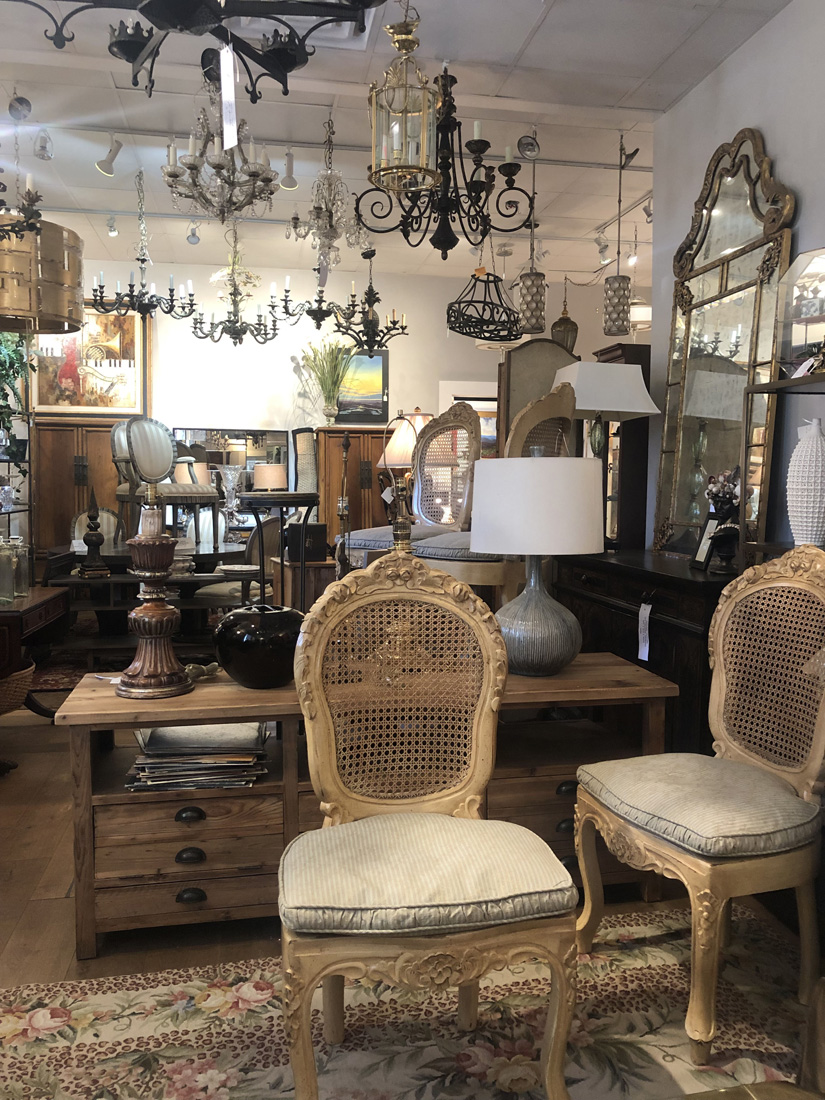 Translated from French, "mélange" means a mixture or melody, and that's exactly what Mélange brings to Buckhead's Miami Circle. The store is a hip yet harmonious blend of a variety of design styles. Think Henredon campaign chests alongside French-inspired dining chairs. Now in its sixth year, the consignment shop manned by Edie Yao accepts high-quality furniture, lighting, home decor, art and rugs. While the store does have a wide range of styles including antique, midcentury, modern and transitional, Yao is careful not to use the term "antique" shop. "[It's] a very eclectic mix," she says. From the facade, the store looks quaint, but a walk through the front doors reveals a vast interior with a series of rooms, each one unveiling more treasures than the last.
To consign at Mélange, start by sending photos and information via email to info@melangeatlanta.com. You will likely receive a follow-up phone call to discuss further details. During the call, a Mélange representative will go over the basic parameters of the store's consignment contract. Like other area consignment stores, Mélange has a 50/50 split policy, and items are typically on the floor for no longer than six months. In some instances, the store arranges a home visit to see items in person. Regardless of whether you intend to shop or sell, Mélange is a must-see.
652A Miami Circle
Atlanta 30324
404.816.5648
melangeatlanta.com
---
NOW AND AGAIN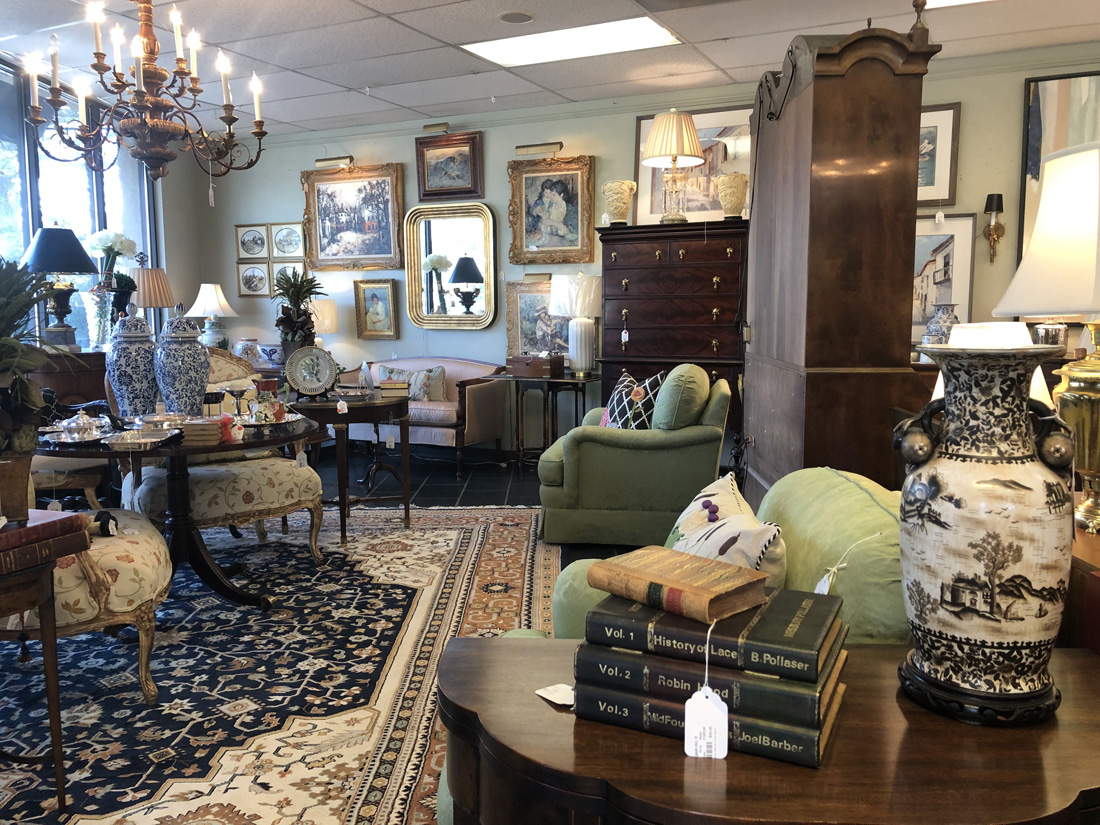 Now and Again is one of Atlanta's oldest consignment stores. Owner Mary Kirchner opened the store 30 years ago near East Andrews when the former Buckhead Glass space, a well-known business on Roswell Road, shuttered. Kirchner, a former Hilton Head real estate agent, jumped at the chance to move to what she describes as an ideal location. Today, Now and Again is a premier consignment shop for those looking to unload high-end, traditional and antique furniture without the hassle of selling it themselves. The store is neatly styled in vignettes, so shoppers can get an idea of how pieces would look in their own spaces. As you meander, don't forget to look up and down: Now and Again always has a collection of rugs underfoot and an assortment of chandeliers overhead.
Consignors are asked to submit photos, dimensions, item history, brand and other details to the shop via email at consignments@nowandagain. net. The split is 50/50, and items are required to stay for at least a month. If a piece hasn't sold after four months, consignors can pick-up items or leave them for four more. At that point, if it hasn't sold, Now and Again will donate the item to a local charity or keep it in the store to sell at a discounted price. Kirchner accepts a variety of pieces ranging from mahogany beds and dining tables to Chinoiserie accessories and lamps, and she's always on the hunt for English pieces, which sell well. However, in Now and Again's case, size does matter. "People are downsizing their houses and the size of the furniture, so that tells us we can't accept too large of a piece," says Kirchner. While those grand pieces are harder to sell, Kircher does make the occasional exception, so don't hesitate to inquire, just in case.
4310 Roswell Road N.E.
Atlanta 30342
404.262.1468
nowandagain.net
---
SIMPLE FINDS FOR THE HOME
Now in its sixth year, Chamblee's Simple Finds for the Home is part consignment store, part dealer booth collection, which means it offers the best of both worlds.
Shoppers can find a bookshelf and fill it with books and trinkets, too. Owned by trio Ken Matthes, Carolyn O'Kane and Michael O'Kane, the shop aims to offer turnkey pieces that customers can take home, put in place and enjoy. Michael says finding the items to fit that ready-to-use description relies on truly understanding what sells and why. "It is critical to educate the consignor on current trends, buyer demands and expectations."
At any given time, Simple Finds for the Home has more than 135 dealers and approximately 400 to 500 active consignors, so the selection is bountiful and always changing. If you think consigning with Simple Finds for the Home is right for you, begin by submitting pictures of the items you are interested in selling to info@simplesindsga.com. Due to the shop's desire for those turnkey pieces, items should be in good, like-new or new condition.
Typically, there is a 50/50 split, but O'Kane says there are instances when the shop has offered 60/40 or 65/35 in the consignors' favor. "Certain exceptionally costly or high-line items might see that percentage scale slide," he explains. Part of that decision is recognizing that sellers have different reasons for consigning. "We try to be cognizant that in some cases there might be a bereavement that brought them to our doors. Others might have a personal attachment given the memories that some pieces might have from family heirlooms. Our goal is to net the highest yield for our consignment customers and stay in constant contact with them throughout the entire process."
3614 Chamblee Dunwoody Road
Chamblee 30341
678.691.4241
simplefindsga.com
---
SOUTHERN COMFORTS
With four locations in the metro area, Southern Comforts is the consignment gift that keeps on giving. Shoppers can easily spend a day bouncing among locations and furnish an entire room with their finds. The Dunwoody location on Mount Vernon Road is tucked neatly into a corner, but don't let the small facade fool you. Inside, big bargains are to be had.
Sellers will find deals here, too. According to Southern Comforts owners, who have been in the business for more than 15 years, they sell 95% of what is consigned. To get started, email photos and extra information to jenny@southerncomforts.com. From there, you'll learn more about which pieces are accepted as well as which store is the best fit for your items. You will schedule a time to deliver your furniture, or Southern Comforts can recommend a mover to help. The consignment period is 100 days, and if an item has not sold or reclaimed at that time, it becomes the property of the store. Southern Comforts also accepts small decor items, so if you've been looking to downsize your china collection, this store is your spot.
2510 Mt. Vernon Road
Dunwoody 30338
770.901.5001
southerncomforts.com
---
SWOOX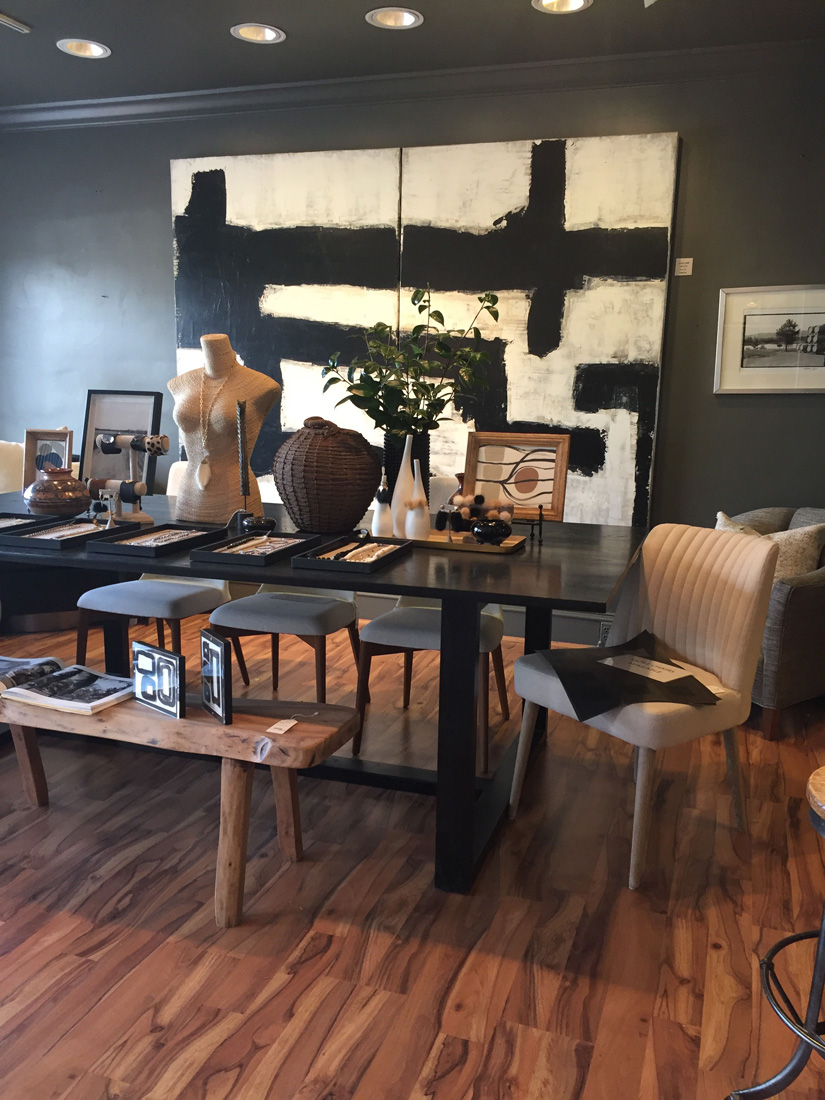 For those whose style leans toward the contemporary, cool and just plain funky, head to Buckhead's Swoox, a self-described "curated consignment store." The shop feels like a well-designed showroom versus a jammed thrift emporium, due to the store's relationship with area designers who often bring in their own pieces. Furniture from brands such as LEE Industries, Bernhardt Interiors and Verellen anchor the shop while moody artwork saturates the walls. Truly, the store's artwork is the consignment star. Most pieces come from private collections and are on consignment, but the shop supplements its stash with works from local and regional artists. Swoox also has a variety of gifts and decor that align with its style. Jewelry by Shavon Beal and midcentury modern barware are sprinkled throughout, making it an ideal spot for both big and small purchases.
According to manager and curator David Celani, items that sell well at Swoox include drink tables, matching chests, ottomans and sofas. "Anything cool and edgy and in current design rotation trends is what we're looking for," he says. While not the specialty, the store will also accept the occasional antique, as long as it can be "funked-up" with modern elements.
To consign with Swoox, email images and information to Celani at swooxdavid@gmail.com, who hand-selects accepted items. Swoox prides itself on moving items around frequently to keep them fresh and showcase them in new ways. The store's split is 50/50.
28 E. Andrews Drive
Atlanta 30305
404.869.0042
facebook.com/swooxatlanta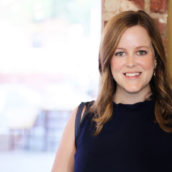 Nicole Letts
Wellness columnist at Simply Buckhead and dog columnist at Atlanta Pet Life. Lifestyle writer specializing in women's interests, travel, people and interiors.