Sandy Springs interior stylist Divya Vaswani's home is both child-friendly and chic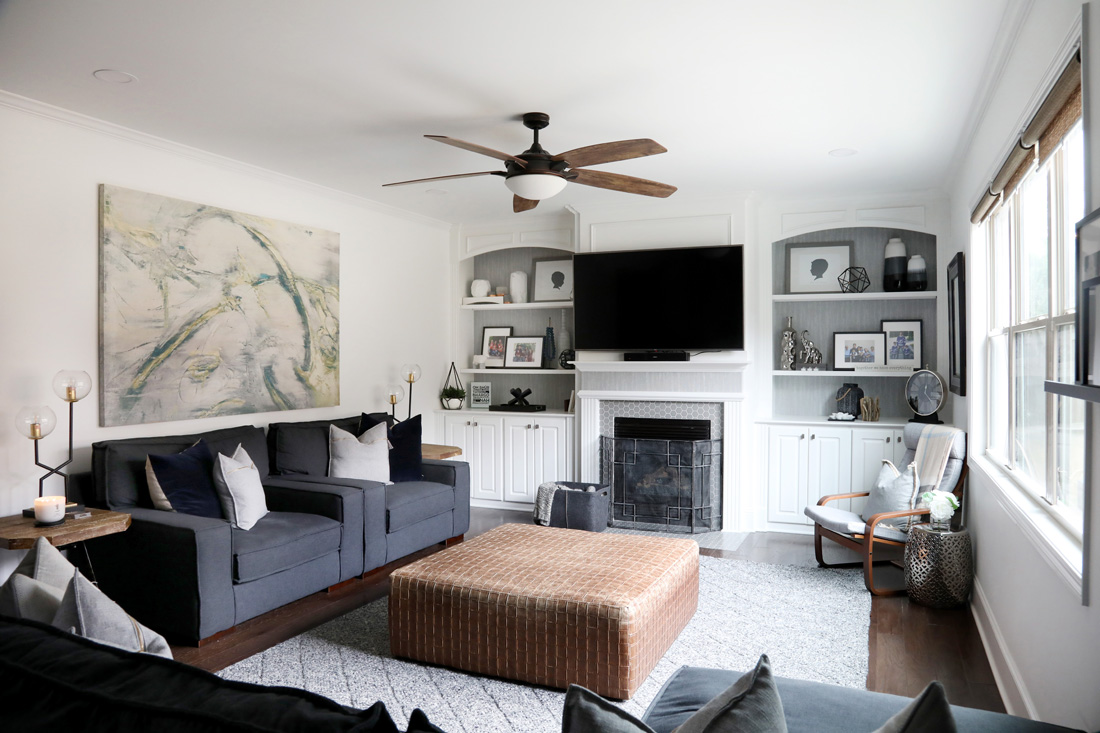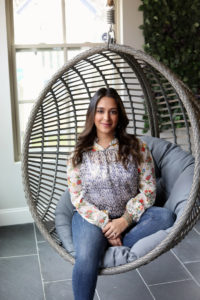 Divya Vaswani has always had a creative streak. She channeled it into her career working with The Ritz-Carlton Hotel Company to oversee the transformation of high-end properties and later working in the creative department of Home Shopping Network (HSN). After becoming a mom in 2013, she launched baby blanket line Rajer Rabbit named after her son, Rajer. She's also poured her talent into her home. It's what led her to launch her interior styling business, Divya Vaswani Interiors, which she helms today, while juggling being a mom to two boys and the wife of a finance executive at Bennett Thrasher. Her passions and lifestyle are apparent in her Sandy Springs home that showcases the ideal blend of the pretty and practical.
"None of our pieces are high-end because of the kids. I'm not ready to invest in big-ticket items because I want my kids to feel comfortable and not have a fear of destroying specific pieces," Divya says. "I tend to keep things fairly simple and clean-lined, and try to avoid bulkier pieces if possible."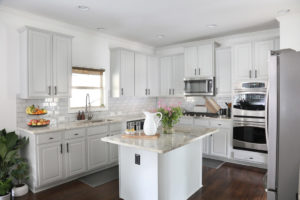 Divya and Vijay Vaswani purchased their four-sided brick home in 2017. The three-story abode, built in 2012, is quaint from the outside but deceptively spacious on the inside with seven bedrooms, four bathrooms and 4,555 square feet. It offers more than enough room for 7-year-old Rajer and 4-year-old Jaisen to romp around and for Divya's mother, who lives with the family full-time, to have the third level to herself.
"My mom has been with us since my father passed in 2013, and she's been a big part of my boys' lives. My in-laws live in Tampa, Florida, and they visit for weeks at a time," Divya says. "We wanted a house where everyone had their own space. We spend a lot of time together, but it's also nice to have our own section to get away if we need to."
Upon move-in, the Vaswanis made some minor aesthetic changes to lighten up the mostly brown and tan interior. They added new light fixtures and wallpaper accents in the living room and upstairs, and in the kitchen they painted the cabinets light gray, added a subway tile backsplash and installed white granite countertops with gray veining.
Over the past two years they've also made other updates and filled the home with low-maintenance, yet high-style, furnishings. The living room features a lounge-worthy dark gray sectional from Ashley Furniture and a Rooms To Go ottoman that begs to be a footrest.
"Our ottoman is not a high-end piece by any means. It's soft, it rolls, it's super-durable, and lately, it's been used as a trampoline," Divya says.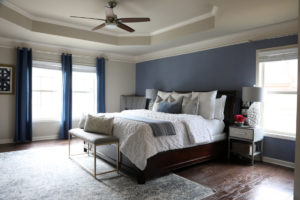 In 2018, the Vaswanis added a sunroom, transforming what was just a backyard cement slab into a chic enclosed space in just 11 days. They kept the exterior brick on one interior wall and selected unstained raw wood for the ceiling, which gives warmth to the modern space. Two swinging chairs from Hayneedle, leather seating, a cowhide rug and a sleek, built-in electric fireplace come together to create a stylish entertaining space. "It is by far my favorite place to hang out during the summer," Divya says. "We watch movies with the kids, play cards and entertain out there often with friends."
Preferring casual living to traditional entertaining, the Vaswanis opted to forgo a formal dining space to create another "gathering room" off the kitchen. Painted in Sherwin Williams Derby Green, the space is adorned with a large world map from World Market, wood placards inviting guests to "Stay Awhile" and industrial-style metal letters that light up and spell #DRINK. "I wanted one room with a crazy color. We have so much fun here," Divya says.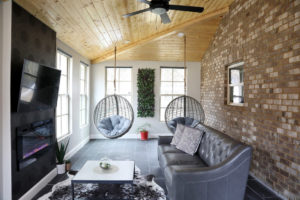 The Vaswanis enjoy their family meals at a rustic wood table off the kitchen where the chairs from Ashley Furniture and World Market are easy to wipe off, and the Wayfair rug underneath is Divya's new favorite. "It has a marbled look and is great at hiding all the food that mysteriously falls," she says.
Some of her other beloved pieces include the master bedroom's gray wingback chair, which she scored at Home Goods, and the Target tables that fit perfectly in an upstairs nook-turned-homework spot for the boys. The second level also boasts a gym and playroom, which is a work in progress.
"We still have a laundry list of items on our wish list, from the floors and the guest and master bathrooms, to painting and changing out more light fixtures," Divya says. "I think we're going to have a busy year ahead."
While the list of to-dos may be lengthy, the Vaswanis have triumphed in having a polished, multi-generational home that can also withstand the inevitable wear and tear family life brings.
PHOTOS: Sara Hanna
---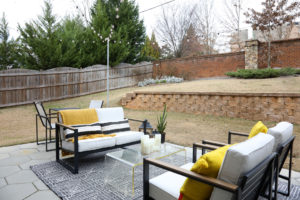 DIVYA'S TOP 5 DESIGN TIPS FOR A HOME THAT IS FASHIONABLE AND FAMILY FRIENDLY
1. Find pieces with purpose. Will you or the kids use it often? Is it needed? Does it work with your style?
2. Display items in threes. It's more visually balanced and creates variety.
3. Layer textures. I love layering rugs. It provides an extra element to the floor and can make a room feel much cozier.
4. Shop your own home first before buying from retail stores. Often, there's a piece in another room that may work perfectly for the room you are working on.
5. Let your home be a reflection of you and your family. Allowing your own character and style to shine through really makes a house a home.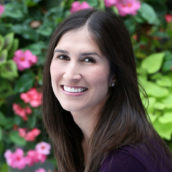 Giannina Bedford
Giannina S. Bedford is multi-faceted writer and editor. Her work covers design, travel, food and business. She's penned Simply Buckhead's home feature since inception and held a variety of editorial roles at the magazine. Her freelance work has appeared in Condé Nast Traveler, USA Today, Virtuoso Life, Hemispheres and TravelandLeisure.com. She also contributes regularly Atlanta Business Chronicle. Fluent in Spanish, Giannina was born in Miami and grew up in Brazil, Chile, Hawaii and Australia. She currently lives in Dunwoody with her two kids and husband.