THANKSGIVING CAN BE FUN AND MEANINGFUL WITHOUT A FAMILY DINNER.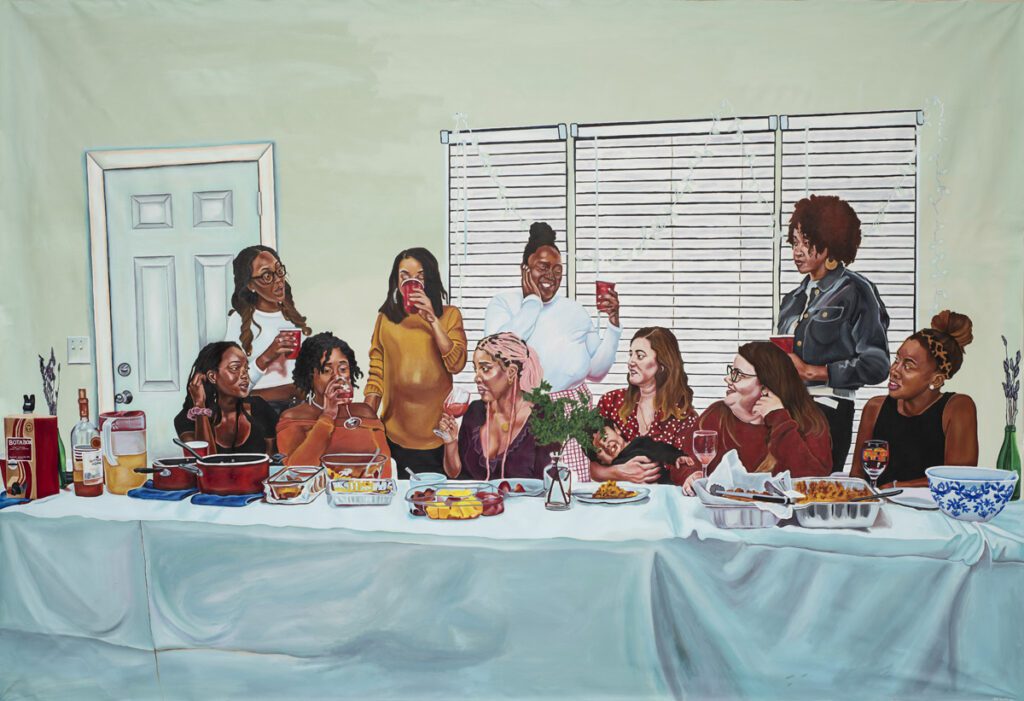 Friendsgiving appealed to Atlanta artist Ariel Dannielle as soon as she saw it on social media. Thanksgiving with family can be a stressful obligation, but a potluck with friends makes fun the main course.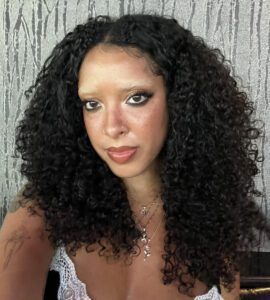 Dannielle, now 31, hosted these celebrations each November from 2017 to 2019. "It became something I really cherished," she says.
She captured the joy in Cheers to You, Friendsgiving 2019, part of a show at the Buckhead contemporary art museum MOCA GA. At 7 feet high and nearly 11 feet long, the painting evokes The Last Supper, though unlike Leonardo da Vinci's masterpiece, the faces are turned to the center, where Dannielle sits in pink braids.
The painting even has a Last Supper backstory: It premiered around Thanksgiving 2020, when the pandemic interrupted the Friendsgiving tradition, and Dannielle hasn't had another Atlanta gallery exhibit since. But she has a hometown solo show booked for next fall, and Friendsgiving might be back this year.
A candid photo was the reference to capture her friends talking and laughing. "If it's a moment in my life that I think is special," she says, "then I want to solidify it in a painting." Dannielle says Friendsgiving crosses cultural lines and represents a universal desire to spend special occasions with the family you choose, not just the family you're given.
Here are some more creative ways to celebrate this Thanksgiving.
Get Active
Atlanta's Invesco QQQ Thanksgiving Day Half Marathon can burn calories Nov. 24 before Thanksgiving dinner. A 5K, a mile and a children's 50-meter dash are options. Registration is open until Nov. 23, but the price rises by $5 Nov. 6 and again Nov. 21 to $100 for the half-marathon.
atlantatrackclub.org/2022-invesco-qqqthanksgiving-day-half-marathon-5k-mile-dash
The virtual Turkey Trot Challenge "Top Bird" 5K lets you run, walk, swim, bike, hop, skip, jump or otherwise move wherever you want during November. Registration is $25.
challengeinmotion.com/products/2022-turkey-trot-challenge
Historians say the first Thanksgiving featured seafood, and November is the perfect time for licensed trout fishing in the Chattahoochee River National Recreation Area. Georgia's Wildlife Resources Division usually stocks the river below Morgan Falls Dam from November to April, though you have to release what you catch.
nps.gov/chat/planyourvisit/fishing.htm
georgiawildlife.com/Fishing/Trout
Give Back 
Second Helpings Atlanta, the food rescue nonprofit born at Sandy Springs' Temple Sinai, always needs volunteers to pick up surplus food and box up meal kits.
678.894.9761
secondhelpingsatlanta.org
Hands On Atlanta's volunteer opportunities Nov. 19, the Saturday before the holiday, include a Food Well Alliance community garden workday in Buckhead at 9 a.m. and adult support for grieving children at Kate's Club in Brookhaven at noon.
foodwellalliance.org
handsonatlanta.org/volunteer
katesclub.org
Go Out
The Buckhead Theatre brings in 1980s metal band W.A.S.P. on Nov. 25 and Rome & Duddy, whose members are from Sublime and Dirty Heads, on Nov. 26. Each show is at 8 p.m. Tickets start at $30 for Rome & Duddy and $38 for W.A.S.P.
404.843.2825
thebuckheadtheatre.com
Upper Westside venue Terminal West offers North Carolina alt-country band American Aquarium at 8 p.m. Nov. 26. Tickets are $25.
404.876.5566
terminalwestatl.com
The Roswell Dance Theatre opens Christmas ballet The Nutcracker on Nov. 25 for 10 performances through Dec. 4 at City Springs' Byers Theatre, Tickets are $27 to $40.
770.206.2022
citysprings.com/events/roswell-dance-theatre-presents-nutcracker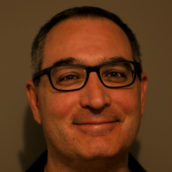 Michael Jacobs
Jack-of-all-trades writer covering almost anything but beauty and fashion at Simply Buckhead; fond of flamingos and sloths.