Orlando's Discovery Cove lets visitors be part of the watery scene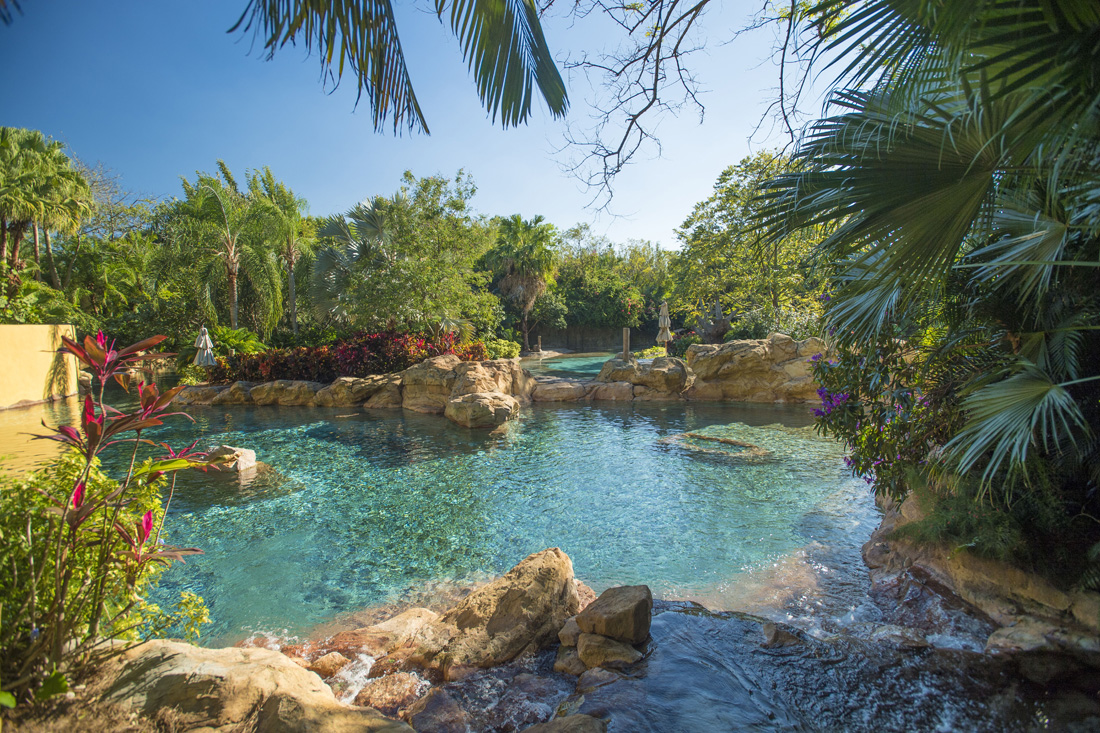 For someone who's mad about the beach, and who makes an annual pilgrimage to some sandy resort every year, my daughter doesn't want to know what's in the water. She's an adult who abhors the sight of seaweed and completely loses it if there's even a hint of aquatic life swishing around her feet. So her enthusiasm for a visit to Orlando's Discovery Cove was a bit of mystery. Perhaps the controlled environment and the guide-led adventures made the idea of close encounters with piscine species more attractive. At any rate, she overcame her trepidation and literally dove right in.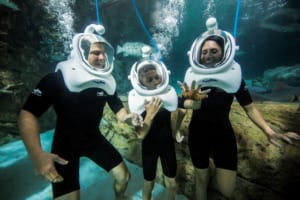 Discovery Cove, a 22-acre property across the street from its parent company, SeaWorld, takes that park's concept of learning about the underwater world and puts visitors smack into it. Not only do you get to hang out in the same pool with dolphins, the friendly creatures are trained to let you grab a fin and go for a spin. You don't just watch the stingrays having breakfast; you act as their butler, handing out live bait for them to devour. And if you've never dared to go deep-sea diving, the Cove has an option that lets you troll along the bottom of a man-made barrier reef while breathing easily through a helmet connected to surface tanks.
In between those highlights, the park has several areas of sandy beaches dotted with chairs and hammocks where you can unwind in the sun. Several private cabanas, complete with stocked mini fridges, are available to reserve.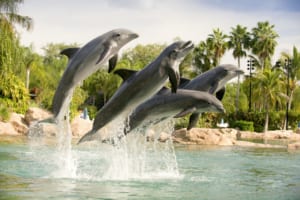 Before contemplating a trip, visitors should know that this isn't a typical amusement park destination. First, admittance is strictly limited to 1,300 people per day, so reservations are mandatory. The same goes for any experience: You will book a dolphin swim or underwater walk for a specific time. Second, adult admission starts at about $170, and adding optional experiences will tack more onto the cost. The "trainer for a day" option lets you do it all plus get a behind the scenes tour, and prices can be more than $500. But if you're only visiting for a day, the splurge is worth not missing a thing.
In addition, guests are prohibited from bringing in just about anything but themselves. Sunscreen, snorkels, goggles, wetsuits, pool noodles and towels are provided and in plentiful supply. There's no need to pack a picnic either: Your admission includes both breakfast and lunch buffets, as well as unlimited soft drinks, wine, beer and snacks. The restrictions are all part of the controlled environment designed to protect the sea creatures that call Discovery Cove home.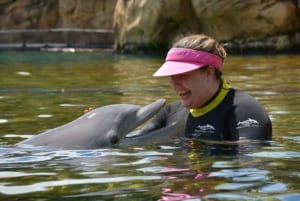 The doors open at 7 a.m. and close at 5 p.m., so you'll want to squeeze in every possible moment. We started by feeding the stingrays inhabiting the faux reef and pool. Expert caretakers explained the proper way to hold raw fish under their noses so they can grab them. Next, we went on a snorkeling excursion through the reef and alongside a shark tank. The day also found us floating down a lazy river that flows under an exotic bird sanctuary and splurging on ice cream and pretzels while we lolled in our cabana.
The best part of the day for me was seeing my grown-up kid so happy. Plenty of water, friendly fish and no seaweed. It was totally worth it.
DISCOVERY COVE
discoverycove.com
STORY: H.M. Cauley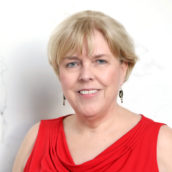 H.M Cauley
Atlanta-based writer and editor contributing to a number of local and state-wide publications. Instructor in Georgia State's Communication department and Emory's Continuing Education division.